Winery Hiring Pauses but Sales Rise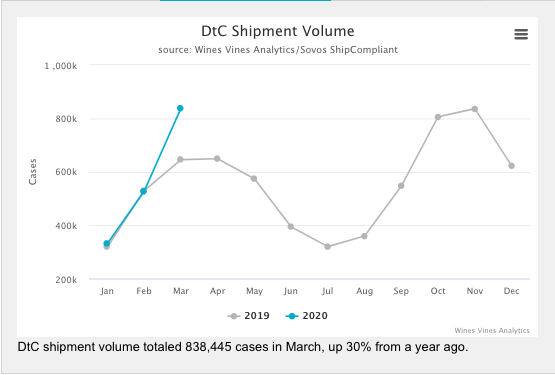 Sonoma, Calif. – Tightening restrictions on events and movement put a damper on in-person activity at wineries in March, but wine sales saw significant growth as consumers stocked up on a variety of products.
Domestic wine sales, including bulk imports, rose 4% to $51.7 billion in the 12 months ended March, market research firm bw166 reported. Table wines led the growth, rising 5% to $47.1 billion while sparkling wines were flat at $2.1 billion.
Off-premise sales and direct-to-consumer shipments dominated the activity, as most on-premise venues shut down either due to government order or of their own volition. The shutdowns also impacted wineries, particularly those dependent on tourist-traffic. While many offered free shipping and curbside pickup, hiring all but stopped.
Winejobs.com's Winery Job Index slipped 43% to 318 in March. Underscoring employment trends seen in the latest national data from the Bureau of Labor Statistics, the greatest declines in demand were for sales, marketing and direct-to-consumer (DtC) roles, including tasting room and retail staff. Demand for sales and marketing positions fell 61% to an index level of 113, while the subindex for DtC hiring felt 57% to 366 in March.
While the Winery Job Index recorded its weakest reading for the month in five years, it remained well above levels recorded prior to 2015. Given the conditions of full employment and difficulty finding staff prior to the shutdowns, several employers were reportedly redeploying staff to avoid layoffs, allowing them to remain employed until economic prospects became clearer rather than lose them entirely.
Preliminary figures indicate that 16.8 million unemployment claims were filed in the first three weeks of the pandemic and some estimates put the ultimate number of jobs lost as high as 24 million.
Regardless of the job losses, consumer spending on wine indicated confidence that the situation will be temporary. Off-premise sales through the outlets Nielsen tracks rose 24% to more than $1 billion in the four weeks ended Mar. 21. Table wines drove the increase, rising 23% in value to $978 million while sparkling wines gained 15% to approach $48 million. Volumes increased at a slower rate of 21%, undercutting fears that what many deemed "pantry-loading" could stall the premiumization trend. Consumers, for the moment, seemed to be comfortable buying better while in isolation.
The surge in sales accentuated many of the trends seen to date. Cabernet Sauvignon, Chardonnay and red blends continued to lead off-premise sales in March, but sales during the final two weeks of the latest period helped deliver especially strong growth to rosé blends (up 40%), Sauvignon Blanc (up 36%) and Pinot Noir (up 31%).
DtC shipments also benefitted. Wines Vines Analytics/Sovos ShipCompliant reported that shipments rose 18% to $423 million in March while volume increased 30% to 838,445 cases. This was the single biggest monthly volume ever shipped as the channel saw increased use. The average bottle price of shipments fell 9% versus a year ago to $42.08. Red blends logged the most significant decrease, with average bottle price dropping 16% to $46.47. Nevertheless, all varietals but Cabernet Sauvignon saw total shipment values increase as volumes kept ahead of average price declines.
Data on DtC shipments, off-premise wine sales and winery hiring activity are part of the Wine Industry Metrics featured in the Wine Analytics Report. The latest edition of the report was released April 15.