Levels of the Game: Game-changing Moves on Instagram
In 2012, when Facebook bought Instagram for $1 billion, the global picture sharing platform was just a scrawny baby, with 30 million users and no revenue. Today, it's the muscle man on the beach, generating more than $20 billion in ad revenues from its 1 billion monthly users. It has an estimated value of $100 billion.
For wine marketers, it's gone from a place to post bottle shots to an essential part of the social media mix. But experts say too few wineries are able to master the fast-changing medium.
At its most elementary, Instagram a place to post "eye candy" photos for general brand awareness. At higher levels of the game, it is a free and potentially easy path to acquire new customers.
For digital wine marketer Taylor Eason, who runs the Santa Rosa-based agency Cork and Fork Digital Media, "Instagram is more important than Facebook, for organic." Instagram is another rating system for a winery, she said.
"Online social media is where customers are researching your tasting room, your wines. Whether they're in the aisle at Costco or in the car nearby picking a winery to visit, they're looking at your Instagram feed and deciding whether to take a chance on coming to the tasting room or ordering your wine in a restaurant," she said. "Forty-two percent of people check a brand's social media channel before they go to a winery." That statistic comes from the Luxury Marketing Council.
Instagram's biggest advantage, she said, is that unlike the walled garden that is Facebook (with so much personal data about users), it's free and open.
While posting photos to an Instagram feed is simple, Instagram is rapidly evolving to a far more complex play.
Marketers have to know the ins and outs of various tactics on the platform. It's evolved from picture posting to paid ads in feeds, Stories (a type of content which disappears in 24 hours), paid ads in Stories and videos (which have high engagement rates).
"You can't just post bottle shots every week and expect to grow your followers," Eason said. Your content has to be varied." She recommends posting three to five times a week with a minimum of eight hashtags per post and using images that show people having fun in your tasting room or giving users unique behind the scenes content on what's happening in the vineyard or the winery.
Tagging is critical. "If you don't use the right hashtags, you'll just sit in cold water and it will never get warm," she said. "Hashtags - and the right hashtags - are the only free way to grow." The more specific the hashtag, the better, she said. "#wine is too broad."
Contests Drum Up Engagement
Eason is also a huge fan of contests, which she says have done well for her food and winery clients.
"Photo contests are super easy. It might be intimidating for some people but it's not that hard if they've got the motivation to grow their social, and growing the following is really the key on Instagram."
Ian Consoli, who manages social media marketing at Tablas Creek, says contests have been a winner for the Paso Robles brand, which grew its Instagram followers last year (in his first year of managing it) by 25 percent - from 12,000 to 16,000 followers.
"When we got a Wine & Spirits Top 100 Winery award last year, we decided to do a giveaway contest. The followers on Instagram could tag multiple friends, maybe three, that they would want to bring to our winery and, after letting it run for a week, we did a random pool of those followers, using an online selector to pick the winner. The winery got multiple people tagging other people and their friends, who are tagged, would tag three more friends and it just kept spreading and spreading, so it increased engagement."
Eason said size matters on Instagram, because once a winery has 10,000 followers, users can swipe up for free on Instagram Stories. "Otherwise, you have to pay for swipeable ads," she said. Links get more interaction inside Stories. Instagram Stories interaction has the fastest climbing growth rate in Instagram.
While many people associate Instagram with "likes," that popular feature is going away this year. That's all the more reason to focus on conversational engagement, Consoli said. He's focused more on eliciting comments than likes.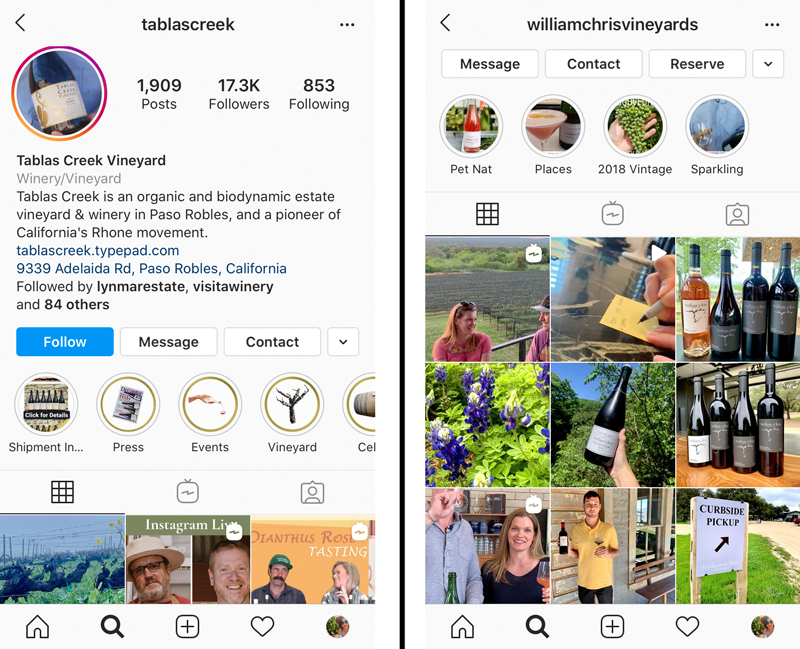 Meeting Users Where They Are
Consoli also likes keeping the interaction and the conversation alive by reposting user generated content.
"A lot of people come in and they take amazing pictures of our vineyard and the tasting room and their experiences and, if it fits in with our brand and the overall look and feel of our Instagram, then I'll reach out to them and say 'Hey, I love this picture.' Can we use it in our feed and give you credit? Typically, people say yes. We give them credit, but I think that's part of the community aspect of Instagram. It's supposed to be social and it's supposed to be about sharing and I think it's important for people to know that we are looking at the posts that they share of us. We are happy to see them and we're willing to share them."
Wineries are also moving to incorporate experiences that are happening in real-time with their online followers. Instagram Live was created to accelerate that, but even photos alone can help followers experience events. Consoli has tried out the live angle to increase commenting and connecting with positive results.
"We had an event on a weekend - a horizontal tasting - so we posted an image of the tasting menu and then showed a picture of everybody hanging out enjoying the wine with a 'wish you were here' message. And then we showed the menu again with a question of which one would you want to try if you were here, and then posting the answers."
"In terms of starting a conversation, followers replied to that and then I replied back to them. So even though people aren't there, they're getting to experience the event."
Anthony Harvell, director of sales and operations at William Chris Winery in Hye, Texas says social media at its best is basically an opportunity to extend the brand experience.
"For us it's not about Instagram. It's not about Facebook. It's not about this person's email address or that person's email address at the end of the day. We're in the business of experiences. If we can give that person an experience online, that's one part of the brand," he said. "We deliver something to get people excited. Everyday, we deliver something that makes people want to interact, makes people want to engage, and that means that we have to go to where they are."
Increasingly, wineries are hiring marketers from forward-thinking companies outside the wine industry. Leah Derton, senior director of marketing at William Chris Winery is an example. She came to the winery fresh from Yeti and before that worked at top tier agencies - Wieden + Kennedy and GSD&M - doing creative for Target, BMW and other clients pushing the digital marketing envelope.
Said Derton, "We're looking at how we might use Instagram Live and Facebook Live to connect with the consumer that we know is spending so much time with their devices and give them that William Chris experience."
While wine marketers have tried all kinds of visuals, there is nothing better than video to increase engagement, according to Easton.
"Video does incredibly well, but it's got to be relevant video and in short, quick snippets. I would say that it's really the next new frontier and the sooner wineries are on it the better because you always want to be ahead of that curve," she added.
For Consoli, the best video was of a giant white dog that didn't want to be groomed. "He was just running off into the distance, running away from the groomer. It was just so funny. And there were so many people who laughed back. We are always just trying to bring people in to what's going on here at Tablas Creek. That's really the point of Stories."