DTC Channel Shift: More Online Sales
March 31, 2020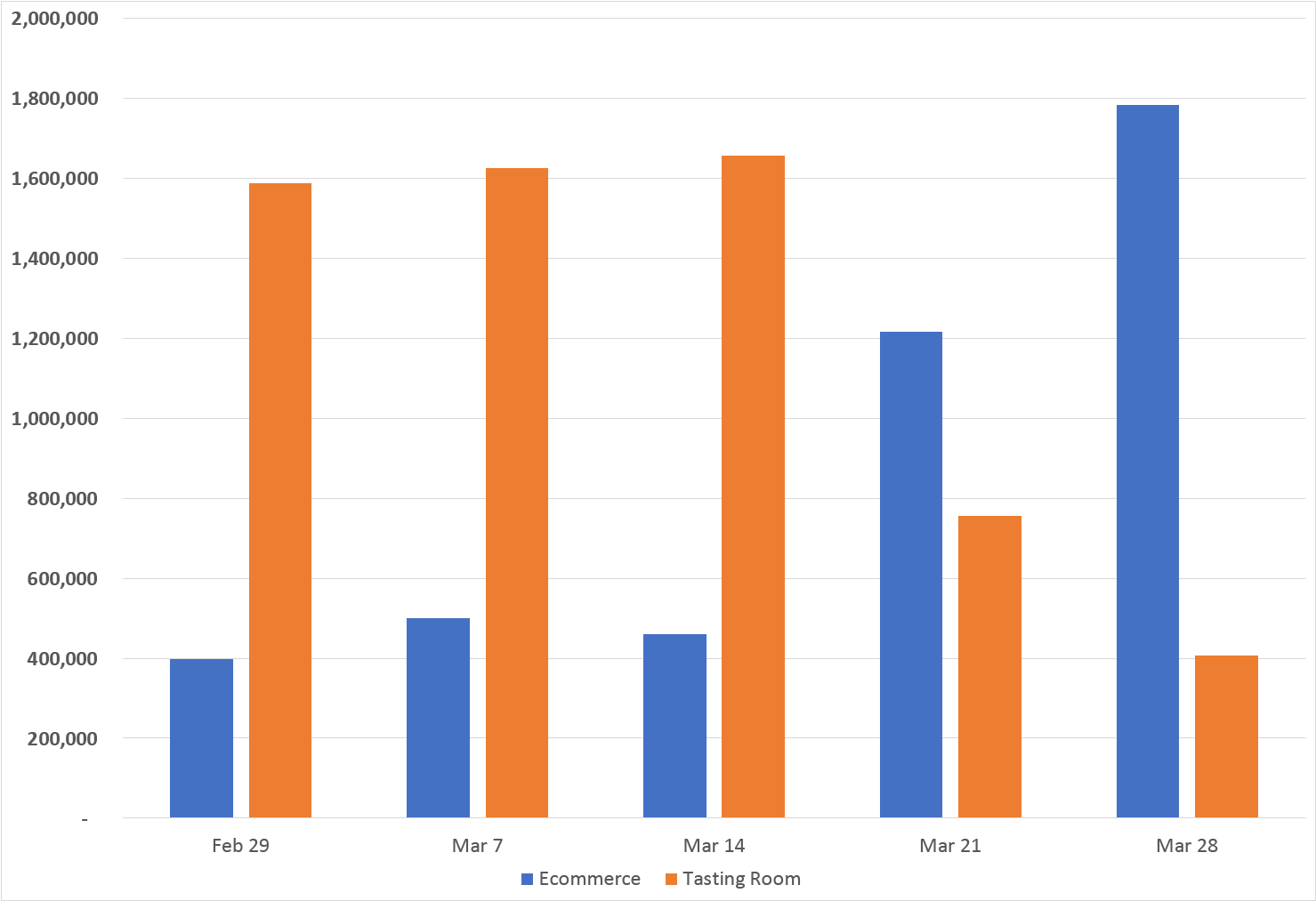 Direct-to-consumer (DTC) sales via Commerce7 were higher last week—not something the company expected to see.
The first chart reflects channel shift. With tasting rooms closed consumers are buying more wine online. In the chart, the axis on the left is total revenue sold through Commerce 7 (roughly $2 million in sales from 300 clients each week).
The data from February is more typical of regular winery DTC sales, but one can see effects on sales following the COVID-19 shutdown in the two sets of numbers to the right (March 21 and March 28). These are e-commerce sales on Commerce7 versus in-person point-of-sale purchases, and do not include telephone sales or wine club sales.
'Last week, when tasting rooms were shut down, I thought, 'okay, well wineries are sending out mass emails to their customers and of course they got a bunch of sales,' and that was great to see—but it seems that in week two customers are continuing to buy online," Commerce7 CEO Andrew Kamphuis said
Kamphuis said 95 percent of wine club signups were happening in a tasting room a couple weeks ago: Over the last week or two, however, wineries have been able to get people to sign up for their clubs over the phone or online. It's way down from where it was before (many are dropping their club memberships, which is to be expected) but there are others who, nonetheless, are signing up for clubs.
The chart below shows new signups and new cancellations. In the past, members typically sign up for the wine club in the tasting room. It appears that wineries are still getting customers to sign up even while tasting rooms remain closed (although not to the same levels as before lockdowns and shelter-in-place orders).