Arizona Bill Would Eliminate Production Caps on Self Distribution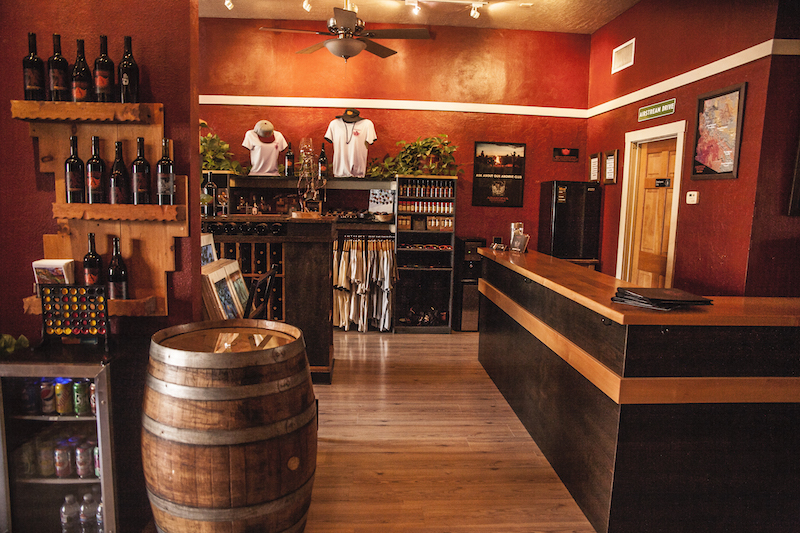 Wineries that produce less than 20,000 gallons of wine can self-distribute in Arizona, but a bill in the state legislature seeks to remove this production cap.
Photo courtesy of Arizona Stronghold Vineyards.

A state bill in Arizona seeks to spur the local wine industry by removing annual production caps imposed on wineries that self-distribute.
Current state law does not allow wineries that produce more than 20,000 gallons of wine a year to sell wine directly to a retailer or a restaurant. If approved, House Bill 2876 would eliminate the 20,000- gallon cap and still allow self-distribution.
Wineries may operate tasting rooms at remote locations. House Bill 2876 would also allow these off-site tasting rooms to sell wine directly to a retailer, wine club member or a restaurant. The wine now has to be shipped from the main winery. This would make it more convenient for wineries and their consumers, according to the Arizona Winery and Grape Growers Association, a trade association.
In addition, HB 2876 would also permit wineries to sell beer at their tasting rooms.
Jennifer Montgomery, executive director of the Arizona Winery and Grape Growers Association, and others said the bill would update wine laws and help Arizona's wine industry expand its markets. The first winery license was issued in 1983, according to the trade association. There are nearly 110 "farm winery" licenses.
By definition, a "farm winery" owns at least 5 acres of vineyard and produces at least 200 gallons of wine a year and no more than 40,000 gallons of wine a year from the vineyard owned by the producer.
The elimination of the 20,000-gallon cap would allow Arizona wineries to compete with California, Oregon and Washington state producers, according to the Arizona Winery and Grape Growers Association.
Arizona Rep. Jeff Weninger, R-Chandler, is sponsoring the bipartisan bill with support from such organization as the Arizona Winery and Grape Growers Association. The bill passed the Arizona House Commerce Committee on Feb. 26.
"We feel we have a strong bill," Tom Schumacher, president of the Verde Valley Wine Consortium, said on Tuesday.
Backers of HB 2876 note that a brand producing 20,000 gallons is not considered a large winery in other states. "It's pretty small potatoes," said Kevin Grubb, general manager at Arizona Stronghold, one of the biggest wineries in Arizona, whose annual wine production hovers about 20,000 gallons.
Michael Pierce, vice president of Arizona Wine Growers, whose family owns Bodega Pierce Vineyards, said distributors would benefit from a growing wine industry.
Opponents to the Bill
Still, not everyone in the alcohol industry is on board. Representatives from the alcohol distribution industry have spoken out against the bill.
Mark Beres, president and chief executive officer of Flying Leap Cellars Inc., opposes HB 2876. Beres, whose company operates a winery and distillery in Elgin, Ariz., and multiple tasting rooms in the state, wrote Arizona state legislators against the bill, saying it would change the state's farm winery business model, benefit large producers and invite lawsuits by large, out-of-state alcohol producers.
Backers of the bill are not small wineries, Beres also said. They are "masquerading as little guys," he said Tuesday.
HB 2876, if approved, will hurt Arizona's farm wineries because small producers will not be able to compete with large non-Arizona corporations who can produce a lot more wine at lower costs, Beres said.
It is unclear when the House will vote on HB 2876. Backers of the bill anticipate a vote on the bill soon. Weninger could not be reached to comment on the bill.