Technical Spotlight Sneak Peek: Anaba Wines
In March we feature a technical review of Anaba Wines, one of Sonoma Coast's newest winemaking facilities
Following the wind, building a brand, creating a family legacy
The following is an excerpt from the Wine Business Monthly March 2020 issue. Don't get the print magazine? Subscribe now. Or, read the digital copy by signing in with a winebusiness.com account (free).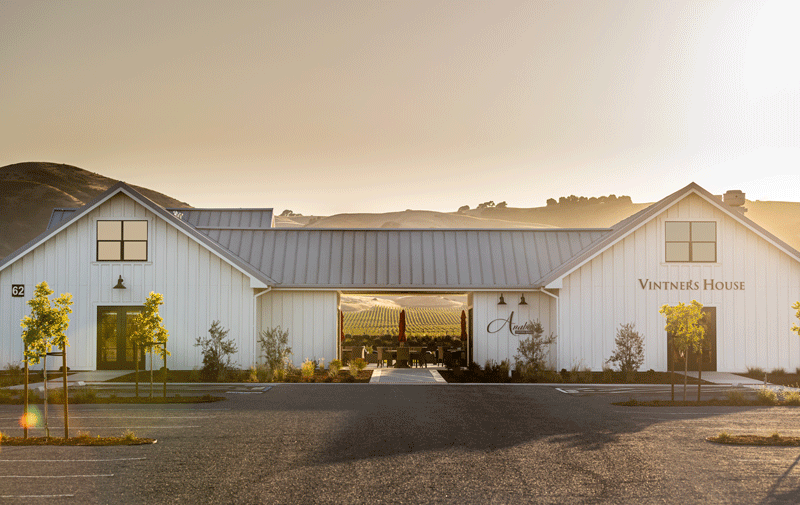 Locals and regular travelers through wine country know it as the busy (and, oftentimes, frustrating) intersection where Highway 121 meets 116. Some know the crossroad for the deli, others for the gas station. So, it is either the best or worst place to own a winery and tasting room. "Both," said Anaba Wines founder and proprietor John Sweazy, who's owned his 16-acre parcel off Bonneau Road since 2006.
In fact, the hustle and bustle of passersby is one factor that attracted Sweazy to the property in the first place. That, and the anabatic winds (inspiration for the winery's name) that roll through the Petaluma Gap and down the coastal mountain range that create the backdrop for his Carneros AVA vineyard.
Playing the Vintner Part
Sweazy bought the land from former owner and winemaker of Castle Vineyards & Winery, Vic Williams, who stayed on as winemaker for the first three vintages. At the time of purchase, the parcel included 4.5 acres planted to Pinot Noir. The business acquisition also included the downtown tasting room, located just off the Sonoma Plaza where the Roche Winery & Vineyards tasting room is now located.
"We had that tasting room for the first three years, operating as Castle Wines while we were developing the Anaba brand. I hated it. It wasn't our demographic, not our customer-base," said Sweazy, who reiterated that it was the atmosphere of the more intimate, family-style wineries he experienced back in France he wanted to create. "The plan was always to build a winery and a tasting room on the estate," he said. "But then 2008 came along, and it wasn't financially possible. So, we started a bit slower."
Sweazy may not have been able to immediately build the estate of his dreams, but that didn't stop him from taking those first baby steps in that direction. The Bonneau Road property also came with a 120-year-old farmhouse that Sweazy decided to transform into the Anaba offices and a modest tasting room. This is where guests have been sipping on Sweazy's wine for the past 10 years, until the 2019 opening of the all-new production and hospitality buildings, designed and built by Steve Martin and Associates.
A Dream Realized
Vineyard property, an estate production facility, a full portfolio of his favorite wines—these things only portray a portion of the picture Sweazy painted for himself back in the 1970s. The last piece of the puzzle: his son, John Michael Sweazy, who in 2017 decided to join the family business.
To hear the father-son team tell it, the story of John Michael's entrance into the wine business is pure coincidence. But listeners are sure to get a sense of déjà vu.
Like his father, John Michael entered the tech business after college, working for the Silicon Valley-based LinkedIn as a software salesman. It was a career, though lucrative, that he couldn't see himself spending the next 20 years of his life in. "I woke up one morning to learn that Microsoft purchased LinkedIn," John Michael said. That was the turning point: John Michael, along with his soon-to-be-wife, quit their jobs and decided to travel.
Travel was something the two had talked about doing before, but budgeting both time and money always got in the way. Now finding themselves free of obligation, and with a few extra dollars in their pockets from stock shares and savings, John Michael and his partner were able to take that much-needed getaway.
"I told my dad with every confidence what I was going to do with my time and money. I knew he couldn't argue. He basically did the same thing at my age and always says he's never regretted it," John Michael said.
"Not much I could say, except, enjoy yourself," Sweazy said.
His tour of Europe was not intended to be wine-centric, but a few chance encounters changed the trajectory of John Michael's trip, and his life.
"It was in Slovenia of all places, early on in the trip, that we stumbled across a winery. The owner came out, and I told him my family makes wine. He took us back for an extended, free tasting and was extremely hospitable. I remember thinking: That was free. And cool. And interesting," John Michael said.
So, he decided that instead of visiting major cities and ports of call, he would seek out wine regions—specifically smaller wine regions not inundated with American tourists.
John Michael called his father, Cobb, a few former interns and other acquaintances he knew had wine industry connections in Europe and mapped out a tour of Old World wine regions. Like his father, he was most inspired by the small estates of the Rhône region.
"We kept meeting multiple generations at once. I'd see the grandfather, the sons or daughters who were now running the estate, little kids running around the property—and this would happen everywhere we'd go," John Michael said. "And I realized that I have an opportunity a lot of other people don't have. I can step in, work with my dad and build something new. I can have input, take a vision and combine it with his."
John Michael called his dad toward the end of his trip to ask if there was a role he could fulfill at the family winery. "I was a little drunk, but it wasn't a drunk decision," John Michael joked. His return coincided with the ground-breaking of the new estate production facility and hospitality center. Yes, there was a role for John Michael to fill alongside his father.
Today, John Michael is the Anaba Wines estate director, working with Sweazy to realize the vintner-vision they each share. Though they say they agree 100 percent on the wines and wine styles, leaving day-to-day operations in the hands of the winemaking team, where they differ is in how to present those wines to the modern market.
"He (Sweazy) had a vision 45 years ago. Times have changed," John Michael said. But, he added, part of his job is figuring out how to mix those two visions together—retain the essence of the Old World family estate, while simultaneously providing the experiences today's consumers are looking for.
"We always want to be wine-centric. But we want to be one of the rare places where it's a super fun place to be and the wines are really good," John Michael said.
The new hospitality center is as cozy as you'd like it, with different spaces catering to different occasions—from a tasting bar for stand-up tastings, to intimately-sized tables for seated experiences and a dedicated room for larger parties. The space incorporates an indoor-outdoor design with large, floor-to-ceiling windows and doors that look out onto their scenic vineyard view and lead to the outdoor lounge area, complete with a bocce ball court. The father-son-team admitted that bocce was a point of design-disagreement, as Sweazy thought it would attract the wrong crowd and detract from the wine-education experience. But he has to admit that John Michael was right when he sees the delight of his clientele as they enjoy both the wine and the atmosphere he and his son have created.
There's more to come. New developments in the works at Anaba Wines include new plantings of Picpoul Blanc and, potentially (if John Michael can convince his dad), a paddle tennis court.