Constellation Granted Preliminary Injunction Preventing The Vineyard House from Using To Kalon Name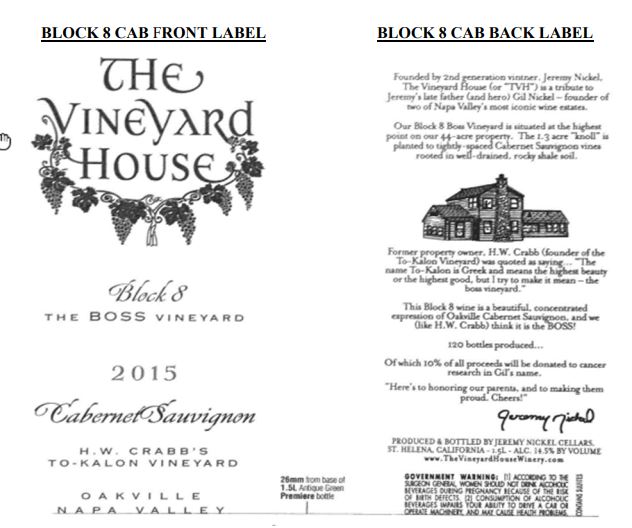 A federal judge has ordered a wine company to stop selling wine named "To Kalon" at least while its dispute with Constellation Brands remains in court.
Constellation Brands U.S. Operations Inc. sought a preliminary injunction to prevent The Vineyard House from selling wine under the name of the historic Napa Valley vineyard in Oakville, Calif. U.S. District Court Judge Yvonne Gonzalez Rogers signed the order on Friday.
The two wine companies have been in court since March 2019, when The Vineyard House, a company owned by Jeremy Nickel, filed a false advertising complaint against Constellation over the name "To Kalon."
The Vineyard House, a company owned by Jeremy Nickel, has argued in legal briefs that "To Kalon" is a geographic location; its 17 acres of vineyard are part of an estate owned by pioneer winemaker Hamilton Walker Crabb. The company said that the nearly 500 acres Constellation own includes acreage that are not part of Crabb's historic vineyard, according to court records.
Constellation, which claims that "To Kalon" is a trademarked name, filed a counter lawsuit in January. The New York-based company filed the trademark infringement claim after The Vineyard House began selling and shipping "Block 8," a Cabernet Sauvignon from "H.W. Crabb's To Kalon Vineyard," according to court filings.
In response, The Vineyard House denied it was infringing on Constellation's mark, according to court records. The company did produce the 2015 Cabernet Sauvignon from fruit from its Oakville vineyard and distributed it to its wine club members in December 2019, according to the court brief.
The Vineyard House noted that its primary brand "The Vineyard House" dominates the front label of its "Block 8" Cabernet Sauvignon and that its use of "To Kalon Vineyard" would not likely pose confusion, according to the court filing.
As part of Friday's court order, the judge also agreed to allow both companies to file under seal briefs containing "confidential, trade secret, and sensitive business information, including financial information," according to the document.
The fight over the use of To Kalon name has gone on for years. Clients of Beckstoffer Vineyards, which also owns a section of the historic vineyard, can use the name "To Kalon" under a settlement reached with Constellation in 2003. Constellation has owned the "To Kalon" and "To Kalon Vineyard" trademarks since 1988 and 2004, respectively.
In a separate development, Constellation has applied with the U.S. Bureau on Geographic Names to change To Kalon Creek, a 4.1 mile-long tributary of the Napa River, into Doak Creek. Doak Creek would be named after David Perry Doak, a banker and industrialist who lived near the stream. The U.S. Bureau on Geographic Names has accepted to reconsider the naming of the creek. The creek's name "To Kalon" had been approved in 2017. Constellation and Robert Mondavi Winery said "To Kalon" is a trademark term they own and did not consent to the name "To Kalon Creek," according to documents posted on geonames.usgs.gov. The California Advisory Committee on Geographic Names tabled a decision on whether or not to rename the creek on Feb. 5.