Napa Valley's HALL Wines Comes to Guana Island for Spring Wine Program
Celebrated California Wine Brand Owned by Craig & Kathryn Hall to Collaborate on Gastronomic Program in the British Virgin Islands from May 5-7, 2020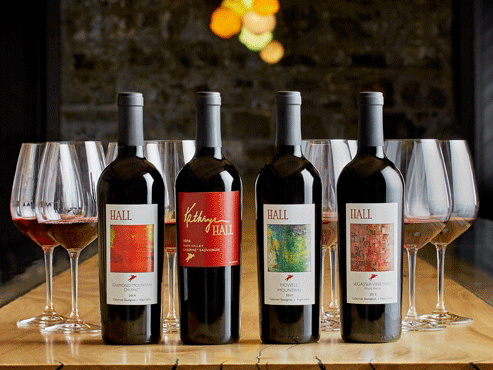 British Virgin Islands—Guana Island, the award-winning resort in the British Virgin Islands, is collaborating with renowned California wine brand, HALL Wines, to offer a three-day Spring Wine Program from May 5-7, 2020. The program will bring some of HALL's most celebrated vintages as well as its Director of Winemaking, Megan Gunderson, to Guana for a dynamic program for travelers and food- and wine-lovers alike.
The HALL team will work closely with Guana's Executive Chef, Kael Mendoza, to prepare a program celebrating the flavors of the California wines alongside the island's natural bounty. Director of Winemaking for HALL Wines, Megan Gunderson, will work with Chef Mendoza to create special menu pairings inspired by the flavors of Guana. She will also personally pour wines from across the HALL Family Wine brands portfolio including HALL, WALT and BACA Wines, and be available to chat with guests about the brand's extensive West Coast vineyards, and the winemaking process.
Chef Mendoza will be creating new menus for the program, pulling as many ingredients as possible from the Guana Island orchard, including fresh herbs, fruits, vegetables and microgreens. The four-acre orchard has been recently expanded to include three new greenhouses and is home to tropical fruits such as breadfruit, soursop, and papaya as well as more exotic items such as lemongrass and pomegranate. The culinary team also sources fresh fish from the waters surrounding Guana, including grouper, yellowfin tuna and mahi-mahi.
The three-day program will kick off with a Beach BBQ pairing Caribbean-inspired flavors with WALT Wines, known for single vineyard Pinot Noirs, complemented by live music from a local band. The following day, Gunderson and Guana General Managers Vernon Daniel and Jason du Plessis will host a formal al fresco dinner, offering tastes of some of the most celebrated bottles from the HALL wine collection, including the bold Cabernets for which they're known. Gunderson will be on-hand to personally discuss each vintage, guiding guests through an educational and flavorful evening. The program will conclude the following day, with a guided tour of the orchard and an invitation to try some lesser-known vintages, matching HALL Wines with just-picked produce and tropical fruits that are only found in the Caribbean.
HALL and WALT Wines offered during the immersive experience will be available to order throughout the program, and each guest will receive a copy of Craig and Kathryn Hall's New York Times Bestseller, A Perfect Score, upon arrival. As with all meals at Guana, the meals and activities prepared as part of the Spring Wine Program will be included in the cost of a room. Rates at Guana start at $720 per night. Images here courtesy of Jacqueline Marque.
For reservations or more information on the Spring Wine Program at Guana, please visit https://www.guana.com/wineprogram/ or by calling (800) 544.8262.
ABOUT GUANA ISLAND
With 850-acres of undisturbed natural beauty in the heart of the British Virgin Islands, Guana Island is private, family-owned island resort for the discerning traveler. The island is home to seven pristine beaches and miles of tropical forest, mountains and dramatic flora and fauna. Named for an iguana-shaped rock outcropping on the South side of the island, Guana Island offers fine dining, a distinctly social atmosphere and world-class accommodations. With acres of privacy per guest (no more than 35 guests at any given time), and no marina or public facilities of any kind, Guana Island has come to exemplify the best in laid-back luxury. For more information or reservations, visit www.guana.com or call (800) 544-8262.
ABOUT HALL FAMILY WINES
HALL Family Wines produces high quality Cabernet Sauvignon, Pinot Noir and Zinfandel under the HALL, WALT and BACA brand monikers. Owned by Craig and Kathryn Hall, the family-owned winery produces artisan wines that express the unique and diverse character of the wine country's soils and climates through meticulous attention to detail in the vineyards and throughout the winemaking process. The family's luxury wine portfolio, led by Winemaker Megan Gunderson sources fruit from some of the most prominent vineyards up and down the West Coast and includes eleven Estate vineyards– Sacrashe, Bergfeld, Hardester, T Bar T Ranch, Atlas Peak, Rainin, Dellar-Freidkin, Cook, Bob's Ranch, Clos Pepe and The Corners. The HALL St. Helena winery was the first LEED® Gold Certified Winery in the State of California in 2009 and earned another LEED® Gold certification for its high-tech production facility and Tasting Room in 2014. Since the inception of HALL in 1995, the three luxury wine brands have earned over 600 ratings of 90 points or above from the industries top critics, including five 100-point scores from the industry's most notable wine critics. Visit www.hallwines.com, www.waltwines.com, www.bacawines.com for more information, or call 707-967-2626.