Wine at the Tipping Point: Three Actions U.S. Wineries Can Take to Increase Wine Sales
The data are in and, after a 25-year ride of increasing wine sales in the U.S. market, there is no denying that volume is flattening. According to bw166, total U.S. shipments in 2019 were 409.1 million cases, at only 1.1 percent volume growth over the previous year. Furthermore, the wine category trendline is falling, according to Danny Brager of Nielsen, with spirits in the lead, and a huge growth in malt-based seltzers, considered to be part of the beer category. For example, White Claw, a 90 calorie, 5% alcohol seltzer grew by 290 percent in volume sales in the past year. Even the highly lucrative DTC (direct to consumer) wine channel has "matured" a bit with a modest 4.7 percent volume increase compared to double-digit growth in 2016 and 2017, according to the most recent Direct to Consumer Shipping Report from Sovos and Wines Vines Analytics.
Causes of Wine Decline
So, what is happening? Why is wine beginning to lose favor? The answer lies partially in changing consumer demographics and behaviors, but also in the lack of response by the U.S. wine industry to meet consumer desires. According to Gomberg-Frederickson, there is a slowing in LDA (legal drinking age) growth in the U.S. population, which indicates a slowing of growth in the alcohol category. This is coupled with a strong health and wellness trend—37 percent of American wine drinkers report they are reducing the amount of alcohol they drink, according to a recent Wine Intelligence survey—and should serve as a huge wake-up call to the industry.
Not Just a Problem to Be Solved by Large Wineries
Even though these warning signs have been evident for the past couple years, most wineries seem to think it is "not our problem," and that the large commercial wineries like E. & J. Gallo Winery and The Wine Group should take the lead and introduce new products to appease consumers. But many feel that this is not enough; This is a situation in which all wineries need to pay attention to consumer needs, and not hide behind the excuse that "we are a small terroir-driven winery that only sells DTC." This is the tipping point for the U.S. wine industry. Either wineries step forward and take positive actions to prove they are listening to the consumer, or they can sit back and watch wine sales stagnate.
Three Actions All Wineries Can Take Now
#1) Ingredient Communication
"Gluten-free," "natural flavors," "no artificial sweeteners," "paleo-friendly," "low carb," "low calorie," "plant-based," and "sustainably produced" are just a few of the phrases that consumers seek out as part of the widespread health and wellness trend. And guess what? Most still wines can truthfully add all of these terms to their packaging, websites and brochures. According to the U.S. Department of Agriculture, a 5-ounce glass of wine contains 120 to 130 calories and is only 3.5 to 4.5 carbs. However, if we adopted 4-ounce servings, or 120 ml, which is recommended by other nations, there would be even fewer calories. Consider a glass of sparkling wine at only 87 calories in a 120 ml serving: that is less than a can of White Claw, which has 90 calories.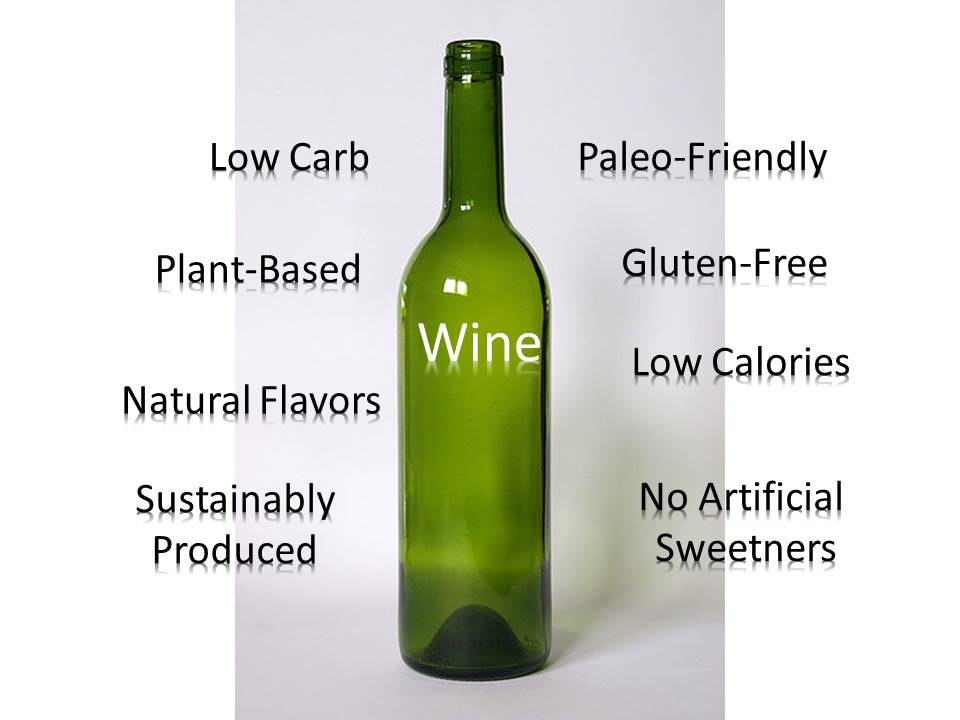 So why don't most wineries provide this information to consumers? Perhaps it is because it is not yet legally required, or perhaps it is just complacency. Most wines are produced in a very natural way, using only grapes, yeast and perhaps yeast nutrients, a small amount of sulfites, and a little acid. Why not share this information with consumers? Why not let them know the good news about wine ingredients? If the wine is produced with organic or biodynamic grapes and low or no sulfites, this is even better news to share with consumers. Of course, in the U.S. labels must be approved by the TTB, so it is very important to be honest in all communications, and the TTB website provides clear guidelines on how to add this type of optional information.
#2) New Product Development
Now is the time to seriously think about producing a lower-alcohol wine for your portfolio. Though there will always be consumers who enjoy high-octane wines of 14% to 16% alcohol, many seek elegance and lower alcohol. So why not give them all three? Here is where adopting a "ladder branding" approach makes sense. This means offering three tiers of wine, not just based on price, but also on style and alcohol level.
U.S. wineries can take a page from Rioja producers in Spain, who generally produce three styles of wine: a reserve wine with higher alcohol, more oak aging, and a high price; a crianza wine with lower alcohol, and less aging for a more moderate price; and an entry-level joven wine that is fresh, fruity, and light – usually seeing no oak and sold for $1 a glass in tapas bars. Joven wines can be red, white or Rosé, and are a great entry wine for new wine drinkers. U.S. wineries should consider making more light and fresh wines with lower alcohol to match new consumer trends: perhaps experiment with Gamay, Dolcetto or other light reds/ Rosé s. At mid-price points, it would be refreshing to resurrect the elegant 13.5% Cabernet Sauvignons that helped Napa Valley win the Judgement of Paris tasting in the 1970s, as well as other 12% to 13% alcohol varietal wines.
Another option is to innovate with the new "no-low wine alcohol" movement happening in Europe and New Zealand, where producers are attempting to craft 7% to 11% alcohol wines in the "low alcohol" category, as well as using new technology to develop zero-alcohol wines that actually taste good.
Other aspects of new product development include the use of packaging consumers want, such as smaller bottles of 375 ml, 187 ml or even 120 ml wines. Portability is also another important trend, so if cans, boxes, or even tasteful plastic bottles—all of which are recyclable—fit your brand strategy, consider them. Finally, don't laugh at having one sweet or semi-sweet wine in your line-up; research shows that nearly 31 percent of American consumers like sweet or semi-sweet wines.
#3) Micro Tastings and E-commerce
Many American consumers still find wine to be intimidating and are worried about paying $12 for a bottle of wine and discovering they don't like it. More effort should be made by wineries to allow consumers to taste wine in small "micro or thimble servings." This can occur in grocery stores, wine shops, wine bars, restaurants, farmer's markets or other locations where tasting is legal, and then consumers can purchase the wine on site. Of course, the tasting should also include a card, barcode, or access to an app that will allow consumers to purchase the wine online and have it shipped to their home. There are now many more options for wineries to partner with direct shipping and delivery services that will handle the logistics and legal aspects of wine e-commerce. More than 80 percent of Americans now shop online, according to Pew Research, but online wine sales in America still lag behind compared to other countries.
Time for U.S. Wineries to Step Forward
U.S. wineries have enjoyed a great ride over the past two decades, and this can continue so long as they step forward and respond to the American consumer. The U.S. is still the largest wine market in the world, but competitive forces such as aggressive beer and spirit producers, grape oversupply, health and wellness trends, and changing regulations are creating some very challenging conditions. The tipping point is now, and it is time to fight back with communication and innovation.
References
Brager, D.
(2020). State of the Industry: Nielsen - Beyond the Core. Key note Presentation at Unified Wine & Grape Symposium, Sacramento, CA, Feb. 5, 2020.
Bw166
(2020). Wine Imports and Exports Report by Jon Moramarco. Available at
https://www.bw166.com/
Gomberg-Frederickson.
(2020). Webinar Series: Calendar 2019 Review with Jon Moramarco. Santa Rosa, CA, Jan. 15, 2020.
McMillan, R.
(2020). The SVB State of the Wine Industry Videocast Part 1. Silicon Valley Bank Trends & Insights. Available at:
https://www.svb.com/
Pew Research
(2016). Online shopping and ecommerce. Available at:
https://www.pewinternet.org/2016/12/19/online-shopping-and-e-commerce /
Sovos
(2020). 2020 Direct to Consumer Wine Shipping Report. Sovos/ShipCompliant.
Swindell, B.
(2020). US wine shipments increased slightly to 409M cases in 2019. Press Democrat, Feb. 5, 2010.
Thach, L., Wilson, D., & Costa, P.
(2019). Are You Selling Enough Wine Online? Status of Digital Marketing Strategies of US Wineries.
Winebusinesss.com
, April 22, 2019. Available at:
https://www.winebusiness.com/news/?go=getArticle&dataId=212529
Thach, L. & Bus305W Researchers.
(2018). Do Wine Consumer Preferences Change Over Time? New Research Study Provides Some Answers.
Winebusiness.com
. April 20, 2018. Available at:
https://www.winebusiness.com/news/?go=getArticle&dataid=198045
TTB
(2019). Alcohol Beverage Labeling: Statements Related to Calorie and Nutrient Content, Serving Facts, Alcohol Facts, and Sugar Content. Available at:
https://www.ttb.gov/labeling-wine/alcohol-beverage-labeling
TTB
. (2014). Use of "Gluten-Free" on TTB-Regulated Alcohol Beverages. Available at:
https://www.ttb.gov/images/pdfs/gluten-announcement.pdf
TTB
. (2019). Wine Labeling. Available at:
https://www.ttb.gov/wine/labeling
Weight Loss Resources. How Many Calories in Sparkling White Wine? Available at:
https://www.weightlossresources.co.uk/calories-in-food/alcoholic-drinks/sparkling-white-wine.htm
Wine Intelligence.
(2020). Moderation and Wellness Trends in Wine by L. Halstead. Presentation at Wine Market Council Wine Data 2020 Seminar. San Francisco, CA, Jan. 31, 2020
Wine Market Council.
(2020). Wine Data 2020 Seminar. San Francisco, CA, Jan. 31, 2020. Available at:
https://winemarketcouncil.com/
Wine Spectator.
(2015). How Many Calories are There in a Glass of Wine? Available at:
https://www.winespectator.com/articles/how-many-calories-are-in-a-glass-of-wine-51432
Wines & Vines Analytics.
(2020). January 2020: Total US Wine Market. Available at:
https://wineanalyticsreport.com/report/january-2020/
by Liz Thach, MW
Dr. Liz Thach, MW is the Distinguished Professor of Wine & Management at Sonoma State University, as well as an award-winning author of 9 wine books and more than 150 articles. She can be contacted at Liz@lizthach.com.