Verve Wine Provides Hospitality, Experiences and Stories to Sell Wine
UC Davis Lecture Focuses on Wine Sales to Modern Consumers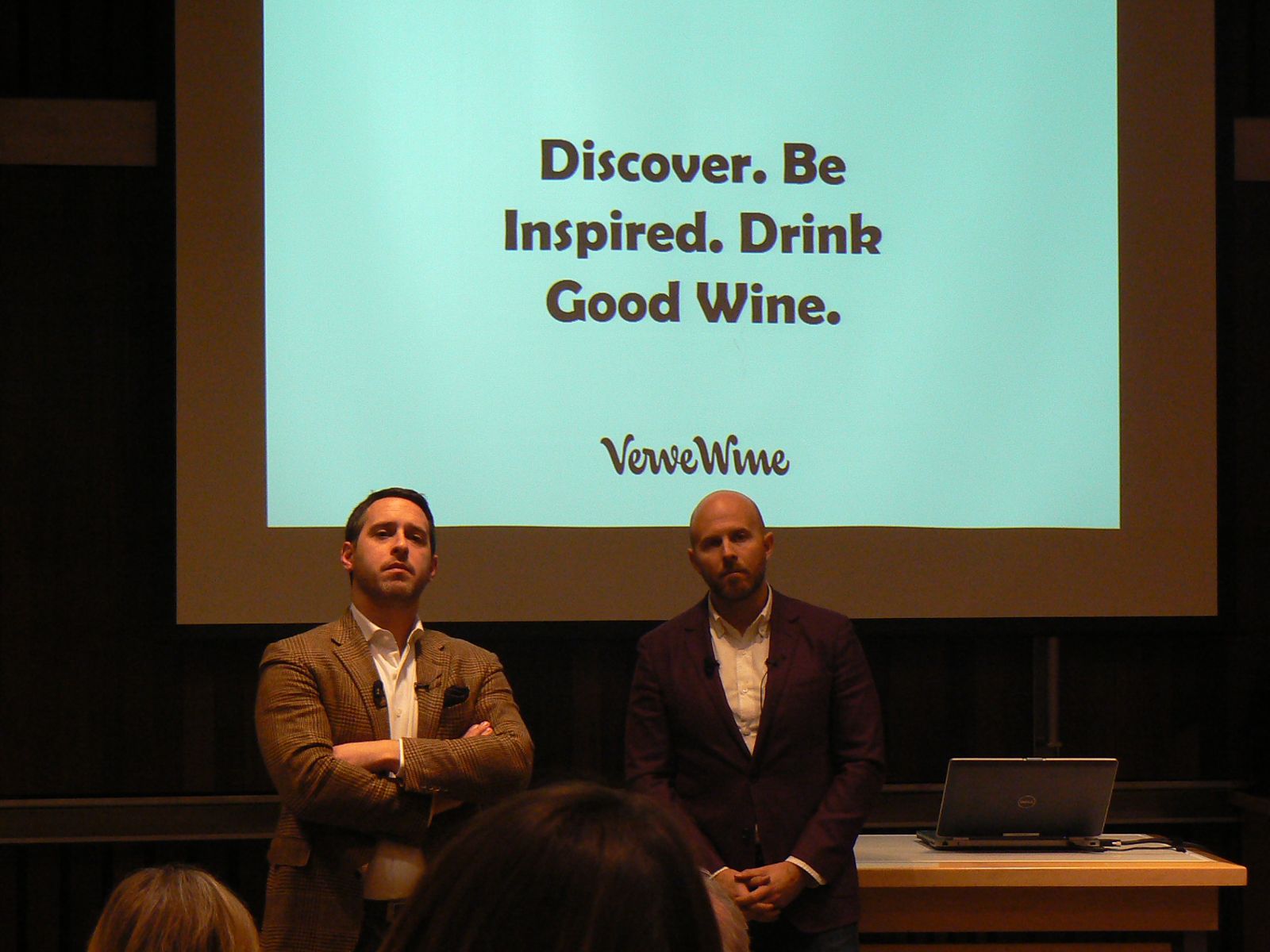 Verve Wine principals Dustin Wilson and Matt Sabato discussed their retail wine sales company's focus on hospitality, experiences and good stories to sell wines to today's consumers during their presentation at the University of California, Davis (UCD), February 12. Their talk, "Telling Stories: Wine, Commerce, and Content in the Age of Experience," was part of the UCD Walt Klenz Wine Business Speakers Series, established in 2005 and sponsored by Treasury Wine Estates. Named in honor of former Beringer Blass CEO Walt Klenz, the lecture series is presented by the Robert Mondavi Institute for Wine and Food Science and the Department of Viticulture and Enology to feature wine business leaders who share insights and experiences with students, faculty and industry attendees.
The Beginnings of Verve Wine
Dustin Wilson is co-founder of Verve Wine and a Master Sommelier based in New York City. He has worked at some of the nation's top restaurants in New York City, San Francisco and Colorado. He had a leading role in the 2013 wine documentary film "SOMM" and the film's two sequels.
Matt Sabato is president and COO of Verve Wine. He worked nearly 10 years in various positions with Ralph Lauren Corporation and has expertise in strategy, merchandising and inventory management. He previously worked as a high school teacher and coach which impacted his leadership style and created a passion for developing strong and versatile teams and a collaborative working culture.
Verve Wine began operation in 2016 with a retail store in New York City. A second store later opened in San Francisco. A third store is scheduled to open this year in Chicago. Verve has a strong online presence to engage customers outside and beyond the stores, promote wine sales, and offer online sales and shipping.
Wilson explained how the concept of Verve came from his need to buy wine in an environment that was more fun and exciting. "I knew where to go the find great bottles of wine in New York City, but the experience always seemed a bit lacking and in need of a makeover," he said. Coming from a background in restaurant service, where people meticulously planned and cared about everything related to customer service—how the napkin was folded, how the plate was placed and presented, how the water was poured—Wilson asked himself, "Why can't I find a wine store that thinks about the customer experience a little more? Why not take this to the next level and incorporate more hospitality and experience into a wine store?"
The goal of Verve is to create an environment, both in-store and online, that goes beyond great wine, and gets people interested in and more excited about wine. "I want our venue to be much more than just a store, to be a part of people's wine lives in every aspect," Wilson said.
Verve carries wines from the worlds' major growing regions and looks for quality wines from emerging regions and winemakers. "We cover the planet, and we try to be a little bit ahead of things," Wilson said. The company plans to expand its selection of South American wines, and include some interesting and emerging wines from Patagonia. Verve seeks out wines with an interesting story, from producers who tend to produce wines with less manipulation and that may be farming using sustainable or biodynamic practices. Winemaking philosophy is a key factor, but above all, quality is the main selection criteria. "The wine needs to be delicious and over-perform for its price," Wilson said.
Wilson admitted it took time to develop the business when the first store opened in New York. He observed: "We were new to the market. It takes time to create buzz and energy and spread the word. It seemed like I was in the store 24/7 and doing everything. We started getting business and people started paying attention to the website, but it took months and months to happen." The company grew and built its team while staying true to its core beliefs.
The stores host wine classes, formal and informal educational events, wine dinners and wine parties. Events have included hip-hop wine parties, and fundraising events for dog rescue organizations. Wilson emphasized, "One constant in all of our events is that the wine is always really good. Just because we're offering a casual experience, it doesn't mean we use lesser wines, it's always great."
Younger consumers are more interested in paying for experiences than for material goods. Electronic and social media are critical for customer interaction. Wilson said, "We tend to attract people who find us through digital media."
Engaging Consumers
Sabato listed five types of consumers and their attitudes toward wine. Sabato said, "We offer a seat at the table for any type of consumer. But the most interesting type of engagement for us is with the consumer who views wine as a lifestyle. This consumer wants to hear stories and wants to know about wines that relate to the lifestyle they have."
He said it's important to understand and assess the consumer market for millennials and younger consumers as they will define how wine is consumed for the next 30 years. He called this market "hyper-digital" and says they want stories that can't be projected in just words. The website and stores prominently feature photos of winemakers, vineyards and regions. Sabato said Verve's goal is to wholistically represent what's going into the bottle, based on the story about the producer, and what the curious consumer can expect to get out of the bottle and their experience with it. In addition, this story should make sense to the consumer in the context of their own life.
"We believe the greatest assets we have are the stories about the amazing people who make wine and where they come from," Sabato said.
When asked how they see the future wine market going in light of slowing sales and consumption, Sabato observed: "Wine sales growth may be shrinking in the overall market, but in the market we're targeting, it's growing. Within the space we're playing, which takes a more nuanced sales approach, it's still a growing category."
Wilson explained: "Making wine and selling wine are two different things. In the space I'm working in now, meeting the people behind the wine is a huge benefit for everyone. I know for winemakers, it can be hard to make time to get out in the market, but the more you can connect with people and talk about the things you do differently and tell those stories, the better it is for sales and customer engagement."