WBM Announces 2019 Hot Brands
Representing the American wine industry in 10 brands isn't an easy feat, but it's a task that the editors at Wine Business Monthly set out to accomplish each year.
Wine Business Monthly's annual list of Hot Brands honors wineries, winemakers, growers and others within the industry who are making some kind of statement: experimenting with lesser-known varieties, utilizing creative winemaking techniques or voicing an unpopular opinion for the sake of moving the U.S. wine world forward.
Hot Brands is more than a "best of" list, it's a chance to explore new regions, varieties and winemakers that we think embody some of the latest innovations in the ever-growing, and ever-changing, wine market.
The results never turn out quite how we expect it, and we often end up with a couple of wines that surprise us. Even so, every year we stumble on a couple of themes or patterns amongst our choices. This year we proved, quite by accident, that the Central Coast wine industry is a force to be reckoned with: We found incredible diversity all along the central California coast. We typically try not to choose so many brands from one region, but the wines asserted themselves.
A couple of brands have made inspired attempts to reach new consumers, whether through informative and creative labels, or collaborations with music streaming giants. Others are focused on building their local consumer base, creating blends, experiences and spaces for those nearby to enjoy themselves while engaging with the wine.
This year, we've selected wines from pioneers, newcomers, small and large producers—all of whom span the industry spectrum when it comes to winemaking styles, reflecting the diversity that is the U.S. wine culture, and that innate winemaker desire to produce something they, and the consumer, will love.
---
Andis Wines
2017 Barbera d'Amador
Proving Barbera is More Than a Blender
Viticulture in Amador began in the 1850s, when the area was flooded with eager Gold Rush hunters. Many of them were European and most Italian. These immigrants planted the first grapevines, and that Italian influence persists to this day. Zinfandel remains the most popular variety, but Barbera also took a strong foot-hold. Andis Wines never shied away from using it as a standalone variety. With its naturally high acid and low, smooth tannins, the red grape can produce a refreshing, food friendly wine from Amador—just like it can from Italy.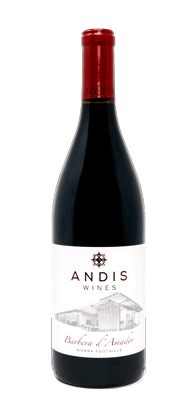 Domaine Drouhin Oregon
2017 Roserock Chardonnay
Rising Interest in Oregon Chardonnay
In Northern Oregon, Pinot Noir is king. But there is another variety that does just as well there, and winemakers across the valley are starting to talk more about it—Chardonnay.
The Roserock Chardonnay is made in the same style as the company's other brand, Domaine Drouhin's Chardonnay Arthur—lightly oaked, food-friendly yet complex. In the Roserock Vineyard, however, the fruit ripens a little more slowly and later than vines across the valley in the Dundee Hills, providing more structure and producing wines comparable to those of Puligny.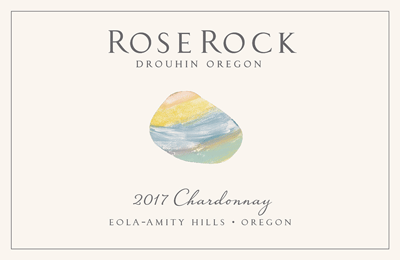 Early Mountain Vineyards
2017 Quaker Run Vineyard Tannat
Open Minds, Open Hearts Lead to Beautiful Tannat
In so many regions of the world, laws govern which grapes can be planted as well as how they're grown. But in others, where notoriety isn't strong and the climate and soils allow for a little experimentation, open-minded grape growers and winemakers are free to go against the grain and seek out which winegrapes are truly suited to their specific terroir.
At Early Mountain Vineyards, located in the foothills of Virginia's Blue Ridge Mountains, winemaker Ben Jordan and owners Jean and Steve Case are ready to see what viticulture in their state can offer. Although the area is prone to strong winter storms, late spring frosts and humid summers—not typically ideal conditions for ripening grapes—Tannat thrives anyway. And When the editors at Wine Business Monthly tasted the 2017 Quaker Run Vineyard Tannat, it was met with resounding approval. Perfectly balanced fruit, tannin and acidity achieved by a deft hand in a light touch of oak. It is a soft—but powerful—wine.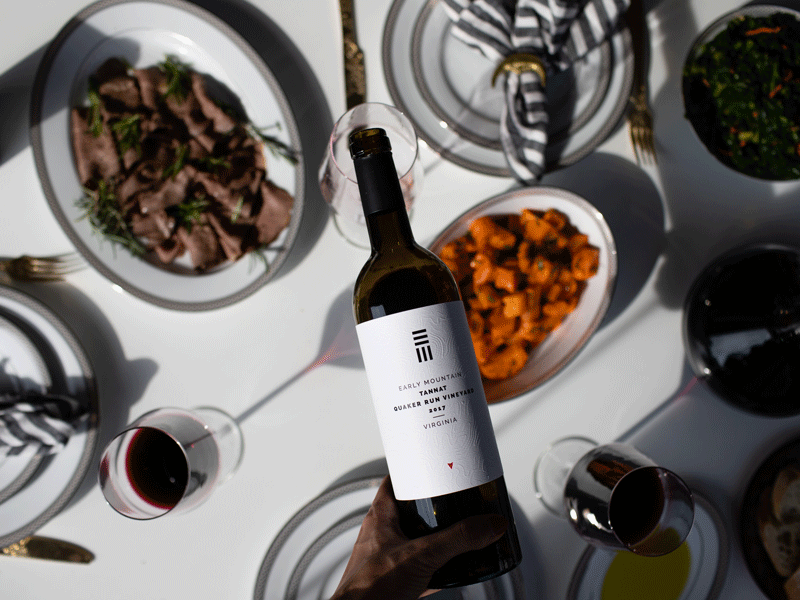 J. Wilkes Wines
2018 Viognier
A Wine That Wears its Sensuality on its Sleeve
"If the wines represent the AVA where they're from, that's what I want to give to my generation and younger generations of wine drinkers in the United States—great wine that's delicious no matter what. And if you want to go down the rabbit hole of 'place,' then let's give you a baseline to understand," said J. Wilkes winemaker and brand ambassador, Wes Hagen.
That is the heart of J. Wilkes' winemaking message. Case in point: The 2018 Viognier: a crisp, bright, graceful version of a grape that can easily show as overly perfumed or over-the-top, with a strong potential to lose acidity in warm growing regions like Paso Robles. But because the grapes are sourced from a block in French Camp Vineyard that lies at a high elevation with a diurnal shift that averages 50 degrees during the growing season, the Viognier is able to maintain a naturally high level of acidity.

Land of Promise Wines
2016 Patriae Fidelitas
Pinot Noir and the Americana Dream
Charles and Diana Karren never set out to be in the wine business, per say. Their goal was to spend their days out in the vineyard, in the open air with acres of Pinot Noir surrounding them. Growers at heart, they simply wanted to enjoy the fruits of their labor—once someone else had turned it to wine. But when the wines made from their Pinot Noir started receiving high scores and selling out so fast the couple couldn't buy a bottle, they thought it might be time to produce wines of their own.
It was Diana who led the winemaking endeavor, producing just 100 cases, but in four different styles. The intention: to showcase the different areas of the vineyard as well as the different clones. The 2013 release included: Deo Favente, "With God's Favor" and the "Grand Cru" of the vineyard, made entirely of clone 777; E Pluribus Unum ("Out of Many, One"), a blend from all five clones grown on the property; Terra de Promissio, a tribute to their land, using clones 115 and 777; and—our pick—Patriae Fidelitas, an intense, bold wine to honor the bravery of the U.S. Armed Forces.
"I'm an immigrant to this country, and, for me, my vision is for it to be an all-American wine where people remember what America is all about," Karren said. "America is a country of immigrants that believed in God, and that America is more than just a country. It is an idea, and people; brave men and women fought for this idea. The idea [behind the wine] was to unite people, and kind of remind them, and bring them back to basics. It takes an immigrant to do that."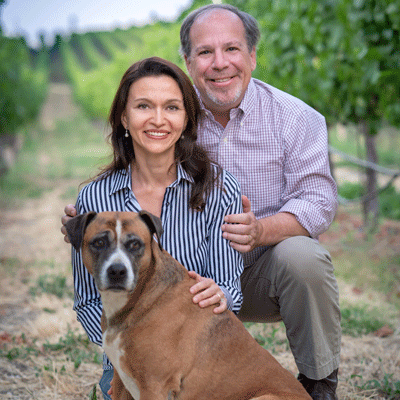 Obvious Wines
No. 1 Dark & Bold
Because it Doesn't Take a Doctorate to Understand Wine
The premise of Obvious Wines is simple: Wine should be easy to understand, approachable and enjoyable. With its line of eco-friendly wines sourced from around the world, founder Brice Baillie is trying to show consumers that purchasing wine can, and should, be straight-forward—it should be obvious what you're going to get in the bottle.
What makes understanding each wine so simple? Perhaps one of the most informative and aesthetically pleasing labels we've seen in a while. Aside from the flavor profile stated unmistakably in the product's name, each label features three food pairings, a map with the location the grapes were sourced from and a section that shows the acidity, body, tannins, and alcohol levels as well as the characteristic aromas and flavors associated with each wine.
Founder Brice Baillie is trying to build a trusted brand that people can turn to with ease, one that doesn't require a lot of fuss. "The goal is really to be a household brand that people know and respect … and to have people discover wine with us or learn more about wine with us," he said.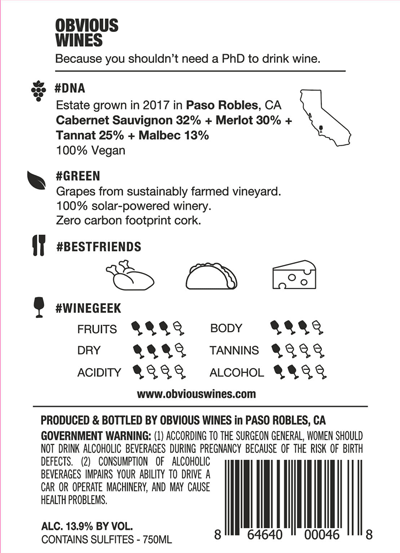 Tarpon Cellars
2017 Sauvignon Blanc
Winemaker Collaborates with Spotify for New Pairing
Sauvignon Blanc's natural variability is one of the reasons Tarpon Cellars' found, Jeremy Carter, started working with the grape. After making wine in New Zealand he realized that, yes, Sauvignon Blanc can be produced with that ever-popular and expected grassy character that's often exported to the American market. But he also learned that it's so versatile, it could be made to whatever style a winemaker wants.
Music plays an important role in Carter's life and work and, appropriately, he has partnered with Spotify to produce and distribute playlists to accompany his wines. "The playlist thing with Spotify is just kind of an extension of who I am. I was always thinking, like, for my girlfriend in high school, I burned CDs of mixed tapes and I feel a way of connecting to people through music," he said. "To be able to incorporate that into my profession, just was a natural fit."
The music serves a dual purpose: to expose wine drinkers, both new and experienced, to the nuances of the less-appreciated Sauvignon Blanc and to introduce his wine drinking audience to lesser-known musical artists.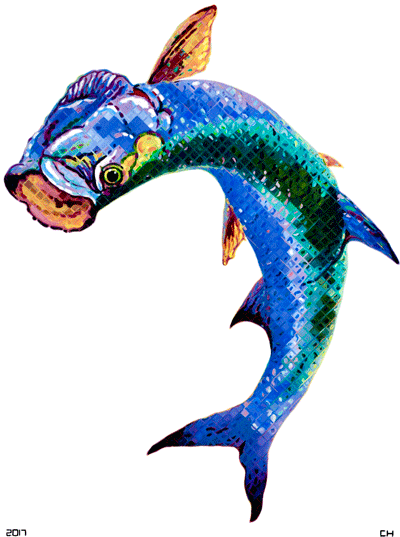 Thacher Winery and Vineyard
2017 Valdiguie
Experimenting with Unique Varieties in Paso Robles
It was while scoping out a 50-year-old, own-rooted Chenin Blanc that Thacher Winery and Vineyard owner and winemaker, Sherman Thacher, and his assistant winemaker, Daniel Callan, discovered that the same grower also had a block of Valdiguie. Though Thacher didn't have much experience with the grape, he and Callan were intrigued. That first year, they received 1.5 tons and, after asking some of the other winemakers how they treated the fruit, ran several winemaking trials, including experiments with whole-cluster inclusion.
On the Central Coast, Valdiguie has been a bit lost, traditionally used as a blender in large-batch winery programs. Thacher finds Valdiguie a grape worthy of bottling varietally as well. Now in his third year working with the grape, he took a ton of the fruit, picked it earlier and made it in a nouveau style—just to see what it would taste like. Five weeks after harvest, he reported it as "zippy." "Ultimately, I want to make something that is interesting," he said.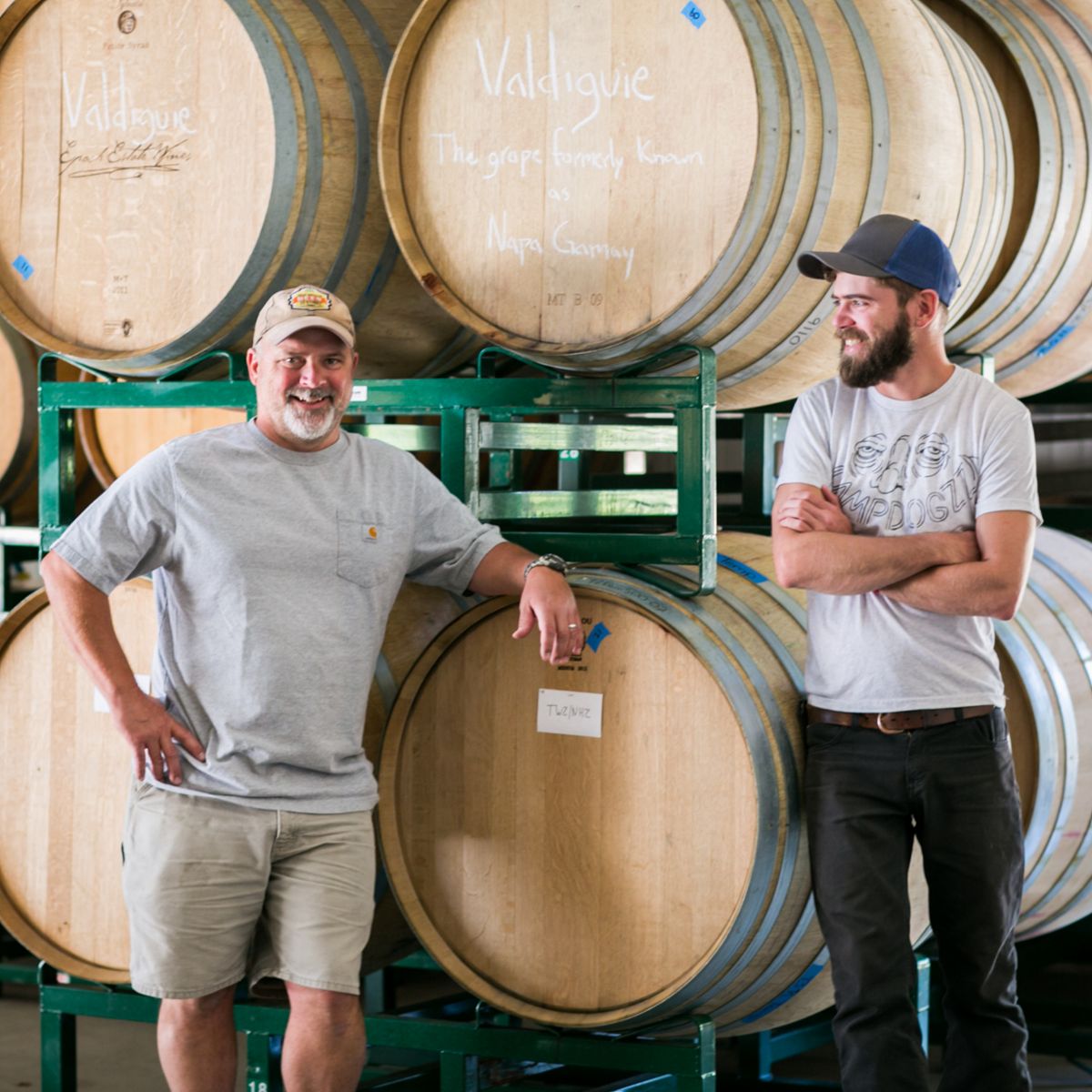 The Hilt Estate
2016 Vanguard Pinot Noir
Perfecting Sta. Rita Hills Pinot Noir
At The Hilt Estate, sister winery to Jonata in Santa Barbara and Screaming Eagle in Napa, understanding the vineyard is everything. In order to create wines of place, the team must know the place. The winery name even refers to the fact that the vineyard team "farms to the hilt"—a mentality that launched a series of wines that put the brand's winemaking style to the test.
"What really defines our brand is that we're an incredible collection of farmers on these properties. We take a long-term view of getting to know these things and not rushing anything. I'm ferociously proud of that," said winemaker Matt Dees.
In order to develop that surety, and build his depth of knowledge of the place, Dees started by to make his "wines of style"—The Hilt's The Old Guard and The Vanguard series. "The Old Guard was really driven by structure. It was driven by stem inclusion, by earthiness, by grit, by that very dark side of Pinot Noir—a hint of corruption of Pinot Noir," he said. "The Vanguard was really driven by a very silky texture. It was really a question for us about structure versus texture. The Vanguard came out as a style that just has that wonderful push of silky fruit. It's all about that real pleasure in that velvety feel."
What he's shown through these blends is versatility of Pinot Noir: it can be a wine that speaks of a plot of land or a winemaker's attitude; it can be rough and burly or soft and elegant.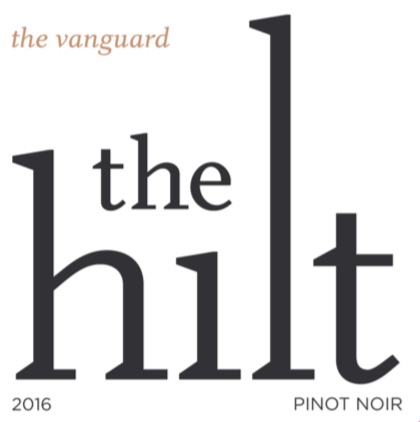 William Chris Vineyards
Skeleton Key
Texas Wine with Intention
With an unrivaled passion and determination, Chris Brundrett and William 'Bill" Blackmon are dedicated to showing the rest of the world how wonderful Texas wine can be through William Chris Vineyards.
That intention shows itself in every tier of William Chris' wines, but it's in The Skeleton Key Red Blend that one can really feel that Texas spirit. A blend of grapes from the state's various AVAs, it's a lure to those who aren't as interested in wine or haven't experienced any Texas wine before.
The red blend has seen great success over the years, and the Skeleton Key brand has expanded to include a Cabernet, a white blend and a Mourvédre. "Those are just taking off like wildfire. That (the Skeleton Key Red Blend) is kind of like the entry level, the access point. Once somebody tastes this and really likes it, then they look a little deeper and come out to the winery, and schedule their visit, and really dig into a lot of the single variety wines," said co-owner and winemaker Chris Brundrett said.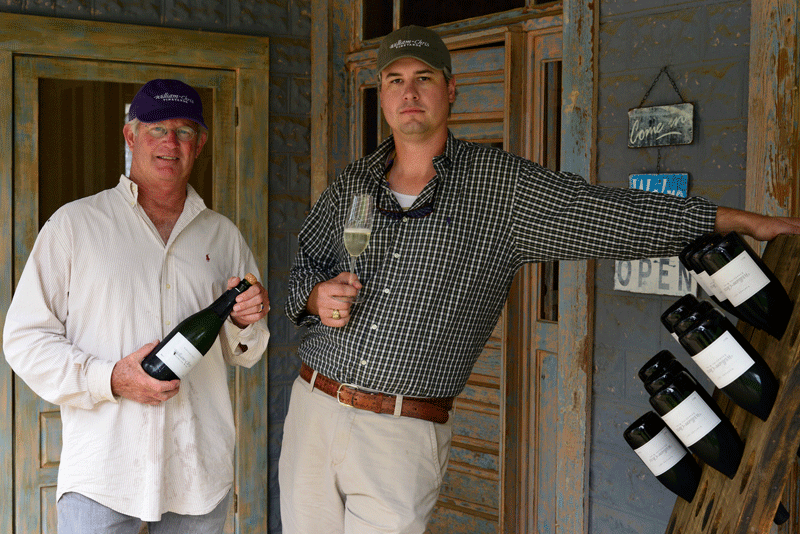 ---
Wine Business Monthly's 2019 Hot Brands list, and accompanying feature article, is available in our February issue.