Perfect Storm: Consumers Moderate Alcohol Consumption and Embrace New Beverage Options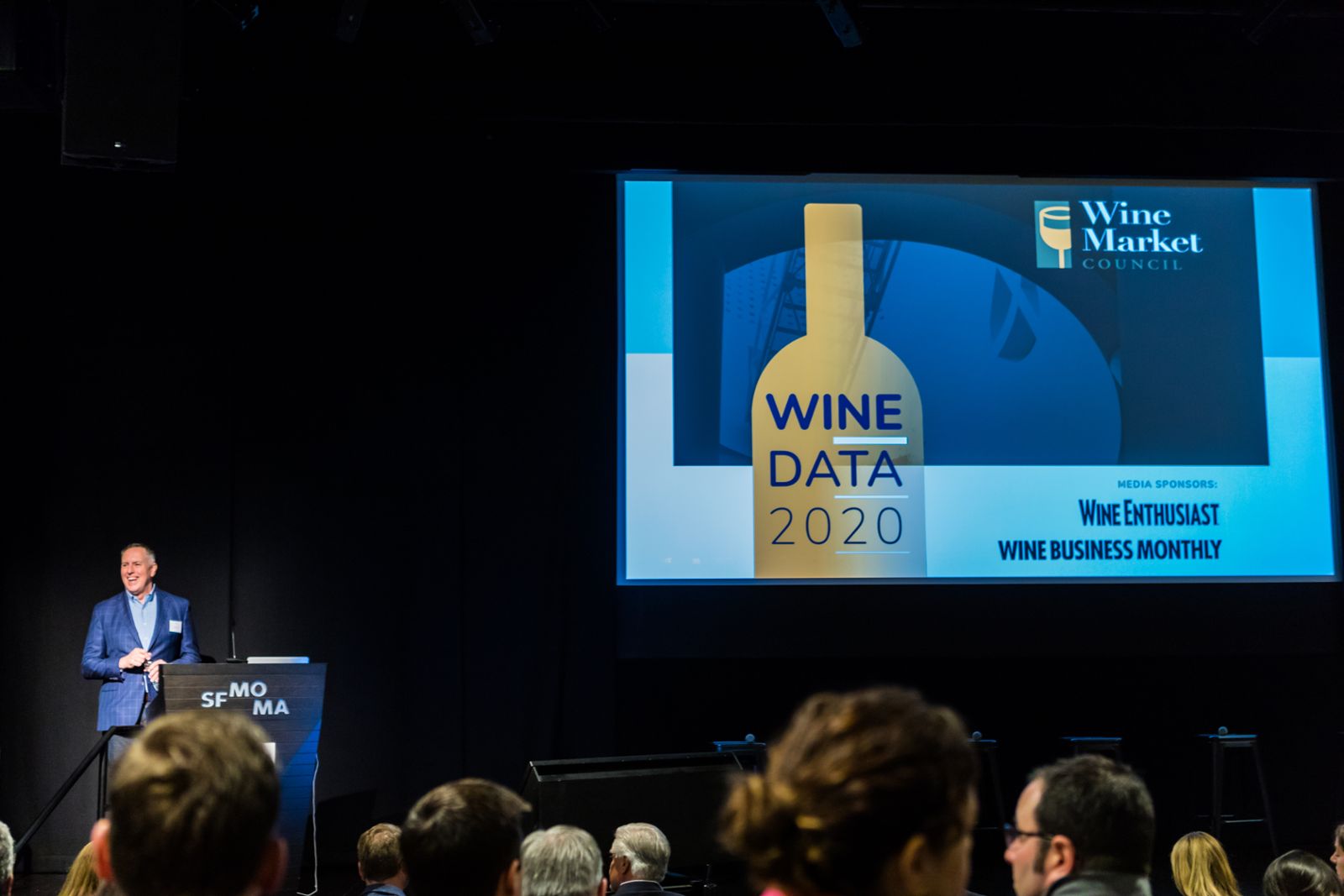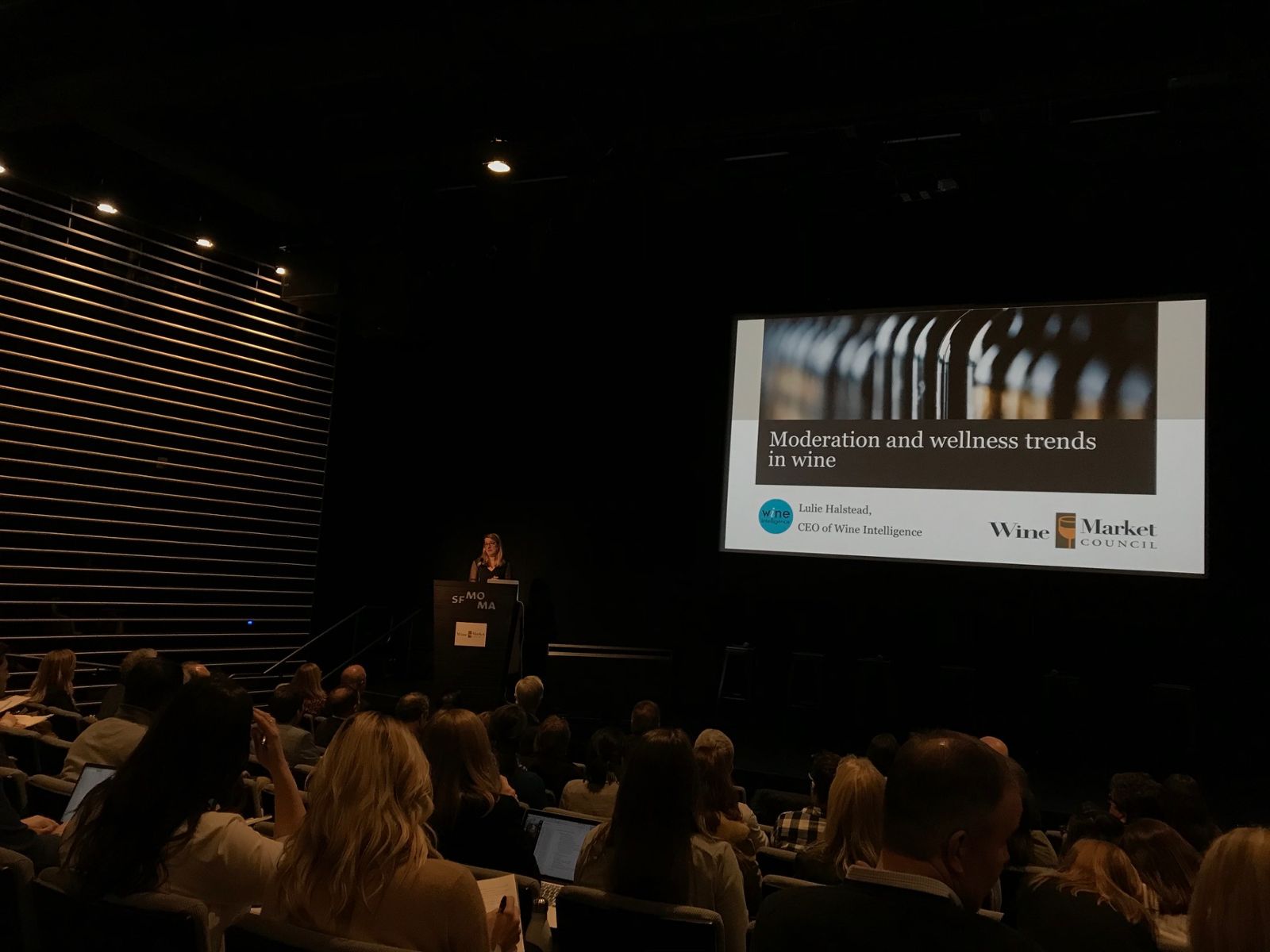 Why are consumers embracing moderation and wellness? Who lives a "free-from" lifestyle?
These were among the questions Lulie Halstead, co-founder and CEO at Wine Intelligence, addressed Tuesday in San Francisco during a conference organized by the Wine Market Council, a San Francisco-based organization that studies U.S. wine consumer trends.
Who Drinks?
In 2008, Halstead said 14 percent of wine drinkers had wine every day or on most days. However, in 2019, research indicates only 10 percent did so. Why? Consumers moderated their alcohol consumption and switched to other beverage options, including lower-alcohol categories or soft drinks.
"One could call it the perfect storm," Halstead told the 270 people gathered at SF MOMA.
About 37 percent of regular wine drinkers in the U.S. say they are "actively reducing the amount of alcohol" they drink, Halstead said. However, 63 percent of those consumers said they are not reducing their wine intake.
Younger consumers are most inclined to adopt a mentality of moderation, according to the research.
About 57 percent of wine drinkers between the ages of 21 and 34 are actively trying to drink less, according to the data. However, 74 percent of wine drinkers 55 and older are not trying to drink less.
"We need to be a little bit circumspect about this," Halstead cautioned. "Saying 'I am actively reducing' as opposed to 'doing I am actively reducing' - they are two very different things. We are measuring sentiment ... We are not looking at the total volume they are drinking."
Forty-two percent of regular wine drinkers said they are reducing their alcohol consumption by selecting lower alcohol options.
"More consumers are paying attention to the level of alcohol in wine than they did before. And you can see that statistically significant increase across pretty much every market we want work in," Halstead said.
She added that consumers' preference for a "free-from" lifestyle is a market opportunity, noting as an example, consumers perceive "organic' as less chemicals and better for the environment.
"'It's good for me and it's good for the environment. So it's a double take," she said.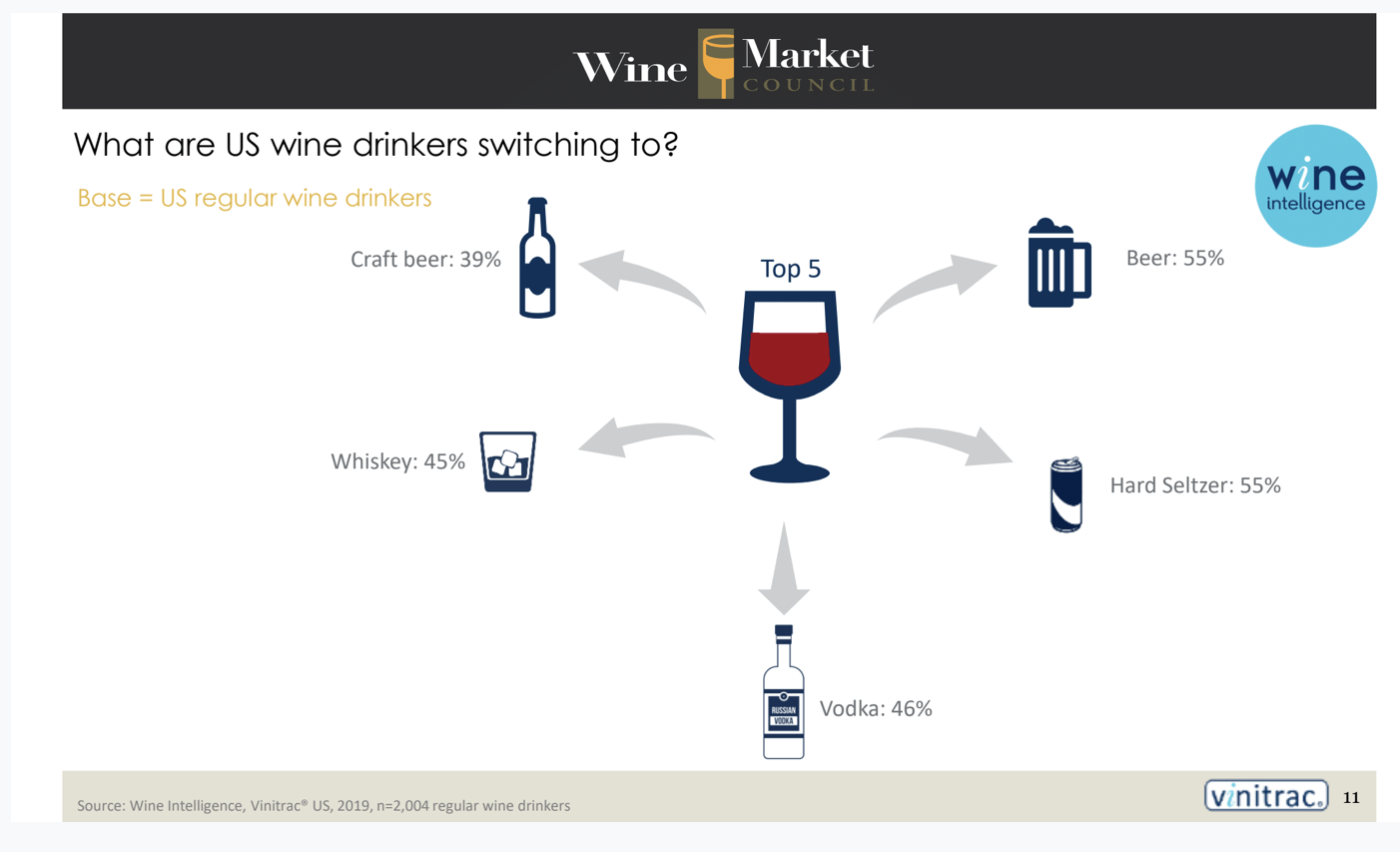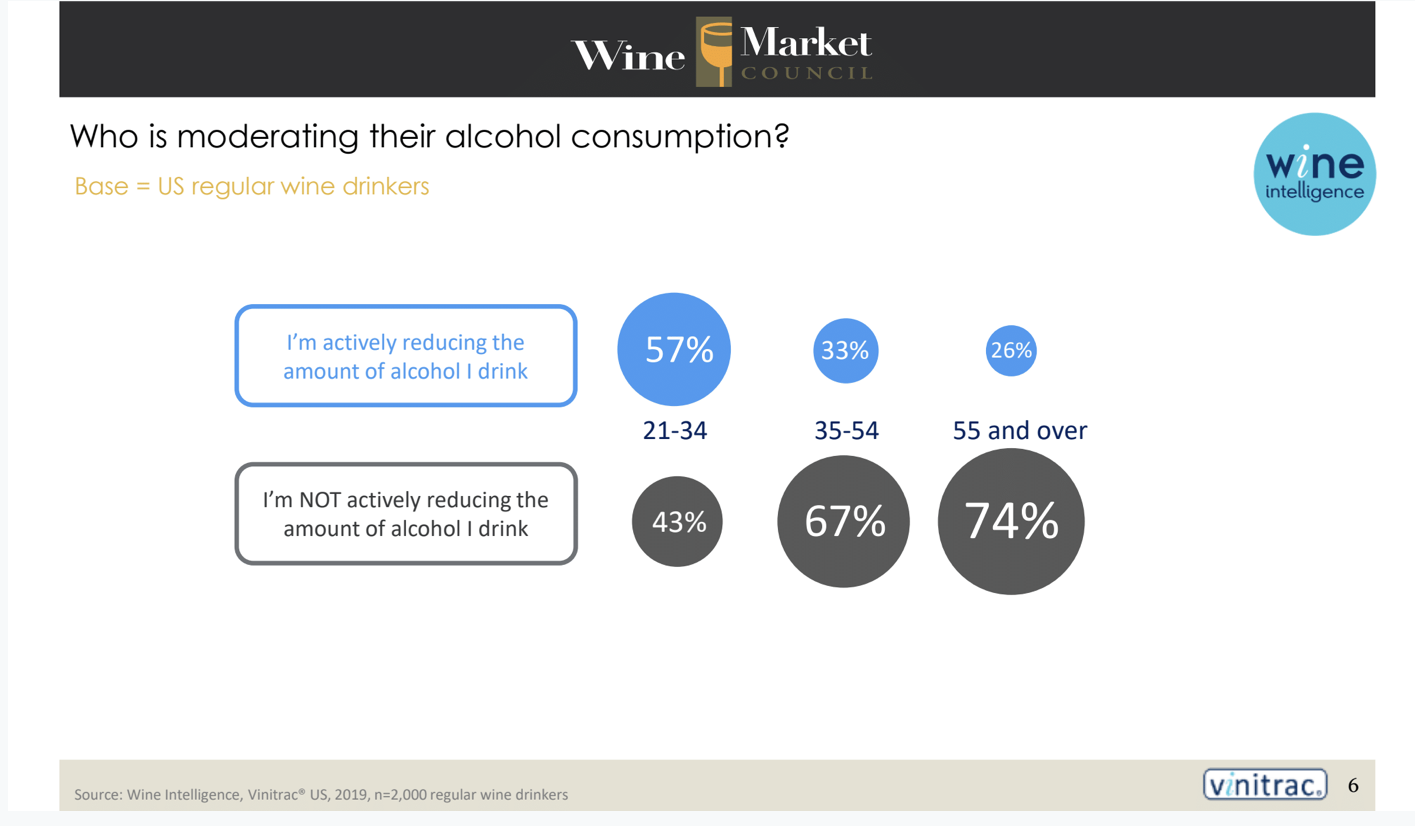 DTC Shipping and Off-premise Sales
Off-premise wine sales in 2019 trailed those of spirits, beers and hard seltzers, according to data presented by Danny Brager, senior vice president of Beverage Alcohol Practice at Nielsen. Brager said wine shipments' trend lines are heading downward and that wine depletion data recorded by the largest wine distributors in the U.S. indicate an overall slowing trend.
Total wine shipments grew by 1.1 percent according to bw166 data.
Wineries in 2019 shipped more wine directly to consumers, though overall shipments grew at a slower rate in 2019 than the previous year, according to The 2020 Direct-to-Consumer Wine Shipping Report by Sovos ShipCompliant and Wines Vines Analytics. Altogether, wineries shipped more than $3.2 billion worth of wine directly to consumers in 2019, according to the data.
Sonoma sold more wine than Napa via by the direct-to-consumer shipment channel this past summer. By value, however, Napa's DTC sales account for about half of the entire channel.
Oregon wineries in 2018 sold $100 million worth of wine directly to consumers. Andrew Adams, editor at Wine Analytics Report said. Its population is only 4.1 million, he noted. "It shows when you really have a good, strong, robust program, it can move a lot of wine and sell a lot of wine," Adams said.
Generally speaking, Brager said the wine segments that have continued to grow by double digits include: Rose, 3L box, Prosecco, Oregon, Tetra, cans and wine cocktails.
Other Categories Provide Stiff Competition
At the same time, spirits are gaining shares at the expense of beer and wine, according to bw 166 data.
Wine Market Council data indicates wine drinkers also consume other alcoholic beverages. Sixty-three percent also drink beer, while 61 percent also drink spirits and another 32 percent drink other categories.
Dale Stratton, incoming president at Wine Market Council, noted that 52 percent of people aged 21 to 29 years old say they either rarely or never drink wine because they do not like the taste. "That's an opportunity," Stratton said. "Make wines that they do like. Educate them on different types of wine and get them into the category," he said.
Other beverages present formidable competition. Hard seltzers' sales totaled $1.5 billion and continue to grow by more than 200 percent annually, according to Nielsen. Hard seltzers' total sales increased by another $100 million every four weeks or so, Brager said.
Other emerging growth beverages include ready-to-drink spirits in cans, water and sparkling water drinks and wine cocktails, according to Nielsen's data.
How about cannabis? Five states allow legal recreational cannabis, totaling $6.6 billion in value, according to Nielsen's data. California's legal recreational cannabis market represents $3 billion--or 90 percent of the total cannabis sales. More than 70 percent of the sales come from younger consumers, according to Nielsen's data.
Fewer wine drinkers also buy cannabis products than beer and spirits consumers, data indicate.
"It's not going to help the wine category," Brager said of the cannabis industry. "But I don't think it's going to be a major hindrance."
Non-Alcoholic Beverages
Non-alcoholic beverages in aggregate grew by close to 10 percent in 2019 versus 2018, Brager said. They increased dollars sales by $2.5 billion in 2019. White Claw occupies 59 percent of the hard seltzer market and its main competitor, Truly, represents another 26 percent, according to Nielsen's data.
The labels on the fastest growing non-alcoholic beverages include descriptions such as "natural presence," "organic," "GMO-free" and "gluten-free." Some of these characteristics may also be inherent to wine. "But if they do, I'm not sure how we're communicating it," Brager added.
Nielsen reports that two-thirds of the sales come from variety packs that contain three to four flavors. "Clearly, flavor is a driver," Brager said
Advertisements from other alcoholic categories have been going after the wine industry, according to Brager. For instance, a Truly advertisement suggests emptying wine bottles and using them as candle holders.
Hard seltzer consumers tend to be buyers of other alcoholic beverages. Five percent are new alcohol drinkers. The other 40 percent are shifting from other categories to buy hard seltzers, Brager explained. One-third of them come from the beer category while a quarter come from wine and another quarter from spirits. Hard seltzers are "equal opportunity stealers" of business from other sources, Brager said.
Esther Mobley, wine critic at the San Francisco Chronicle, also spoke Tuesday. During her address, she questioned why one would choose hard seltzers for health. She described them as "gluten removed, forced carbonated malt liquor with artificial flavorings and sweeteners."
Wine is "gluten free," "plant based," "roughly 100 calories per serving," and "low sugar," she said.
The Tarriff Question
Jon Moramarco, managing partner at bw 166 LLC, spoke about the effects from tariffs imposed on European wine imports, saying customers may not be willing to pay more money for European wine. Retailers may cut down on space for wine ad restaurants may start maintaining a shorter wine list, he said. The most recent tariffs were imposed in October. Within a month, French red wine sales declined by 22.2 percent in volume and 50.8 percent in value; French white wine sales decreased by 16 percent in volume and 32.1 percent in value, Moramarco said.