Sovos ShipCompliant Wines Vines Analytics Report Highlights Presented During Direct-To-Consumer Wine Symposium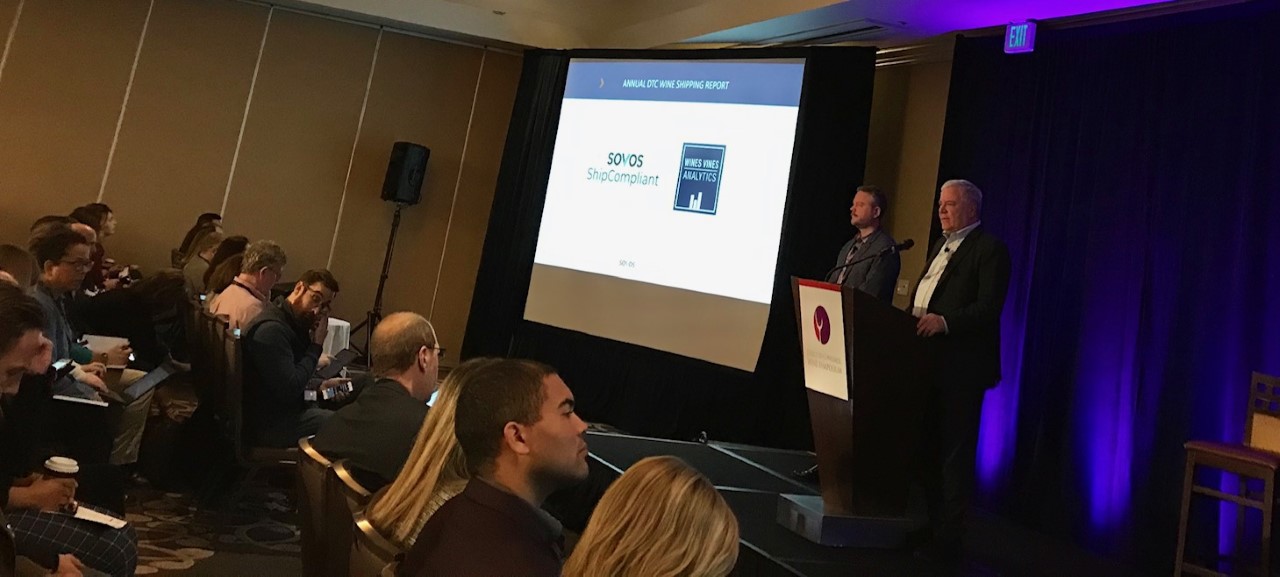 Wineries continued to ship more wine directly to consumers in 2019, though the shipments grew at a slower rate than last year, according to the 2020 Direct-to-Consumer Wine Shipping Report.
Wineries' direct-to-consumer wine sales totaled $3.2 Billion – or 7.4 percent more than in 2018, according to the report from Sovos ShipCompliant and Wines Vines Analytics. DtC wine sales also grew by 4.7 percent in volume in 2019, to 6.6 million cases. The analysis studied 20 million DtC shipments from US wineries in 2019. DtC shipments had averaged 14 percent growth in value over the past 5 years in part due to states such as Pennsylvania and Massachusetts opening their borders to DtC wine shipping.
The data were among the report's highlights presented Wednesday at the 2020 Direct-To-Consumer Wine Symposium, a two-day event in Concord attended by about 500 people. Andrew Adams, editor of the Wine Analytics Report and Larry Cormier, vice present and general manager at Sovos ShipCompliant, presented the information during their keynote address.
Altogether, Sonoma wineries' shipments totaled 29.1 percent of all DtC wine shipments in 2019 – the most among the main wine regions in the United States, including Napa, according to the document.
The value of Sonoma County's Pinot Noir decreased by 3.9 percent in value in 2019 but increased by 3.5 percent in volume over the prior year, according to the analysis. That indicates there was less demand for Sonoma County Pinot Noir sold in the DtC channel, the report stated.
Napa County's wineries shipped 2.8 percent more wine in 2019 than in 2018 by DtC shipping channel, according to the report. These DtC shipments totaled $1.5 billion, with the average price per bottle set at about $69 – or 3.4 percent more than in 2018, the data indicate.
Cabernet Sauvignon remains the top varietal Napa wineries sold via DtC shipping channels. The average price for a bottle of Cabernet Sauvignon was $109, according to the report.
Cormier said wineries use the report to check their return on their investments. Among other data, the companies consider which states receive the most wine by DtC shipping channels.
According to the report, 54 percent of all DtC shipments went to five states: 30 percent to California; 8 percent to Texas; 6 percent to Washington state and New York State; and 5 percent to Florida.
Oklahoma opened to DtC shipments in 2018. DtC sales increased by 88 percent in volume and 121 percent increase in dollar value in 2019, according to the analysis.
Wine shipments represent 76 percent of all online sales, according to Nielsen's data presented Wednesday.
"But don't think for a moment that spirits and beer are not trying to do the same thing," Cormier also said. "It's a competitive advantage that we need to continue to invest in," Cormier said, referring to e-commerce.
Spirits and beer's sales online represent 14 percent and 10 percent of all e-commerce sales respectively, according to Nielsen's data.
Another speaker, Saretta Brown, master trainer at Dale Carnegie Institute, an organization that offers corporate training program, and an executive at JWC Environmental, spoke on leadership.
Brown, the youngest of six children, including four who were more than a decade older than she, learned from her family's unwavering support.
To underscore her points, she played a family tape of one of her older brother's coaching her at age 6 to sing through The Wizard of Oz. She also learned to have "heart" from her an older sister who took care of Brown for three months when she was 10 after their mother fell ill.
"Ask yourself: "Who are you to your network? What are you doing to support others so they can reach their full potential and be uplifted?"
Brown spoke on Google's project called "Aristotle," which analyzed what made teams more successful than others.
"What it came down to was this idea of psychological safety," Brown said. Employees who "felt safe in a team, where trust was built - not just with their boss, but also with their colleagues," Brown said, "were willing to take more chances because they knew their ideas wouldn't be smashed."
It takes courage to trust others, she said.
Leading with heart, courage and brains leads to "better engagement, more productivity, increased creativity and that sense of belonging that leads to retention," Brown said.
She urged the audience not take credit for everything, coach, leave one's ego at the door, show empathy and to let employees shine.
"So often we want to put our stamp on everything…true?" she asked the audience. "Resist the urge to do that."
"If you want to make your business scalable, you're going to have the courage to delegate," Brown said.
"Let's not underestimate the power of emotional intelligence, Brown also said. "We've got to be smart enough to meet people where they're at," she said.
Colleagues and employees should be valued, appreciated, she said. "It makes a big, big difference," she said. At a time when unemployment is at a very low 3.5 percent, people have options, she said. "Let your place of employment be the option."
Sher urged the audience to listen to employees. "Listen from a place of understanding. Listen from a place where you want to learn about their background, their ideas, their desires," she said. "And give them positive recognition. Say it like you mean it."
Brown acknowledged the wine industry's challenges. "There are a lot of uncertainties. Competition is fierce. Consumers want more for less," she said.
"In these times, we need to be courageous in the face of adversity and lead with heart and brains," said brown, who urged the audience to listen to understand experts who will make presentations at the symposium. "And it's not just about knowing. It's about applying," she said. "So commit to something that you're going to do differently so you can make a big impact."
Free the Grapes!, an organization that supports the legalization of DtC wine shipping nationwide, organized the 2020 Direct-To-Consumer Wine Symposium. The 13th annual summit continues today.
Editor's Note: The story has been updated.