Dr. Laura Catena's newest book explores some of the world's great vineyards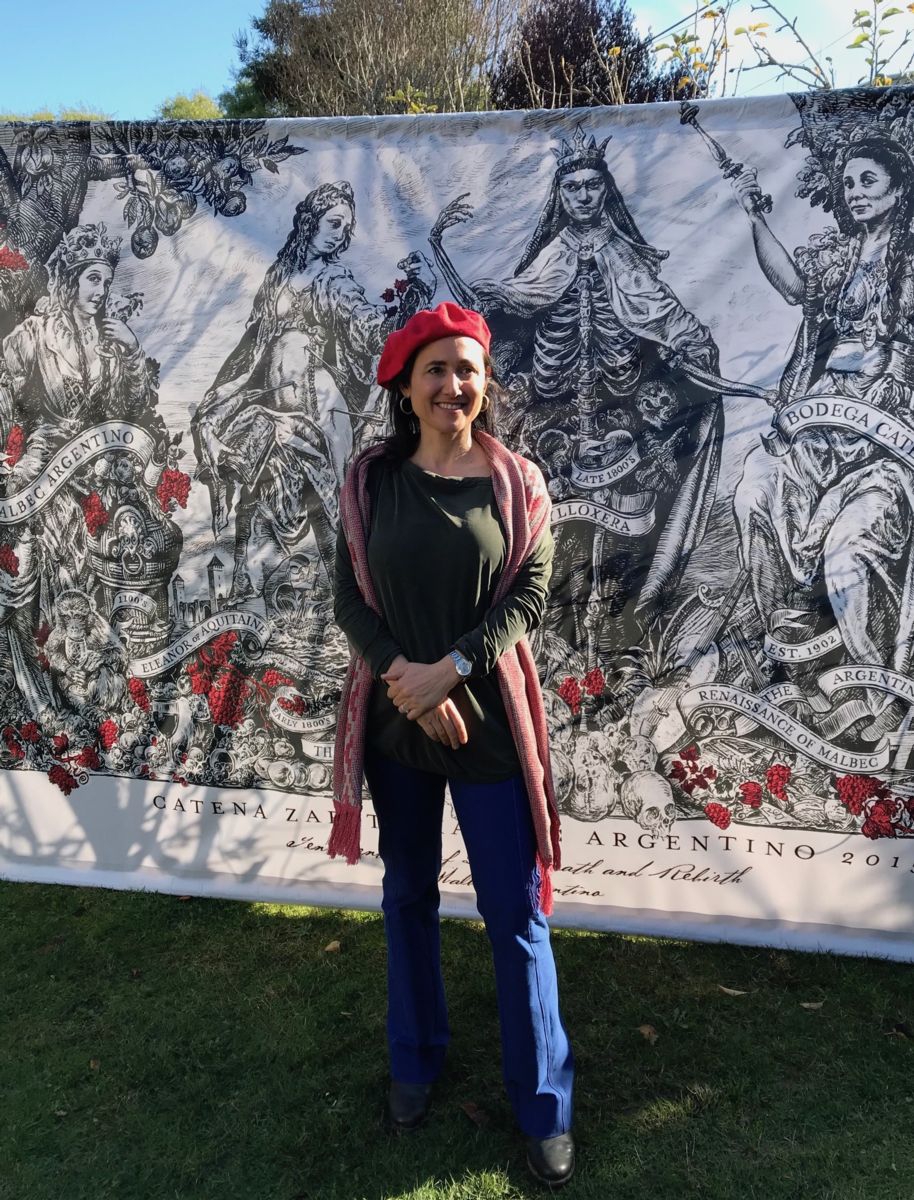 Discovering a fine vineyard is like finding gold.
That's the premise explored in Dr. Laura Catena's newest book, "Gold In The Vineyards." Catena, the general manager of her family's Bodega Catena Zapata, the winery her great-grand father founded in 1902 in Mendoza, Argentina, explores some of the world's most timeless vineyards. That includes Adrianna, the high-altitude vineyard in the Andes that Catena's father, Nicolás Catena Zapata, planted in the 1990s during his journey to create Argentina's first grand cru. The Catenas proved Malbec could ripen at nearly 5,000 feet to produce award-winning wines.
The vineyards featured in Laura Catena's also include those of Germany's Joh.Jos.Prüm in the Mosel, which produces Riesling with fruit from the steep slopes of Wehlener Sonnenuhr; France's Château Lafite Rothschild near Bordeaux, Château d'Yquem in the Sauternes and Romanée-Conti. "Gold In The Vineyards." also takes the reader to other country's including Italy's Antinori in Tuscany; the Henschke family in Australia; and Harlan Estate in the Napa Valley.
Catena's illustrated book was first published in Spanish in 2017. It was so successful, she decided to have an English edition under the title "Gold In The Vineyards," Catena said during an open house to promote the book on Jan. 11 at her San Francisco home. Its official release is March 10. Amazon is taking pre-orders.
Initially, Catena thought someone else should write the book because she was no expert in French or Italian vineyards. But she changed her mind when she realized that a common thread among these properties was that families created these vineyards.
"And I am an expert at the wine family. I know how wine family works," said Catena. So I decided to write the book."
Catena took time to research the women who played key roles in the history of the vineyards and wineries featured in the book. She also pays tribute to women in her own family, including her great-grandmother Nicasia who taught her "how to play and love," her maternal grand-mother, "La Acicita," who encouraged her to "write poetry and seek adventure" and her mother, Elena, who let Catena travel to Paris when she was 14 to study French and art history.
And she loves illustrated books. Images, she said, help tell the story.
A San Francisco-based physician who juggles medicine with family and extensive travels on behalf of Bodega Catena Zapata, Catena is most productive in airports and from 7 p.m. to 11 p.m. with a glass of wine, Catena said. During the most intense weeks of writing, she puts her email on hold and communicates with the winery on WhatsApp.
Catena initially wrote "Gold In The Vineyards" in Spanish in 2017. The Spanish edition was published in 2017. Its success led Catena to translate the book into English. "I translated the book myself and made modifications where necessary to make sure that the flow in English worked," she said.
Altogether, Catena prefers to write in English, noting that she did all her schooling after the age of 14 in English after the family left Argentina during the dictatorship. Catena majored in Biology at Harvard University and graduated from medical school at Stanford.
"So I have read more books and write more frequently in English than in Spanish," Catena said. "I wrote my previous book Vino Argentino (Chronicle Books 2010) in English and then rewrote some chapters and translated others into Spanish for the Spanish edition. So I can go both ways." Vino Argentino is a guide to Argentina's wines and vines country.
At the open house on Jan. 11, Catena also presented "As Wine Flows By," a play by brother-in-law Gustavo Dias Ballejo on the history of Malbec that tells the story of its migration from Europe to Argentina. British actress Tina Baston performed the 15-minute play.
Wine writer Jordan Mackay was on hand to discuss his own books, "Franklin Steak" and "The Sommelier's Atlas of Taste."
Wines poured Jan. 11 included Nicasia Vineyard Malbec 2015, Nicolás Catena Zapata 2015 and Malbec Argentino 2017.