Wal-Mart Loses Bid To Sell Liquor In Texas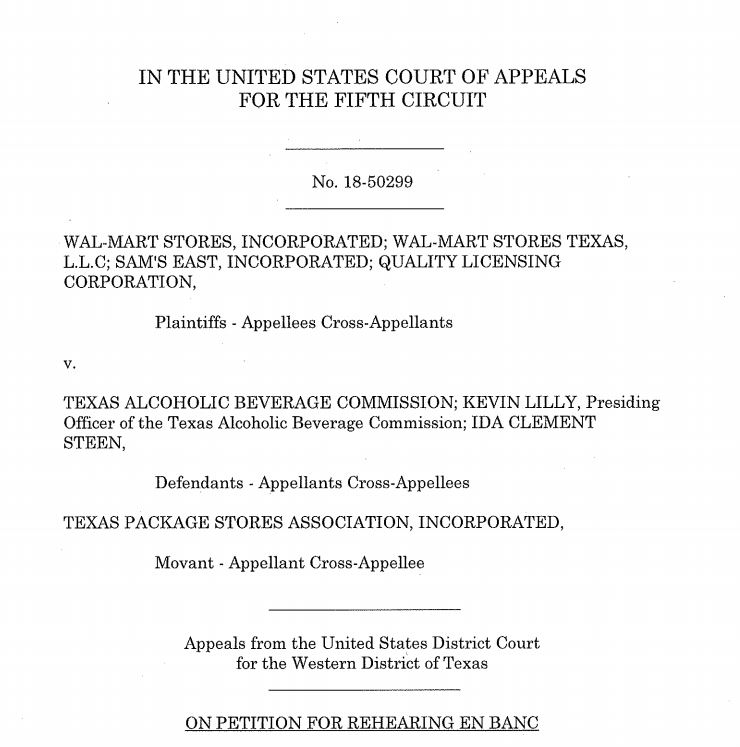 A federal court of appeals on Tuesday turned down Wal-Mart's latest attempt to have a new hearing on a Texas law that bars publicly traded corporations from selling liquor. The 5th U.S. Circuit Court of Appeals in August ruled that the state law did not violate the dormant commerce clause. That decision was affirmed in December.
Wal-Mart wants to sell distilled spirits at its stores and Sam's Club locations in Texas. Wal-Mart already does sell wine and beer in the state.
Tuesday's decision is a win for Texas Package Stores Association Inc. which fought Wal-Mart's challenge to the Texas liquor law in federal courts.
"We're delighted," G. Alan Waldrop of Terrill & Waldrop, an attorney for the Texas Package Stores Association Inc, said Tuesday.
Wal-Mart in December filed a motion for a re-hearing "En Banc" by all judges of the 5th U.S. Circuit Court of Appeals.
What happens next is unclear. Wal-Mart has not indicated what it will do next.
"We continue to believe that the decision hurts Texas consumers. We have not made any decisions on next steps, but will consider all of our options," Anne Hatfield, director, Walmart Global Communications, said Tuesday.
Waldrop explained Wal-Mart could petition to have its case heard before the U.S. Supreme Court.
The case could also be heard again in a lower court to settle one outstanding issue. The 5th U.S. Circuit Court of Appeals has remanded to the district court the question whether or not there was a "discriminatory purpose" in the Texas law – whether or not it was put in place with the intent to discriminate.
Liquor retailers in Texas have to obtain a permit for each location. There are about 2,580 active permits in Texas, including more than 570 issued to chains of six or more permits. However, publicly-traded corporations or corporations with 35 or more shareholders are prohibited from owning such permits.
Wal-Mart had plans to open liquor stores next to its existing retail locations, according to court records. Wal-Mart sells wine in 47 states, including at 668 stores in Texas, according to a court brief filed in December.
The U.S. Supreme Court in June ruled a state of Tennessee law that required liquor store owners to be in-state residents for two years before they can apply for a retail liquor license was unconstitutional
Attorney John Hinman, founder and partner at Hinman and Carmichael LLP in San Francisco, said that "While the Texas package store case (which is a discrimination case – discrimination based on public corporation status) is important, direct shipping is not squarely implicated.
"Texas has banned the sale of spirits by public corporations – whether in state or out of state. So the restriction is facially neutral," Hinman said.
"However it does undercut the rationale of the Tennessee wine case because there is no public health, welfare or temperance reason articulated by Texas in enacting the ban on public companies," he added.
"Will the Supreme Court take the case? It might because it would be an opportunity to expand upon the concept of discrimination having to be justified by legitimate state interests. Here there are none," Hinman said. "As for (Direct-To-Consumer sales) a decision in favor of Wal-Mart would advance the cause of DTC by requiring a legitimate justification for a discriminatory state restriction on issuing permits to out of state merchants."
The case began in 2015 when Wal-Mart successfully sued the Texas Alcoholic Beverage Commission over the prohibition against publicly-traded companies. The Texas Package Stores Association was an intervening party in the proceedings.
The Texas Legislature put in place the prohibition in 1995 after a court decision that a state requirement that an applicant had to be a Texas resident for at least one year in order to sell alcohol was unconstitutional. Wal-Mart argued that the intent of the legislators was to continue to favor Texas ownership of package store permits even after the court ruling, according to court records.