Price Dispersion of Wine in U.S. Michelin Starred Restaurants
Sonoma State Wine Business Institute Professors are conducting a study to investigate the wine price dispersion/discrimination among selected luxury U.S. restaurants.
Within the hospitality business, and specifically the restaurant sector, there is a vast amount of price dispersion for wines across restaurants. Price dispersion of wine occurs when different restaurants offer different prices for the same bottle of wine to customers in different markets. Research on this topic is scarce and therefore, it is challenging for wine economists to originate useful models that support price dispersion as a wine market equilibrium. In our research, we analyze the price differences of wines at fourteen U.S. restaurants that have received the designation of "Three Stars" from the Michelin Restaurant Guide. We determine it is important to expand research in the field of wine economics to provide empirical evidence of the wine dispersion phenomenon, and whether it has statistical and economic significance. This research is based on various qualitative and quantitative methodologies by analyzing data collected directly from restaurants that have an online presence and through written requests from the operations. We use the hedonic price model with fixed effects to control for city and state effects as well as regulatory differences resulting from the U.S. three-tier wine distribution system.
The results will help develop a baseline framework for future studies, which will determine how the selling price of a bottle of wine reaches an exponentially wide price span from the producing winery to the end-consumer in a restaurant. The first objective is to gain an understanding of the underlying strategies restaurateurs use to determine the selling price advertised on their wine list. Generally, as a rule of thumb, a bottle of wine is worth only what a customer is ready and willing to pay for it. Accordingly, we investigate the potential influence factors restaurants use in their pricing strategies to price wines and to also estimate their cellar inventory valuation. These factors may include, but not limited to, exclusive wine inventory e.g.: wine styles, varietals, country of origin; ratings and points awarded to each wine, wine cellar management, menu items and wine paring, demand forecast, and economic risk factors such as wine vintage, potential aging, and longevity.
The final goal is to provide stakeholders with useful and applicable pricing models that can create and support competitive advantage among luxury restaurants without overpricing. Instead, "right pricing" based on a multiplicity of factors include long-term business strategy of the business, optimal inventory level, evaluation and return on investment managed by applying techniques such as Economic Order Quantity (EOQ), management decision to invest in exclusive and rare vintages, fixed cost, spoilage cost, economic risk factors such as economic downturns and high inventory carrying cost, and more.
To date, we have collected data from eleven of fourteen three Michelin starred U.S. restaurants, a collectible rate of 78.6%. Due to the challenge in investigating price discrimination of wines for sale in the sample restaurants where wine prices fluctuate (e.g., price increase), we use exclusively the data collected during the month of September 2019 to conduct the analysis. Given that prices fluctuate and inflate over time, the results of this analysis will enable us to provide a baseline framework defined as "that point in time" reference for future research.
Preliminary results show that wine lists' content of the sample being analyzed ranges from 35 to 192 pages. The estimated total number of wines offered ranges from 800 to 4,900, including variable inventory levels of half bottles of 375 mL and magnums, 1.5 liters. The largest physical cellar inventory is estimated to consist up to 22,000 bottles and selling prices ranging from $50.00 to $15.500 for 750 mL bottle size. Table 1 shows a sample analysis of the selling price variability of the same Champagne extrapolated from the data of seven restaurants that sell the same bottle and with the same vintage. The selling price ranges from $315.00 to $425.00, while the average retail price as of September 2019 was $139.00; hence, there is evidence of price dispersion/ discrimination.
Given that the original and individual cost of the Champagne cannot be determined, understandably so because restaurants will not disclose it, we use the average retail price from online sources to compute a hypothetical mark – up of the highest price sold in restaurant # 2. The mark-up percentage = 206%. It is significant to remark that if we had been able to use the actual wholesale distributor cost of the Champagne paid by restaurants using first-in-first-out inventory evaluation and pricing strategy, the real mark-up percentage might have shown to be significantly higher for this 2012 bottle of Champagne.
Table 1. Sample Price Dispersion from preliminary data analysis

Legend:
- NP= Non-Participating or wine list not promoted on the restaurant's website;
- 0.00 = these restaurants do not feature the same Champagne;
- Retail price average obtained from various online platforms: wine.com; winesearcher.com,
- Mark-up = (Selling price – cost) / cost
To better understand price dispersion and individual pricing strategies, one must first consider that each restaurant operates under distinctive economic conditions with a "potential cost mix" guided by the budget, which is established according to the drink categories the restaurant features. Table 2 shows a sample cost percentage mix according to the categories featured in the drink menu. Table 3 shows a wine list subcategory mix according to a restaurants' actual cellar inventory and wines' segmentation, as highlighted in a wine list. Each wine carries a different cost percentage based on a variety of factors, as previously described: the price paid, country of origin, ratings, premium grape varietals, and vintage. However, within each subcategory item, such as "French Red", wines are further subdivided into additional subcategories that carry a different cost percentage. E.g., Typical Bordeaux blend, or single grape like Pinot Noir. Once more, based on a multiplicity of factors, each wine is allocated a specific cost percentage to compute the selling price. In the end, costing each bottle does not determine the overall optimal average cost and potential profit. According to the beverage sales mix described in Table 2, liquor and cocktail sales, which represent a cost percentage of 15% and 10% respectively, will produce the highest gross profit percentage. These would be 85% and 90% from liquor and cocktail sales, respectively. The challenge restaurant operators face in wine pricing and profit is not costing alone but also the right sales volume according to each wine subcategory. An expensive bottle of wine may deliver a meager gross profit and if the sales staff concentrates on selling exclusively expensive wines, the cost percentage will be higher. Although non-scientific data published in trade journals has shed some light on pricing strategies, a luxury restaurant cannot use rules of thumb in wine pricing. It must apply specific costing and pricing strategies based on many cost determinants, some of which are director costs, others may be indirect costs.
Table 2. Sample cost percentage by beverage category, typically featured in restaurants.

Note: The actual average cost mix described in Table 2 will change every time the sales volume for each category deviates from budgeted sales. As an example, if the total actual wine sales for one month would represent 60% of the total sales, instead of 40% as budgeted, the potential profit expected per budget could be lower. Although restaurateurs don't take "percentages" to the bank, the potential profit will be reinvested to replace the expensive wines sold. The inventory replacement, in turn, will affect future profit potential. Accordingly, the preliminary results show that wine pricing is much more complicated than simple mathematical computation. Therefore, this investigation attempts to provide an answer to the scientific inquiry of wine price dispersion/ discrimination.
Table 3. Hypothetical representation of wine subcategories and respective percentage used in the creation of a wine list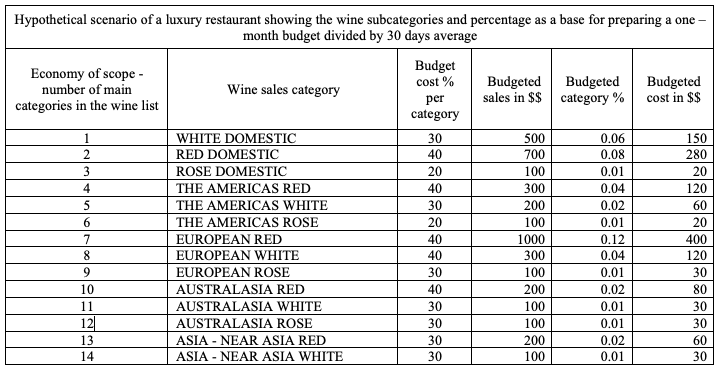 Source: authors' representation constructed from aggregate data collection

Finally, the data collected and observed to date shows that no wine list is identical in terms of lay-out, and terminology used such as NV (No Vintage) or MV (Multiple Vintages). In addition, the sections' listing standard, sequencing of wines, price range e.g.: from lowest to most expensive, US wines before the rest of the world, wine by the glass and half bottle first, Champagne before still wines, and fortified wines last. In sum, wine lists are engineered significantly different among restaurants. Meaning, there is no standard as to how a winelist is written, taking into consideration that the wine list is the marketing tool for selling wines in a restaurant after wines' long journey that may take decades to reach the right customer. Consequently, for a restaurant guest to read and determine what wine would be ideal for the meal being served, for the right price, and the right occasion might be challenging. This is especially challenging if a wine list carries hundreds of wines, according to the sample collected in the study. Therefore, the service of an expert sommelier becomes not only important, rather essential in assisting the restaurant patron in the wine selction and buying decision making process.
This is a work in progress and the final results will be available in spring 2020.
---
Dr. Angelo A. Camillo is Assistant Professor of Management, Hospitality and Wine Supply Chain at Sonoma State University and can be contacted at camillo@sonoma.edu
Dr. Steven Cuellar is Professor of Economics and Wine Business at Sonoma State University and can be contacted at cuellar@sonoma.edu

Dr. Marianna Claps is Independent Wine Business Researcher in Napa and can be contacted at
mcm.claps@gmail.com