Atlas Vineyard Management Inc. Growing by Acquiring Other Vineyard Management Companies, New Clients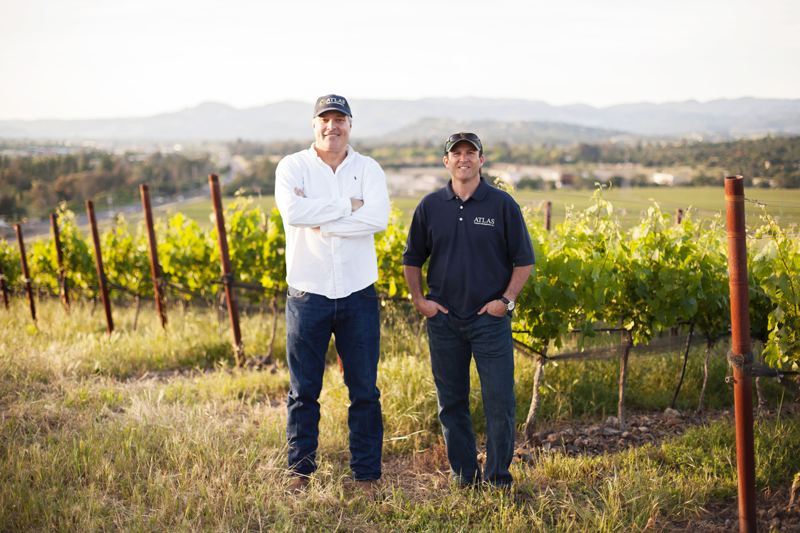 Mike Cybulski, left, and Barry Belli, right, co-founded Atlas Vineyard Management Co. seven years ago. Atlas recently announced the acquisition of a vineyard management company in Oregon. Photo courtesy of Atlas Vineyard Management Inc.
Napa-based Atlas Vineyard Management Inc. plans to continue to grow either by acquiring other vineyard management companies or by attracting new clients, a co-founder said recently.

The Napa-based company manages 3,500 acres of vineyards primarily in the North Coast and in the state of Oregon. The company primarily focuses on farming. It is also partial owners in five the properties it manages – three in Sonoma County and two in Oregon, said Barry Belli co-founder and chief executive officer at Atlas Vineyard Management.

Atlas Vineyard Management earlier this month announced the acquisition of Northwest Vineyard Service from Bob Bailey, who founded the company in 1998. The purchase means Atlas Vineyard Management's footprint into Oregon totals just under 1,000 acres, Belli said.

"With this purchase, it increases, it doubles our acreage, and it increases our Oregon footprint, which allows to put bids on other properties," Belli said.

Atlas Vineyard Management' representatives said Bailey reached out to them after Atlas purchased Bowland Vineyard Management in Sonoma County in August.

"I felt a great connection with Atlas after our first meeting and was confident in their ability to take great care of my clients and employees," said Bailey in a written statement issued Dec. 4. Bailey plans to retire.
"Our goal this year is to transition very smoothly with the new clients that we have up there," Belli said. Belli stressed his company wants to keep the teams intact so that clients interact with the same vineyard workers. Maintaining continuity is "super important," Belli said.

Atlas Vineyard Management noted in August that Chris Bowland, founder of Bowland Vineyard Management, now works for Atlas, bringing 20 years of experience to the team.

At the same time, Atlas Vineyard Management provides office support as well as technical expertise and other support, Belli said.

The company also wants plans to expand the number of acres it manages. "We're opportunistic," Belli said. "I don't know where the limit is."
Atlas Vineyard Management does not want to solicit farming contracts from other vineyard management companies, Belli stressed. "We respect everybody," Belli said. "There are a lot of good farming companies in the industry."
Mike Cybulski, co-founder and present, and Belli started Atlas Vineyard Management in 2012. They both previously had worked for Premier Pacific Vineyards, an investment vehicle that managed 45 vineyard properties, the majority of which were owned by CalPERS, the agency that manages public employees' pension and benefits funds.
Premier Pacific Vineyards held onto the vineyards when land prices plunged during the Great Recession in 2008-2009. Eventually, CalPERS was re-organized. Its contract went to GI Partners; the goal was to liquidate the properties between 3 to 5 years Belli said.
Cybulski and Belli prepared a budget to help GI Partners manage the properties with personnel who had been farming the vineyards. "Who else is better to manage them than the people who are already managing them?" Belli said.
They signed a contract to manage 1,600 acres, 95 percent of which belonged to CalPERS, Belli said. All the fruit was sold to wineries, which was an opportunity to network with winemakers – and seek new contracts, Belli explained. Today, Atlas Vineyard Management's portfolio today only includes 500 acres of CalPERS property, Belli said.
The company now operates with 200 full-time employees, including vineyard managers, a winery relations manager and four viticulturists. Their North Coast shop is centrally located off Highway 101 in Windsor.