Winemaker Trials: Edna Valley Winemaker Compares Different Yeasts to Achieve Variability and Complexity in Chardonnay
Niner Wine Estates winemaker Molly Bohlman performs trials with different yeasts on a regular basis to seek out new variability and complexities with her fermentations. In this first of a two-part trial, she compared CY3079, a yeast she uses regularly, with BRG to see how this newer yeast would affect a newer block in a 77-acre vineyard.
The deadline for Trial Submissions for Wine Business Monthly's 2020 Innovation + Quality conference is fast approaching. Winemakers only have until December 13, 2019 to send in trial descriptions for a chance to present their work at the premier industry event focused on raising wine quality standards through applied research and technology.
The following trial was submitted by Molly Bohlman, winemaker at Niner Wine Estates, was presented at a past Innovation + Quality winemaking conference and was featured in the May 2018 Issue print magazine.
What are you working on in the vineyard or in your cellar? Submit your trials for the 2020 IQ conference, scheduled for February 27, 2020, at the Culinary Institute of America at Greystone. Join Bohlman and other leading winemakers in sharing the results of your trials to help advance our collective winemaking knowledge. This one-of-a-kind forum for ultra-premium wineries hopes to create a place for curious winemakers to build upon foundational knowledge in their pursuit of the highest quality wine. The submission deadline is December 13, 2019.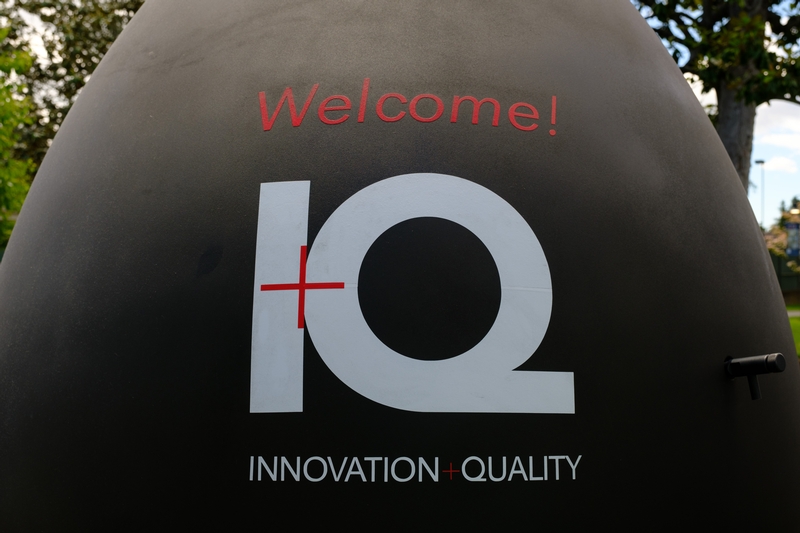 Winery: Niner Wine Estates, Edna Valley AVA
Winemaker: Molly Bohlman
Trial Objective: To compare two different commercial yeast strains on a barrel-fermented Chardonnay.
Summary: A block consisting of 3.17 acres of Chardonnay clone 4 on 1103P rootstock was used for the trial. The grapes were picked on the same day and pressed into tank for cold-settling. Prior to settling, the juice was divided into two tanks, each receiving a different yeast strain, one inoculated with CY3079 and the other with BRG. The juice was then transferred to barrels for fermentation. Fermentation dynamics, laboratory and sensory analysis were compared post-fermentation. Approximately 7.5 tons of fruit were ultimately used in this trial.
Lot 1: Chardonnay with CY3079 yeast
Lot 2: Chardonnay with BRG yeast
Conclusion: Fermentation dynamics (temperature and length of ferment) and laboratory analysis were similar between the two yeast strains. The BRG ending Brix was lower than the CY3079 ending Brix, but glucose/fructose levels were the same. Both lots were inoculated with the same strain of ML bacteria and completed MLF at the same time, so no noticeable effect on ML performance was seen. Preliminary sensory notes for BRG: pretty apple/pear fruit, delicate floral, clean and focused mouthfeel, bright acidity, minerality/salinity; for CY3079: baked apple, pineapple rind, lemon meringue, less aromatic, richer/rounder mouthfeel, softer acid impression.
Winemaker's Postmortem
What led to this trial?
Bohlman: All my Chardonnay comes from a single vineyard, so I'm trying to get some variability and some complexity within my fermentations. I always do some yeast comparison trials just to get some different characteristics in the ending wine. So CY3079 was kind of a yeast that I've used traditionally on Chardonnay. I've been using BRG just for the past couple of years, so I wanted to see how this particular block compared. It's also a relatively new block for me, and I have had good results in that vineyard with CY3079 in the past. But maybe these new plantings don't work quite as well so I'm just trying to see what fits best for these new blocks in the vineyard.
Is there a reason you selected these particular yeasts?
Bohlman: I've used the CY3079 traditionally with Chardonnay for the past 15 years or so, and it seems to be just a really consistent yeast for the valley Chardonnay. BRG is a little bit newer for me, but I like the characteristics that the company [Scott Labs] described—it's a little bit more driving minerality, a little bit fresher fruit with more like apple and pear, and I think it just kind of gave a different idea of what the potential from the fruit could be.
From the results of this trial what have you learned and how will you apply this knowledge in future wine blending?
Bohlman: I think there was a noticeable difference between the two lots. I think that it's been pretty split, 50-50, as far as people's preference for each. I like both of them for their differences. The CY3079 tends to produce a less aromatic wine, maybe with more Chardonnay characteristics, a little bit more tropical and a little bit rounder mouthfeel. The BRG brings some of the minerality or the salinity because it's very coastal, and to me it was more interesting aromatically whereas the CY3079 was more field-driven.
Did the difference in the end Brix reading concern you at all?
Bohlman: No, I wasn't really too concerned about the Brix being lower on one; I was mostly concerned about the glucose/fructose levels being the same in the end, which they were. So the Brix reading honestly could have been just a funny reading one day where one ended up lower than the other. What really matters to me is that the glucose/fructose numbers were the same in the end.
Were there any issues during the trial that needed to be addressed?
Bohlman: I looked at the fermentation curves, and they were pretty close; they fermented at the same rate and the temperature was similar. So yes, I think they were overall good performers, and there weren't any issues.
What would you do differently in the future, if anything, because of this trial?
Bohlman: I do like both of these yeasts, but I would probably use a little bit more of the BRG on this particular vineyard block just because of when I pick it; I think the CY3079 is maybe a little bit better suited to slightly riper fruit or riper areas for Chardonnays. The BRG seems to be a little bit better suited to this particular vineyard block.
What style of Chardonnay gravitates to your winemaking approach—more flint and minerality or more fruit forward?
Bohlman: Kind of a balance of both: it definitely is more fruit-driven, but I like to get some of the minerality and the higher output because the vineyard is 2 miles from the ocean, so it's really hard to make a really ripe, voluptuous style of Chardonnay, and I don't really want to try to push it into something that it's not.