Grape and Bulk Wine Sales Remain Slow as Wineries Cope with Sluggish Wine Sales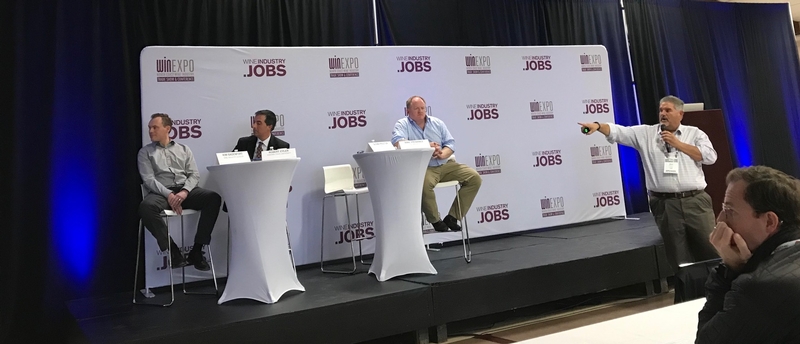 Glenn Proctor, partner at Ciatti, right, speaks Thursday at the 8th Annual North Coast Wine Industry Expo and Conference in Santa Rosa. The other panelists were moderator Kim Badenfort, editor at Wine Industry Advisor, Robert Eyler, dean of the School of Extended and International Education at Sonoma State and Mike Provance, chief executive officer at 3X3 Insights. Photo by Kerana Todorov/Wine Business Monthly

Grape and bulk wine sales remain slow as wineries cope with continuing sluggish wine sales and bulk wine inventories remain high after the large 2018 crop.

The wine industry should adjust its expectations in this new market, Ciatti partner Glenn Proctor said Thursday during the 8th Annual North Coast Wine Industry Expo and Conference in Santa Rosa. Proctor spoke during discussion on the state of the North Coast wine industry.

"You need to manage your business based on the reality of today's conditions," Proctor said.

The bulk wine market has been quiet as wineries try to digest their 2018 inventories. There were no late-season buyers, Proctor said.

Buyers are not just buying, Proctor said. "They are selling."

The "semi-good" news was that the 2019 crop was average, Proctor said. Growers harvested about 4.1 million tons of wine grapes statewide and about 520,000 tons in the North Coast., Proctor said, citing preliminary figures. The growers harvested 4.5 million tons in 2018 – or 6.2 percent than in 2017, according to the California Department of Food and Agriculture.

"There were grapes left on the vine in virtually every major wine growing region of the state," Proctor said.
Wine prices drive grape and land prices, Proctor said, citing figures from Tony Correia, agricultural land appraiser at The Correia Company. Sonoma County's grape prices per ton have started to come down.

There may be "some weaknesses" in Land and winery value as well, Proctor said.

"We're seeing vineyards removed…or maybe at least fallowed," Proctor said.

Robert Eyler, dean of the School of Extended and International Education at Sonoma State University, said the biggest issue is the conversion of millennials to wine as baby boomers age and stop consuming fine luxury wines.

"If your wine clubs are full of people between the age of 55 and 75, and you've just been grinding these guys to death in the last few years, be thinking about that transition and that twist," Eyler said.

Mike Provance, chief executive officer at 3X3 Insights, a consumer analytics platform, said sprits sales were climbing at the expense of wine.

Proctor said the industry also had a fire challenge, referring to the Kincade fire that broke late October in Sonoma County forcing the evacuation of about 180,000 residents. He praised the community and the first responders. "I just think we're an amazing community," Proctor said.

Proctor urge growers to strengthen their relationships with buyers to meet their needs. "I think relationships have value."

There are opportunities in this market to develop new brands, he said. "Necessity is the mother of invention," Proctor said.

About 3,000 visitors attended the conference at the Sonoma County Fairgrounds.