Honoring Longtime U.C. Davis Researcher and Professor David Smart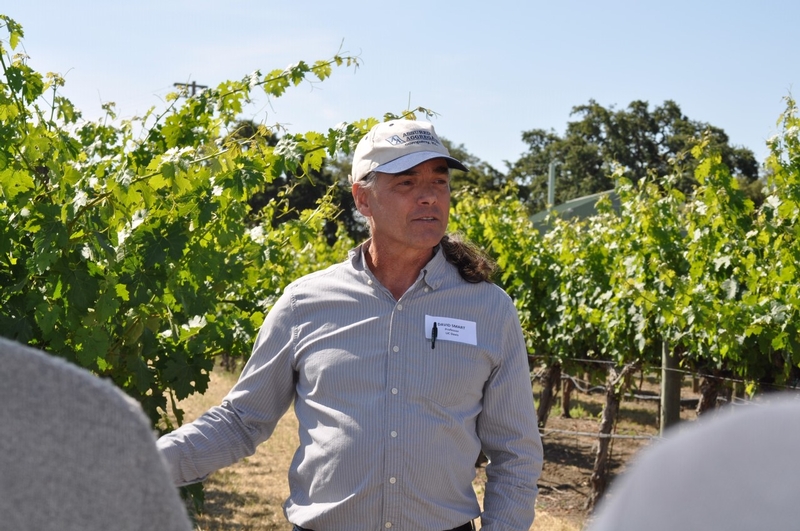 David Smart, professor at UC Davis, attends Grape Day in June 2015 at Oakville Station in the Napa Valley. Smart retired in 2018 for health reasons. A symposium took place Tuesday in his honor at UC Davis. Submitted photo courtesy of UC Davis.

Collaborators, friends and former students gathered Tuesday at UC Davis for a series of lectures to honor longtime UC Davis researcher and professor David Smart. Smart retired in 2018 for health reasons after nearly two decades at the university.

Christine "Teena" Armstrong-Stockert was Smart's laboratory manager for 18 years until his retirement last year. Smart had passion and expertise in biochemistry, soil science and plant physiology, Armstrong-Stockert said.

Smart did not micromanage the laboratory, encouraging her and the students to be independent and think for themselves.

"Even if you couldn't prove your hypothesis, or things didn't go right, it was still result and it meant something," Armstrong-Stockert said, recalling her former boss. "And therefore you really have to let go of the ego."

"This is the data. 'What does this data say?' Instead of, 'what do I want this data to say? Or this data isn't any good," Armstrong-Stockert said. "You don't need to judge data. It is what it is. Do your best and you report it."
"When I first started with him, I was a pre-med major with major OCD and if I messed up an experiment, I was in tears," Armstrong-Stockert said. She recalled Smart saying "'There is no room in science for perfection.'"
"Without that, I don't think I could have really relaxed and enjoy science as much as I have," she said.
Smart loved having his ideas challenged, Armstrong-Stockert and others said.
The laboratory included researchers from all over the world, said Armstrong-Stockert, adding she did not need a passport to experience the cultures and languages. "The environment in the Smart lab has always been a fun, collaborative experience."
Michael Wolff Sr., a former graduate student, was also among the speakers. He is now an environmental scientist for the California Department of Food and Agriculture. "(Smart) was simultaneously focused on details and methods," Wolff said. "But he was also interested in getting the broader picture," Wolff said.
Wolff said students had more freedom. Yet he was always there and available, said Maria del Mar Alsina Marti, a research scientist at E&J Gallo, and a former doctorate fellow at his lab.
Del Mar Alsina first met Smart when she was still working on her doctorate in Spain. Smart, who also served on her doctorate committee, asked tough questions during her exam. Her father asked her "'Who is this guy?'" del Mar Alsina recalled. Smart later told her she was doing fine, she recalled.
Students had the freedom to try new ideas, his former students said. "He would never say 'no,'" del Mar Alsina said.
Smart strongly supported collaboration among scientists, speakers said, as they delved into topics Smart had studies, including root biology, carbon sequestration, plant nutrition and nitrogen use.
Patrick Brown, professor at the Department of Plant Sciences at UC Davis, said Smart collaborated on projects to develop perennial crop nitrogen management programs.
The greatest threats to sustainability include nitrogen excess and biodiversity loss, he said. Smart's work included measuring the movement of Nitrogen at different depths.
Bruce Bugbee, professor of environmental plant physiology at Utah State University, met Smart about 25 years ago. Bugbee, who worked on NASA-funded studies for much of his career, teamed with Smart on research projects. "It was a wonderfully collaborative approach," Bugbee said. Smart and Bugbee, among other projects, developed a very short wheat for space.
Smart brought "measurement and models" to his work. "Look at the principles. "Make sure that the measurements make sense."
Smart's wife, Maria Truco, attended the symposium with their two grown daughters. Truco thanked the organizers of the seminar, the speakers, and the audience.
These last two years have been really difficult," Truco said. "It's always very difficult to see the slow disappearance of someone you love."
But, she added, "Today was a very good day … difficult, too."
Armstrong-Stockert had to close the lab. She now works for another professor. She, too, said the day had been difficult. "Even if it's hard, it's closure," she said.