Winemaker Trial: Does Stabulation Build Palate Weight and Structure in Syrah Rosé?
Partially as a result of a two-year trial using stabulation, winemaker Leah Adint pinpointed the right combination of mouthfeel, palate weight, temperature and color extraction and learned what works best and what doesn't for Rosé.
The deadline for Trial Submissions for Wine Business Monthly's 2020 Innovation + Quality conference is fast approaching. Winemakers only have until December 13, 2019 to send in trial descriptions for a chance to present their work at the premier industry event focused on raising wine quality standards through applied research and technology.
The following trial was submitted by Leah Adint, red winemaker at Chateau Ste. Michelle, was presented at a past Innovation + Quality winemaking conference and was featured in the November 2018 print magazine.
What are you working on in the vineyard or in your cellar? Submit your trials for the 2020 IQ conference, scheduled for February 27, 2020, at the Culinary Institute of America at Greystone. Join Rodriguez and other leading winemakers in sharing the results of your trials to help advance our collective winemaking knowledge. This one-of-a-kind forum for ultra-premium wineries hopes to create a place for curious winemakers to build upon foundational knowledge in their pursuit of the highest quality wine. The submission deadline is December 13, 2019.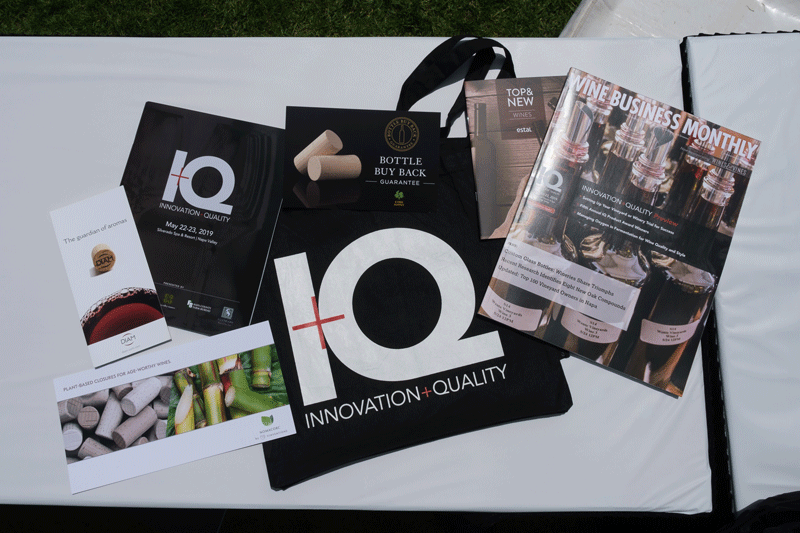 Winery: Chateau Ste. Michelle
Winemaker: Leah Adint
Objective: To build palate weight and structure without phenolics or color by solids+juice mixing at a cold temperature.
Summary: Whole cluster Syrah was pressed and juice+solids were immediately chilled to 50° F. The tank was mixed twice per day with Pulsair, decreasing the temperature over time: 50° F for the first 24 hours, mixing every 12 hours with CO2; 46° F for 24-48 hours, mixing every 12 hours with CO2; 38° F for 48+ hours, mixing every 12 hours with CO2. Juice was then centrifuged, warmed to 55° F and fermented with Vin13 yeast.
Lot 1: Control - immediate juice settling to ferment
Lot 2: Stabulation - juice+solids mixing pre-ferment
Conclusion: This second-year study successfully improved mouthfeel and palate weight in the resulting Rosé wine while maintaining light phenolics and light color. Second-year improvements to the study included: lower stabulation time from 11 to five days; centrifuge juice instead of racking and Pulsair mixing instead of pump mixing.
Winemaker's Postmortem
What led to the creation of this trial?
Adint: We were working with some Rhône winemakers on a red wine project but heard about this "stabulation" idea and asked them if they've ever tried this technique. Being Rosé producers themselves, they use it in their Rosé and gave us some ideas and some tips—some things to think about while we're doing it—and so it really started as just a trial: To try one tank, a smaller tank, of some Syrah Rosé and just play around with it. We're fortunate here that we get to do a lot of different trials; so if there's an idea that comes up that sounds like a good idea, we're all for it.
Adint: The idea is that you are increasing mouthfeel and palate weight of the wine without increasing the color or the phenolic extraction—it's sort of like an extended juice settling. As the fruit comes in, we press it to a tank, and that tank is left on the solids, rather than cleaning it off right away. So that is the stabulation portion—the time of the juice where it's left with the solid. There's some temperature fluctuation and some mixing that happens during that stabulation time. The process is complete once you've decided that you have the mouthfeel that you are looking for.
What technique were you using before you performed stabulation?
Adint: We used fairly standard techniques of a white wine fermentation: lean racking the juice, cooler ferment, etc. The Rosé that we make now has very little sugar. It's about 2 or 3 grams of sugar, but that's all natural. If we decide we want a little sugar, we'll stop the ferment at the end of its life, so pretty traditional and nothing out of the box for our previous Rosé winemaking. At Chateau Ste. Michelle we've really only made wine club Rosés in the past: 2017 was the first year we made a commercially available Rosé. The club shipment would vary from 600 to 900 cases. The 2017 vintage of the Chateau St. Michelle Rosé was 55,000 cases.
What adjustments to winemaking did you make from the first year of the trial to the second—based on what you learned in that first year?
Adint: The first year we were really basing it off of any literature we could find, discussions with other Rosé winemakers or French Rhône partners. They gave us the basic idea of, "you want to set it at this temperature and then mix; then you slowly decrease the temperature over time," so we followed that. The length of time is really up for discussion—in that we found there was no "do it for this many days, don't do it any longer than this." We tried 11 days mixing those juice solids in, and after day nine we really saw a big decrease in the color. That knowledge was something to take forward for the next year; maybe we don't want to lose that much color.
The first trial in 2016 gave us new insights. We learned from the results of how we were mixing the tank. At first we just mixed with a pump, going out one valve and in the other valve, which I think is certainly fine for small tanks; but when you upscale that to a larger tank, it takes a lot longer to full mix. The second year we tried a couple different options and we ended up just using a CO2 sparge, which was very fast, though with not a lot of wine movement, to get those solids back in solution.
I think that was a great enhancement for us between year one and year two along with the shorter duration of time. The first year, like I said, we were 11 days, and then the second year we aimed much more conservatively, and we did it for five days. We saw a little bit of color drop compared to a control tank but certainly not as significantly as the first year.
Then the third thing we noticed was that once you've decided to stop stabulation and then prepare the juice for ferment, it really doesn't want to settle back down, like your average juice might. Because you've mixed so many times and the solids are getting finer and finer, they just really eventually want to stay in solution. As a result, we did a couple different bench top trials to see if adding enzyme or adding bentonite would help settle it down, but neither of those options was really great, and we also thought we might be stripping some of this wonderful palate that we just worked to create. So, we didn't really want to add any sort of fining agent or settling agent to the juice.
We are fortunate enough to have a centrifuge at our facility, and so we were able to centrifuge the juice in preparation for ferment, which was very fast, very clean, with not a lot of mixing or oxidation. That was really ideal for us. Understandably, that's not available for everyone, but it's working for us.
Will you use this technique for Rosé from now on?
Adint: I don't think it's something we're going to look at to increase to 100 percent of the Chateau Ste. Michelle Rosé. I think it's a technique that's really useful, and I do find that it really builds the palate and gives some length to the wine without making it heavy, but it's a blending component. I think that's important because you do lose some color. We also did see some acid changes. We got a little bit lower acid in the stabulation tank. Personally, I would like to go up to maybe 30 percent of the blend coming into 2018. Making that much volume and then sitting down at the blend table and seeing whether 30 percent works, or if there is a better ratio to our standard, traditional fermentation. It's definitely something we want to take forward, but not something that we're going to change our entire system for.
We'll definitely look at other varietals other than Syrah, and I think stabulation is a good technique for any of them. I think certainly you have to work out a little more tannin content coming right out with a Merlot or a Cabernet. Maybe stabulation might not work, but I think it's worthy of an experiment, absolutely.
What style of Rosé were you ultimately looking for?
Adint: A very fresh, a very light, dry style Rosé. We looked to not only our Rhône partners but other French Rosés, either from the Rhône or the Provence region. We certainly try to steer away from the historical heavy, dark Rosés that have come out of predominantly California in the past but really all across the U.S. There's been a great resurgence of Rosé in the market, and I think that's due to these light, very fresh, lower alcohol Rosés that are coming out of France, in particular. That was really the style direction. Also, we are Washington state. We are going to make it our own. We are not trying to copy what France is doing, but they've certainly put Rosé in a nice direction, I think.
What, if anything, would you do differently because of what you learned in this trial?
Adint: I think we will definitely continue to play with stabulation. Because you're making such a light Rosé, sometimes they do become a little bit lean on the palate, and that's what this technique is trying to enhance: give it some length, give it some mid-palate weight that's not just a sugar add. I think we'll definitely play with it going into 2018. I think we'll try a few more tanks. I'm hopeful that we'll have the opportunity to hold a few tanks of juice back and maybe play with different lengths of time. We're really happy with our settling techniques. I think it's a technique that I would like to see tried on white wines as well. I don't think there's any reason why you couldn't try it on a white wine to build a little palate weight, a little interest, a little texture without becoming heavy from phenolic content. We might look to our white winemaking team and see if they're interested and try it out on their side as well.
What's your take on how the color of Rosé affects the perception of the taste?
Adint: It does. I've played with a lot of different Rosés over the last few years, and I think I'm affected by that. The visual bias is not to be ignored. I think of the American consumer, who has gone through the days of White Zinfandel and some of the bigger, fuller, more alcoholic, dark Rosés, and that has turned a lot of people off of Rosé. I think it is really important to have a nice, fresh, light color. I think there is a big preconceived notion that a dark Rosé is automatically going to be sweet, which is certainly not the case, but it's hard to change people's minds when they have that mentality.
But then on the other hand, if it's too light, that can also be a turn off, right?
Adint: Absolutely! Some of the French Rosés are almost toward the onion skin color, which I don't know how people perceive. We're certainly not trying to get that light. We want a nice, lasting color. We want it pink and not orange, but we do want a fresh, light color, and that's something that we've been experimenting with as well. Accordingly, the fruit that we decide is going to be picked for this Rosé, which winery we send it to, what their presses do, the capacity of the press, and then when we make that press cut are all very, very important factors.
---