Winemaker Trial: The Pros and Cons of Perle Barrels for Pinot Noir
Seeking to create a Pinot Noir with darker fruit and more structure, Virginia Dare Winery experimented with separate lots fermented in stainless steel as well as new and year-old Perle wood barrels.
The deadline for Trial Submissions for Wine Business Monthly's 2020 Innovation + Quality conference is fast approaching. Winemakers only have until December 13, 2019 to send in trial descriptions for a chance to present their work at the premier industry event focused on raising wine quality standards through applied research and technology.
The following trial was submitted by Humberto Berlanga, winemaker at Virginia Dare Winery (a Francis Ford Coppola Winery), and was presented at Wine Business Monthly's 2018 Innovation + Quality winemaking conference and was featured in the January 2019 print magazine.
What are you working on in the vineyard or in your cellar? Submit your trials for the 2020 IQ conference, scheduled for February 27, 2020, at the Culinary Institute of America at Greystone. Join Berlanga and other leading winemakers in sharing the results of your trials to help advance our collective winemaking knowledge. This one-of-a-kind forum for ultra-premium wineries hopes to create a place for curious winemakers to build upon foundational knowledge in their pursuit of the highest quality wine. Learn more. The submission deadline is December 13, 2019.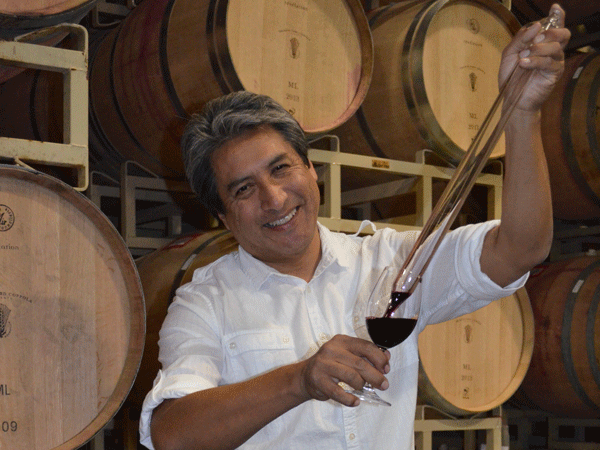 Humberto Berlanga, winemaker at Virginia Dare Winery (a Francis Ford Coppola Winery)
Objective: To compare and narrow down the improved color and texture quality of barrel-fermented, oak alternative and stainless steel, tank-fermented Pinot Noir from the Russian River Valley (RRV).
Summary: This is Phase II of the Phase I trial presented at IQ 2017 that compared barrel-fermented RRV Pinot Noir against a stainless steel-fermented control. The objective of this second phase is to determine if the same quality improvement can be achieved with the use of oak alternative products during fermentation in a non-oak vessel. The barrel-fermented lot was preferred by IQ attendees and our winemaking team. The color and texture were improved by about 20 percent based on measured color and tannin numbers. As in the previous year, the same vineyard lot of Russian River Pinot Noir will be equalized and separated to ferment in five different environments: new oak (Perle barrels), one-year-old oak (Perle barrels), 1-ton ferment in alternative oak at equal new barrel equivalent, 1-ton ferment no oak (serving as the control negative), and standard stainless steel ferment protocol. Conditions and yeast, as well as nutrient regime, will be maintained equally for all the groups.
Lot 1: New oak barrels (Perle barrels)
Lot 2: One-year-old barrels (Perle barrels)
Lot 3: One-ton ferment in alternative oak at equal new barrel equivalent
Lot 4: One-ton ferment, no oak (serving as the control negative)
Lot 5: Standard stainless steel ferment protocol—Control
Conclusion: The original aim of the trial was to attain darker color. The vineyard got a very nice fruity texture and fruit expression, but was a little bit on the lighter side for color. We achieved the darker color from the new oak Perle barrel ferment. In fact, eight out of 10 participants during the IQ presentation preferred the new oak lot. It follows that the darker color had more eye appeal to consumers. We like what the Perle barrels produce and will consider expanding their use behind trial quantities to a limited general production.
Winemaker's Postmortem
Was the original plan for this trial to be conducted in two phases or did this trial evolve in a different way?
Berlanga: "The trial in two phases was the plan all along. While the first phase was to compare the Perle barrel-fermented versus stainless steel ferment of Russian River Pinot Noir to determine the challenges and logistics of barrel fermentation in Perle barrels, Phase II focused on improving color and texture. We also added another dimension to the trial by comparing not only the new oak barrels but the one-year-old Perle barrels and alternative oak ferments."
[Editor's recap: Here were the concluding findings of Phase I: There is a noticeable difference in extraction and final aroma and flavor profiles between the two trialed lots. Barrel-fermented lots developed a different fermentation curve very likely due to temperature variations. In general, barrel-fermented final wines show higher levels of extraction, corroborated by phenolics and color numbers. Barrel fill, punch-downs and draining and pressing presented logistical problems with our current equipment and facilities. These challenges were resolved on the go. Moving the heavy, irregularly shaped Perle barrels in the winery was another challenge.]
After having dealt with the Perle barrels for another year, what benefits did you discover?
Berlanga: "I really like the structure and the mouthfeel that they provide to the wine, as well as a very nice dark color, which is what was originally the purpose of the trial. Just by doing the barrel ferment, we increased the color concentration. We can probably say it is the barrel ferment that gives the higher, more concentrated color, but no doubt the barrel's egg shape contributes to this."
You had some difficulty physically dealing with the odd shape of the Perles in the trial's first phase. What was the takeaway from that experience as you began Phase II?
Berlanga: "The Perle barrels are fairly large. They are hard to maneuver and move about the cellar if we're going to continue to do barrel ferments. We have more experience now and can maneuver them better. We actually determined that they are 700 pounds when we fill them to the fermentation level. So that's also something that we learned from experience. We literally need two or three people to handle them, especially during pressing.
"Their shape helps in some way because they are vertical. So when we have to perform punch-downs, it makes it a little easier being that way. But I think the competition [of regularly shaped barrels] comes when we have to drain and press; that's the major difficulty because we literally throw them upside-down, and then they are top heavy. Moving them requires a forklift.
"We have a divide connected to the pump, and that's how we drain it, but getting the skins out is when dealing with the Perles becomes challenging. We have to train the cellar staff, who must learn new tricks."
What, if anything, were the benefits of stainless steel ferments for your Pinot Noir?
Berlanga: "The stainless steel was our control. We don't have the standard wide-opened-up fermenters. Instead we have the skinny, tall tanks. Now, we found the advantage for these is they provide good temperature control. When I found out that we were going to produce Pinot Noir, we were not set for doing that in these tanks. Soon we learned that it's almost an advantage. Now we like them because they do provide very good temperature control. I am also able to do cold-soaking and control it better."
From the results of this second phase, what have you learned and how will you use this knowledge in the future?
Berlanga: "I learned also that I can credit the darker, more concentrated color to the barrel ferment. We also tried oak chips—another question we had. They provided vanilla oak tones. It continues with the fresh fruit richness, but the color was more comparable to the stainless steel control. The Perle barrels were a lot darker. The ones that we used with oak chips had color that was more comparable to the control [lighter], and that was basically confirmed by the ETS lab numbers. We've learned from this that when we use oak chips, we get a little bit of extra fruitiness, but the color is not going to go as dark as it could be with the barrel ferment."
---
About Innovation + Quality
Focused on innovations that advance wine quality, IQ draws more than 400 luxury andultra-premium winemakers from across the West Coast who join us in Napa Valley to discuss the bestmethods for producing the best wine. In 2020, we're putting an even greater focus on winemaker trials, with the opportunity for winemakers to submit lab trials or full-scale productionexperiments they are conducting and then pour the results for their peers at the show. Submit a trial for consideration.