Curtis Philips: Gallo Unveils Clever New Package and Holiday Marketing Campaign--Should Others Follow Suit?
I do receive a lot of wine brand press releases materials. For example, I just received a press release about a holiday marketing campaign for André® Champagne*. As a marketing tie-in, Gallo has partnered with Tipsy Elves for André branded holiday "ugly sweater party" apparel. By itself, this is pretty typical stuff, and probably not terribly interesting to most wine industry insiders. What I found notable about the release was the tone, which I find consistent for André's marketing and brand image. André has always had a festive, not pretentious, image. I still remember the "Carol of the Bells" thirty-second TV advertisement André had back in the 1970s as being as much a part of the holiday season as watching a Bing Crosby special or Merry Christmas, Charlie Brown.
It wasn't the ugly sweaters in the release about André that caught my attention however. It was the fact that cans André featured prominently in the release. I guess I overlooked the release about André being sold in 375ml cans, but I think the idea is brilliant. Of course, one can say, indeed have said, that as the "beer of wines" André deserves to be in a can. Sure, André has always been a budget bubbly, but that completely overlooks the utility of the can as a container for wine. Plenty of sparkling wine producers, with brands selling at higher price points, have been experimenting with cans. Certainly, a brand like André can pitch themselves as hip, festive, and accessible. The question for the non-Gallo wineries out there is: "Will your brand benefit from a similar approach?"
I don't write about wine marketing very frequently. I suppose that this is because I come from the production side of the wine industry. I am generally more interested in solving technical issues. Marketing, however, is crucially important for any industry and particularly so for an industry as fragmented as the wine industry. Just making wine, no matter how amazing it tastes, is useless if you cannot convince the consumer to try it and to buy it.
There is no one-size-fits-all solution to wine marketing. For one thing, I think that few understand that the "wine industry" is not a monolith. That is to say that there isn't a single "wine industry", there are several. Similarly, there isn't just one "wine consumer" or wine market. Wine companies misunderstand this at their peril. This general misunderstanding as to the nature of their own business is probably why I am completely unimpressed by the marketing campaigns, including the product packaging, generally bruited about by most wineries. I get the impression that we are all casing the same few percent of adults that are already core wine drinkers and ignoring the rest. Few wineries bother trying to make their products more accessible for the non-core, let's call them "occasional", wine drinkers. Worse those that do seem to take ham-fisted approaches that backfire.
Gallo is the exception. They seem to understand the market(s) and the consumer(s) better than anyone else. For the record, I have no inside knowledge of Gallo. Honestly, it's just as well since I am then free to look at Gallo's behaviour in the market and make my own conclusions.
Since I'm writing about Gallo, let's assume that the main sales channel we're discussing is supermarkets. I don't know how much of Gallo's overall revenues are from supermarket sales, but just a quick peek down a supermarket wine aisle tell me that most wine sold in a supermarket are Gallo SKU even if the label don't always say Gallo. They didn't get to this position by failing to understand the consumer. It reminds me of the supermarket saying, "You can buy any detergent you want as long as it's made by Procter and Gamble." There are only a handful of non-P&G brands of detergent in a typical supermarket. Things aren't so dire in the wine aisle, but the principle is the same. It doesn't matter if you're high-brow, low-brow, or mid-brow wine consumer, Gallo probably has a brand for you. Fortunately, and unlike P&G, Gallo still faces some competition. This means that Gallo wine, far from being "cheap" or "inferior" tend to over-deliver on quality no matter which price-segment a given brand occupies. When this is coupled with better than the norm marketing and a better than the norm understanding of the consumer, it makes the supermarket sales channel very competitive.

To return to my question from above, I think the number of wine brands that won't benefit from making their product, or at least some of their product, more accessible, perhaps even selling some SKUs in cans, is fewer than one might suppose. The truth is that unless you're Constellation, The Wine Group, J. Lohr, Kendall-Jackson, Wente, Trinchero or one of the handful of other really large wine companies you don't really compete again Gallo in the first place, but you do have something like 9,000 other compeditors out there that are chasing the same core wine drinkers you are. Maybe it's time to think outside the bottle.
For those interested in reading the press release from André and Tipsy Elves may do so here.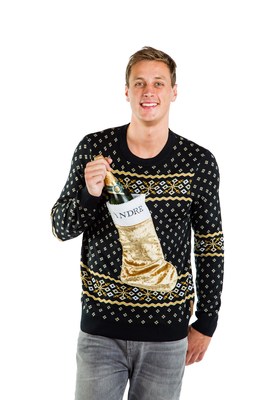 As a footnote, I would suggest that the main problem with the can has little to do with marketing or image. The biggest problem, although not a particularly difficult one to solve, is logistics. I would argue that just getting the canned wine to the consumer without it getting "cooked" is what's really important. Cans are more easily heated during transit due to the smaller size of the container and the fact that an aluminum can is thermally conductive rather than an insulator like glass. Wine in a can should always be shipped in a refrigerated truck or container. There's nothing new about this. I've seen twenty year-old research that comes to the same conclusion. The thing is, wine in bottles face the same problem. Bottled wine often is heat-damaged in transit. This Spring, buy some temperature data loggers and ship them with your wine cases, you'll have to arrange to have them read or shipped back, and I bet you'll find that your wine gets a good deal hotter than you think it does.