Domestic Wine Sales Strengthen 5 Percent in October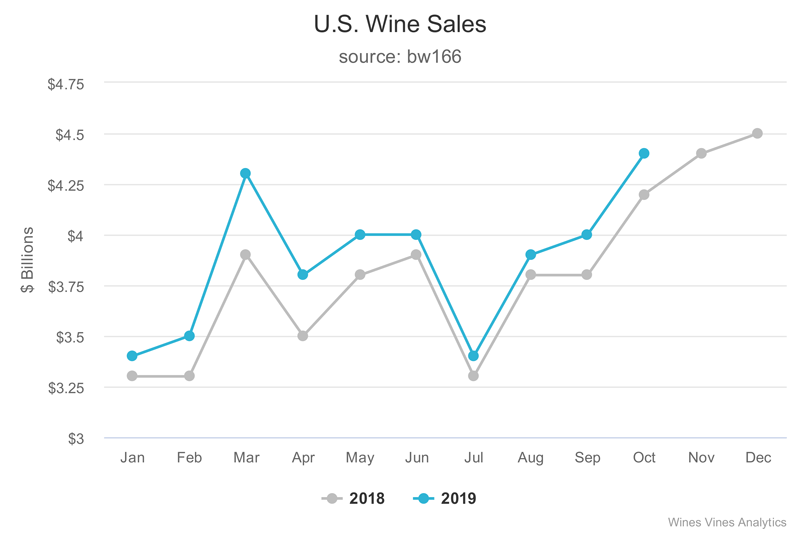 Domestic wine sales, including build imports, rose 5 percent to nearly $48.8 billion in the 12 months ended October.

Sonoma, Calif.—Sales of domestic table and sparkling wines rose 5 percent in the 12 months ended October, with red blends supporting the growth of the dominant red wine category.
According to market research firm bw166, sales of domestic wines, including bulk imports, totaled $48.8 billion in the 12 months ended October. Table wines led the increase, rising 6 percent to $44.1 billion, while sparkling wine increased more than 2 percent to $2.1 billion. The growth in domestic wines helped boost the value of the overall wine market in the U.S. by 4 percent to more than $73 billion in the latest 12 months.
The increase in sales is one of several wine industry metrics reported in the monthly Wine Analytics Report.
The return of cooler fall weather saw direct-to-consumer shipments keep pace with the market as a whole. Wines Vines Analytics/ShipCompliant reported a total of $487 million worth of DTC shipments in October, up more than 1 percent versus last year. Shipment volumes grew at a slower rate, rising less than 1 percent versus a year ago to 806,439 cases. While power outages and fires may have complicated matters as the run-up to the holiday season began, activity in the latest 12 months remained strong. Shipment values rose more than 3 percent to $3.1 billion in the period and shipment volumes rose 5 percent to 6.5 million cases.
Red wines accounted for more than 78 percent of DTC shipment value, led by more than $901 million worth of Cabernet Sauvignon. Pinot Noir was the second most valuable variety, with $524 million worth of shipments, followed by red blends at $496 million. Close to 81 percent of the value of red blends shipped was from bottles priced $30 and up, with bottles worth more than $100 representing the single largest segment.
Red blends also held their own through off-premise channels Nielsen tracked. While sales of domestic table and sparkling wines edged down less than 1 percent versus last year to $791 million in the four weeks ended Oct. 5, the 52-week data showed growth of more than 1 percent to $11.2 billion. Red blends increased in step with the category as a whole, rising 1 percent to nearly $1.9 billion in the latest 52 weeks. It was the sole wine type to see sales value increase during the period. The value of those wines also increased, rising 1 percent to $9.07. The gains came on a marginally lower volume of sales; red blends declined less than any other varietal where volumes dropped and were essentially even with last year.
Winejobs.com's Winery Job Index increased 3 percent to 202 in October, driven by significant demand for vineyard workers as well as a 20 percent increase in demand for sales and marketing roles and 14 percent strengthening for production positions.
While all the major sub-indices showed growth versus last year, year-to-date hiring figures continue to point to moderation. The index as a whole was down 2 percent year-to-date, with demand for sales and marketing positions and DtC staff down 3 percent and 7 percent, respectively. The strongest demand was for winemaking positions, with year-to-date hiring activity up 3 percent versus a year ago and 14 percent versus two years ago.
The demand stood in stark contrast to that for sales and marketing staff, with year-to-date hiring down 7 percent from two years ago. Indeed, the index for the sales and marketing subcategory during the month was the third-lowest of the past decade and on par with October 2012.
While the data doesn't reveal the cause of the decline, growing DTC activity and e-commerce opportunities are conceivably helping wineries sell smarter and reduce labor requirements on the marketing side. Hiring for DTC positions, including tasting room and retail staff, was up 2 percent from two years ago.