¡Salud! Wine Auction Raises More Than $1 Million for Oregon Vineyard Workers' Healthcare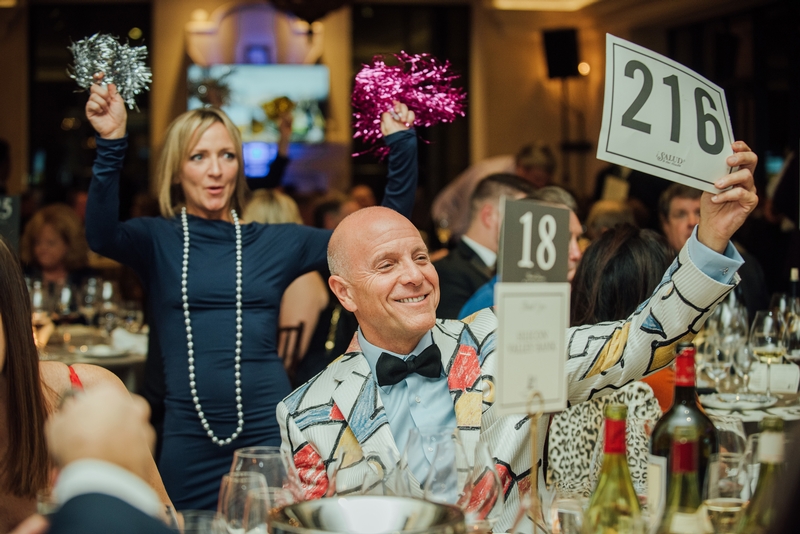 Photo: Kathryn Elsesser Photography
Dundee, Ore. — ¡Salud! The Oregon Pinot Noir Auction raised more than $1 million dollars Nov. 8-9, 2019 to benefit the Oregon Health & Science University (OHSU) Tuality Healthcare ¡Salud! project.
"Together, we raised more $1 million to make accessible, affordable healthcare a reality for vineyard workers and their families," said Stephanie Buchanan, ¡Salud! event coordinator. "In a somewhat chaotic time in history, community collaboration to create solutions is important. It happened this weekend, and we are so inspired and grateful for those that choose to make a difference."
The two-day event kicked off with The Big Board Auction & Pinot Party on Nov. 8 at Ponzi Vineyards, followed by The Grand Dinner & Live Auction Gala presented by O'Brien Winery Construction & Mechanical at The Clubhouse at Domaine Serene on Nov. 9. During the gala, one of Oregon's first female winemakers, Lynn Penner-Ash, received the 2019 Legacy Winemaker Award for exemplary contributions to the wine industry.
New this year, bidders without tickets to the sold-out event could register for a Big Board Auction ePaddle, providing virtual access via phone or computer to place, track and receive text notifications about bids.
Formally attired attendees out-paddled one another for many items, like a four-night stay at Domaine Serene's historic château in Burgundy, Château de la Crée, owned by Grace and Ken Evenstad. The package also included a private tour of the Hospices de Beaune, a private tour of four of the estate's vineyards in the Côte be Beaune, and a full mixed case of Evenstad Estate wines. Other offerings included the Legacy Winemaker lot, a luxury adventure weekend with Lynn and Ron Penner-Ash at The Resort at Paws Up, a 37,000-acre ranch resort in Greenough, Mont.
Over 40 wineries throughout the Willamette Valley created custom, single lot 2018 Pinot Noir cuvées for the 2019 auction. Participants in this year's ¡Salud! Vintners Circle included 00 Wines, Adelsheim Vineyard, Alexana Winery, Amalie Robert Estate, Archery Summit, Ayoub, Beaux Frères, Bethel Heights Vineyard, Big Table Farm, Brittan Vineyards, Chehalem Winery, Cramoisi Vineyard, Cristom Vineyards, Domaine Drouhin Oregon, Domaine Roy & fils, Domaine Serene, Dukes Family Vineyards, Dusky Goose, Elk Cove Vineyards, Erath Winery, Hamacher Wines, Hyland Estates, LAVINEA, Montinore Estate, Patricia Green Cellars, Penner-Ash Wine Cellars, Ponzi Vineyards, Purple Hands Winery, Rain Dance Vineyards, R. Stuart & Co., Résonance, ROCO Winery, Shea Wine Cellars, Soter Vineyards, St. Innocent Winery, Stoller Family Estate, Trisaetum, Twomey Cellars, WillaKenzie Estate, and Winderlea Vineyard & Winery.
"It's incredible to see all of these iconic figures of Oregon wine in one place, together for one common purpose," said Buchanan. "This year's harvest season was no doubt a tough one, but the community prioritizes people first and rallied this weekend to help make big things happen. It showed."
Now in its 28th year, the ¡Salud! program dispenses healthcare services and outreach to approximately 2,500 vineyard workers and family members annually. The only such initiative nationwide, ¡Salud! offers worksite wellness clinics, comprehensive health screenings and education, dental and optical services, and year-round case management and financial assistance.
Nursing student Estella Ortiz-Nino brought the house down with her passionate speech about the importance of ¡Salud!, from a participant's point of view. Her father, a vineyard worker at Willamette Valley Vineyards for 40 years, counts among ¡Salud!'s earliest patients. As a young girl, with the encouragement of Leda Garside, ¡Salud!'s services manager, Estella chose to pursue nursing as a career. "In a few months, I'll be graduating with a bachelor's degree in nursing," said Ortiz-Nino. "I'm becoming a nurse to be part of the solution. My parents have supported me every step of the way, and I really want to return the favor. I want to give back to my community and to this program. I've seen the difference it can make, and how much this program has grown."