Winemaker Trials: The Sensory and Phenolic Effects of Oxygen and Nitrogen as Flotation Gases
Erath Winery's assistant winemaker was particularly pleased with flotation as a tool for the production of white wines, so tested the qualitative differences between nitrogen and oxygen.
The following trial was submitted by Karl Weichold, assistant winemaker for Erath Winery in Dundee, Ore., and was presented at Wine Business Monthly's 2019 Innovation + Quality winemaking conference.
What are you working on in the vineyard or in your cellar? Submit your trials for the 2020 IQ conference, scheduled for February 27, 2020, at the Culinary Institute of America at Greystone. Join Weichold and other leading winemakers in sharing the results of your trials to help advance our collective winemaking knowledge. This one-of-a-kind forum for ultra-premium wineries hopes to create a place for curious winemakers to build upon foundational knowledge in their pursuit of the highest quality wine. Learn more here.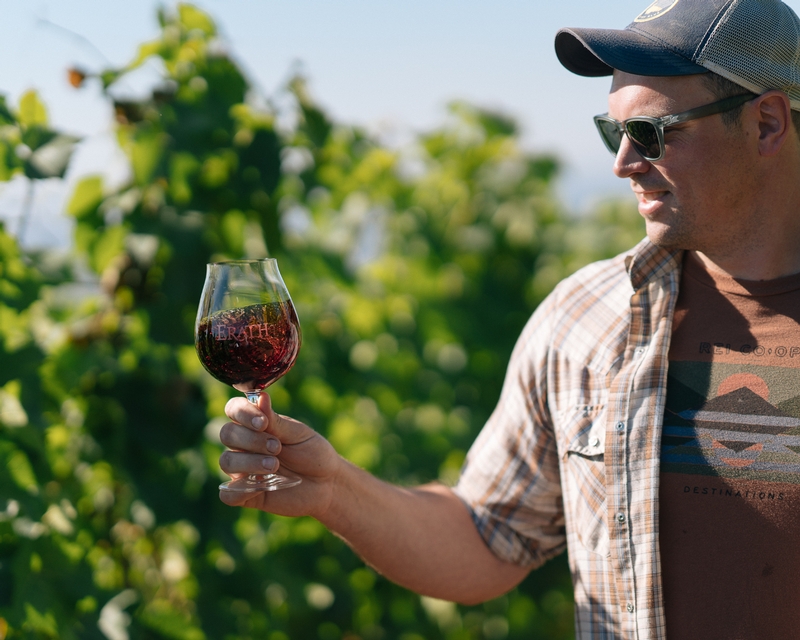 Karl Weichold has more than a decade of winemaking and enology experience across a wide spectrum of scales of production. He graduated from Texas A&M with a degree in biochemistry in 2006. Weichold began his career in wine working with several wineries in the Texas Hill Country in a variety of roles. In 2015 he joined Erath Winery as assistant winemaker. He has since been instrumental in their pursuit of crafting fine Oregon wines and growing their portfolio, including participation in the creation and implementation of novel approaches to winemaking across different modes of production.
Winery: Erath Winery
Assistant Winemaker: Karl Weichold
Objective: To compare the sensory effects and analyze the phenolic composition of juice float clarified with air and nitrogen.
Summary: A homogenous press fraction of Pinot Gris juice (Umpqua Valley AVA) was processed with a standard pre-flotation protocol (pectinase, bentonite, etc.) then split into two separate tanks. One tank was float-clarified with air and the other with nitrogen. Two stainless steel drums were collected from each tank, inoculated and fermented until dryness. Metabisulfite was added once fermentations were complete, and the paired stainless steel drums were each racked out to individual neutral barrels.
Lot 1: 2017 Pinot Gris float-clarified with air
Lot 2: 2017 Pinot Gris float-clarified with nitrogen
Conclusion: Despite starting from an identical and homogeneous press fraction, the two different clarification gases yielded distinctly different phenolic profiles. Both resultant wines yielded nearly identical amounts of tannin (10.3 ppm for N2 and 10.7 ppm for air). However, there was a marked difference in grape reaction product, caftaric acid and caffeic acid (about 10 times more in the N2 float versus the air float). There was also a significant difference in quercetin glycosides (about 7 times more in the N2 float versus the air float). While these are predictable results brought about by oxidation, the resultant wines are distinctly different from a sensory basis. This provides a couple of useful options that might net more degrees of freedom when making stylistic decisions about float clarification and treatment of juice.
Winemaker's Postmortem
Why did you decide to conduct this trial?
Weichold: We started using flotation in 2016 for our whites and really enjoyed how you could get a white from the press to an acceptable level of clarity, racked and inoculated so quickly. We figured that with a tool like this at our disposal, we should know more about how that tool operates and what degrees of freedom that tool would give us. Since we have a selection of gases here at the winery, we wanted to attempt to discover any qualitative differences that the two flotation gases might convey to the finished wine.
Do you think different gases affect various varietals in individual ways?
Weichold: It's something that I think we want to drill down on in the future. The different white varieties that we make at Erath potentially start with different phenolic content. For this wine, the results we received from ETS for the white wine phenolic panel showed the air flotation to have five- to 10-fold reduction in things like grape reaction, product caftaric and caffeic acids. So if you start with a higher phenolic content with a different variety, the effect could potentially be more pronounced.
How that plays out in the final qualitative assessment of the wine is entirely up to what a winemaker is looking for in terms of stylistic targets. There is certainly a difference between the two wines. However, in my IQ presentation on this trial, what I was careful to say is neither one of these treatments is necessarily right for every single winemaker.
The stylistic differences we saw on the nitrogen flotation versus the air flotation were vastly different but potentially correct for wineries that might want a crisper, lighter style. A winemaker implementing gas flotation shouldn't assume that one gas is necessarily going to fit a house style perfectly or that conditional use of two gases for different sites or varietals wouldn't be useful in terms of building blending components.
Ultimately, how much fruit was involved in this trial?
Weichold: We compiled a large 19,000-gallon tank of juice prior to clarification. Then we sent two equal volumes of that unclarified juice to two 7,000-gallon tanks (about 4,000 gallons of juice each) and then float-clarified those two tanks—one with air and one with nitrogen—in order to yield two different treatments for fermentation. Once they were clarified, we racked the clarified fraction into a separate tank and collected our stainless steel drums for fermentation.
Considering the size of the lots, were you concerned that this was a large investment to risk on an experimental trial?
Weichold: All in, it was a relatively low percentage of what would constitute the final blend for this program. Moreover, the two treatments were not so severe as to present a real risk to compromising the wine. With that said, the actual initial dissolved oxygen for the nitrogen flotation was probably similar to the initial conditions which we used to make wine (via cold-settling). There was no real dissolution of air in that process, so we were likely starting with the same dissolved oxygen. The treatments did eventually go out to our larger Oregon Pinot Gris blend.
During the trial, were there any problems that had to be addressed? If so, how did you attend to them?
Weichold: Our biggest concerns were starting with a homogeneous press fraction and ensuring that only the variables we wanted to study were changed. An especially large amount of consideration was given to constraining all possible variables. That is, the run time on the pumps for the mixing of pectinase and other adjuncts, the dosage of gas in the juice for the purposes of clarification, etc.—all should be as similar as possible between the two treatments. What we were hoping to look for here was that the only variable altered between these two treatments was the application of the gas.
The real practical concerns out in the cellar principally consisted of ensuring that one tank did not circulate longer than the other and that all other typical flotation criteria be met for both treatments as concurrently as possible (pectin digestion, clarity, etc.). So much of float clarification criteria are temperature-dependent; and since both treatments racked to flotation tanks from a homogenous fraction at the same temperature, most subsequent actions for float clarification were achieved almost simultaneously.
What have you learned from the results of this trial? How, if at all, will you use this knowledge in future wine blending?
Weichold: For our house style, we preferred the flotation with air as a finished wine. We thought that it yielded more tropical notes, tended to make a softer wine and supported superior yeast health earlier. We are planning on continuing this experiment by mating this trial with a 2018 trial in which we examined the effect of oxygen dosage during fermentation. We would like to examine the effect of both of these different flotation gases and different rates of oxygen inclusion during fermentation, as it relates to the collective effect on yeast health and stylistic effect.
In the end, this trial confirmed what we expected was going to be the right choice for our selection of gases.
What was the overall opinion of attendees who attended the trial's IQ presentation?
Weichold: At IQ and other symposia, the startling thing about this experiment was that there didn't seem to be a subjective consensus between the two treatments. This addresses my original point that this experiment isn't necessarily meant to show the right or wrong way to select gases for fermentation. It's simply a set of tools you might use to better create a house style. To us, the nitrogen float was a little more closed but might have had flintier, crisper characteristics. The air float had a rounder, more tropical, more expressive pear and apple note to it. Our style is very fruit-forward, so we felt that the expression of the fruit that the air gave us was more appropriate for the wines we create. In our opinion, the experiment is certainly worth performing on your own wine just to confirm that you are making the correct choice for flotation gas to best achieve your stylistic target.
---
About Innovation + Quality
Focused on innovations that advance wine quality, IQ draws more than 400 luxury andultra-premium winemakers from across the West Coast who join us in Napa Valley to discuss the bestmethods for producing the best wine. In 2020, we're putting an even greater focus on winemaker trials, with the opportunity for winemakers to submit lab trials or full-scale production experiments they are conducting and then pour the results for their peers at the show. Submit a trial for consideration.