Battle Creek Cellars Opens in Portland's Pearl District
Portland, Ore. - Battle Creek Cellars is bringing a taste of the Willamette Valley to Portland's Pearl District. The urban tasting room slakes city dwellers' thirst, sans the wine country commute.
"We love producing wine in the heart of the Willamette Valley," said Battle Creek Cellars winemaker Sarah Cabot, "yet saw an opportunity to bring Oregon's beloved wine country to the city, in a unique neighborhood where people live and work—and particularly to the Pearl District, where there really aren't dedicated tasting rooms."
The new 2,000-square-foot space, situated at 820 NW 13th Ave., offers visitors a comfortable place to connect over wine and light bites. "Portland is also the jumping point for tourists who are eager to come experience Oregon wines," says Cabot. "By opening our tasting room in Portland, our goal is to bring a slice of wine country to the city for everyone to enjoy—be it after work, on a Saturday afternoon, or as they kick-off a wine country vacation."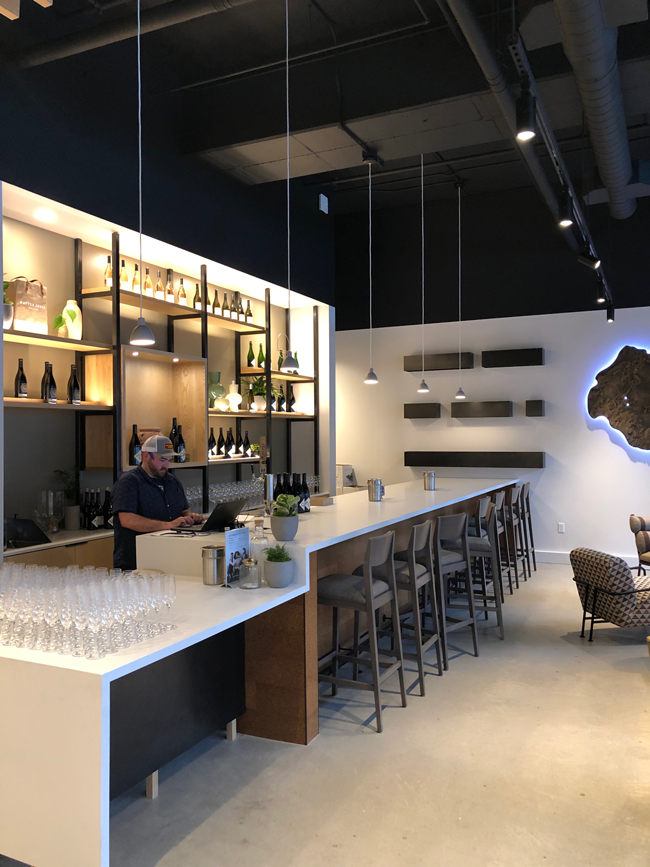 Photo: CWK Photography
Battle Creek Cellars engaged local architect Logan McClain, designer Stephen Elliott and project executive Adam Khawaja of Green Gables Construction for design and build-out. Other area artisans include Steffany Hollingsworth of HVL Interiors, Bo Hagood of Made, for bar cabinetry, retail fixtures, shelving and soil jar displays, and vine display muralist Sarah Vogelwede.
As a result, innovative exhibits and clever art pieces accent the interior, including one wall devoted entirely to soil samples and descriptors from each of the winery's estate vineyards. Of special note, tile artist Betsy Sharp (Cabot's mother) contributed a one-of-a-kind ceramic tile installation depicting an aerial view of the vineyards. Additional features comprise outdoor seating, meeting and entertaining space, and regionally sourced merchandise.
"We're excited to tell our story of creating wine that compromises nothing in quality and enjoyment, yet is approachable, accessible and distinctly Oregon," said Lisa Clarkson, SVP director of consumer and retail operations for parent company Precept Wine. "As Sarah has continued to expand the brand portfolio, producing a selection of Oregon Pinot Noirs and other offerings from some of the most exciting vineyards in the state, we decided it's time to open a tasting room."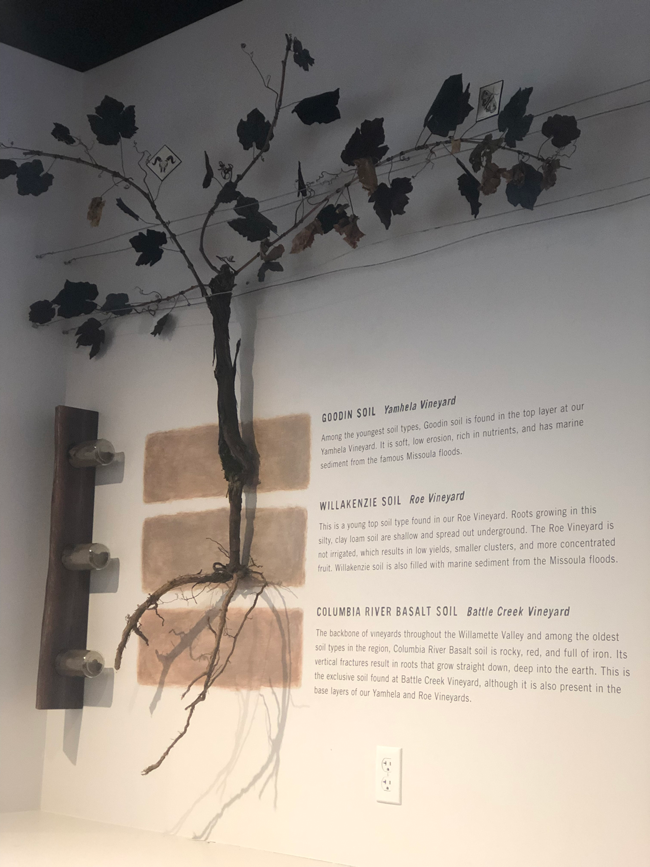 Photo: CWK Photography

Regional Representation
Precept Wine owns and maintains approximately 5,000 acres of vines throughout Washington, Idaho, New Mexico and Oregon. They also boast ownership of more than a dozen national brands, including Cabot-crafted Battle Creek Cellars and Primarius. Battle Creek Cellars utilizes fruit from many premium Willamette Valley sites, including its estate vineyards: Battle Creek, Roe and Yamhela. "I joined Battle Creek Cellars as head winemaker in 2014," said Cabot. "During my time at Battle Creek, I have focused on creating Oregon Pinot Noirs that tell the story of Oregon's terroir, and it's beautiful and unpretentious fruit. Battle Creek's wines are a culmination of my sommelier and viticultural experience. They narrate my journey as a winemaker. And right now, I believe that I'm making the best wines of my life."
Passionate Pours
The Pearl District venue showcases wines from Battle Creek Cellars' Unconditional, Reserve, Single Vineyard and Amphora Series, including tasting room exclusives Battle Creek Cellars Reserve Chardonnay and Yamhela Vineyard Black de Noirs. Cabot admits to favoring the blanc de noirs from Yamhela Vineyard, which she nurtured from start to finish. After hand-harvesting from select, sparkling-designated rows within two different blocks of Yamhela vineyard, Cabot gently pressed the100 percent Pinot Noir using a Coquard champagne press in the winery's Dundee, Ore. facility. After fermentation, Cabot "carefully transported" the still wine to Gruet Winery in New Mexico for bottling en tirage. "I worked with head winemaker Laurent Gruet to select the dosage, and oversee disgorging and labeling," says Cabot. Ultimately, she disgorged, labeled and shipped 500 cases of bubbly back to Oregon for the Portland tasting room release.
"When we set out to open a tasting room in the Pearl, our goal was to bring a piece of Oregon wine country into the city," concludes Cabot. "This has been a dream of mine for quite some time, and it's beyond exciting to see it come to life. I am extremely proud of what we've built here."