2019 Harvest from Texas to North Carolina: "Good" to "Spectacular!"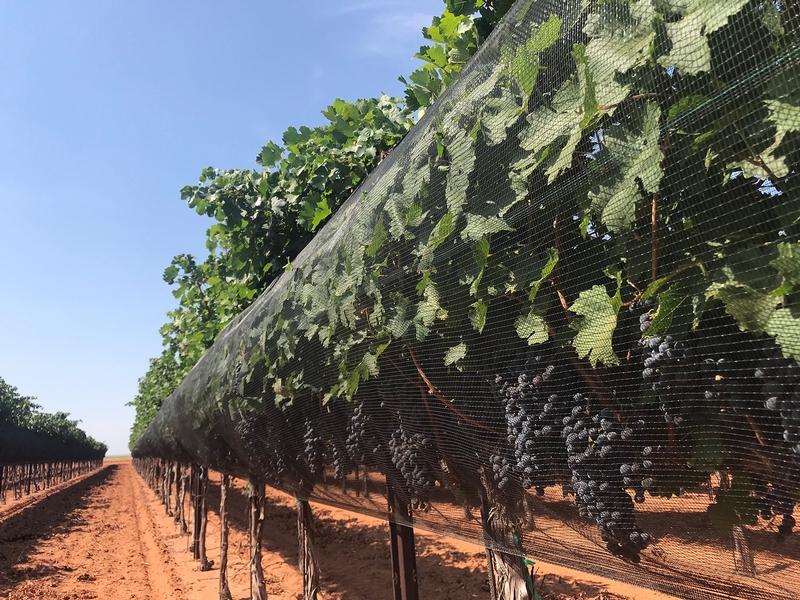 Hail netting on Cabernet Sauvignon grapes in the High Plains in Texas doubled as bird netting, as there was little hail damage in the area this summer. Photo credit: Fritz Westover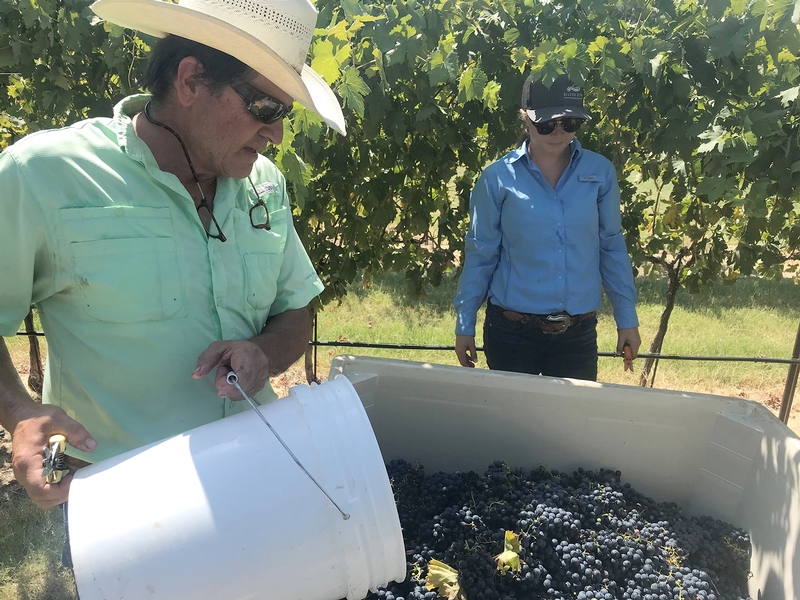 Phil Lopez, owner of Silver Spur Winery, and Rachael Sampson, a graduate student at TAMU, harvested Tempranillo grapes at Gatewood Vineyards in Dublin, TX on August 20. Photo credit: Michael Cook

Grape growers east of the Rockies know that the most important month in the growing season is September. Nice weather that month can make all the difference between an excellent harvest and a mediocre one, even if there have been frosts, rain, hurricanes or other nasty weather before Labor Day.
Last year above-average rainfall began during the summer from Georgia to New York and west to the Mississippi. Rain continued in September, and on September 14, Hurricane Florence arrived on the coast of North Carolina. That storm impacted harvest with heavy rains up the Atlantic coast and inland to the Appalachian Mountains.
From October 2018 through May over the entire area, there was one word to describe the weather – wet. Rain ended the drought of last year in Texas, flooded the rivers in Missouri, and delayed spraying in vineyards in the Finger Lakes of New York and many other places east of the Rockies. Spring weather was late in arriving and the rainy days were frequent until late in May.
This year, August, September and October were dry, sunny and quite warm, especially in the more southern regions. One grower commented that his area had July weather all the month of September. The wet weather did have some impact on the quantity of fruit in some places, and growers who were not careful with their spray schedules had some incidence of disease. But for the most part, as Dr. Cain Hickey, assistant professor of viticulture at the University of Georgia, said, "Everything that last year was not, this year was."
Texas

The Gulf Coast region of Texas is always the first to begin harvest, and this year, the crop was right on schedule. Fritz Westover, a viticulture consultant who owns Westover Vineyard Advising and the Virtual Viticulture Academy (based in Houston), reported that grapes were normal size clusters, with good quality and little disease. The region was finished with harvest by about August 29.
Westover noted that vineyards in Texas this season did not have either frost damage or hailstorms, and while there had been some rain during the winter, the rains were timely. He also commented that the High Plains has had a great year and produced a bumper crop. "There's a lot of good fruit on the market," he said, and attributed some of the abundance to the fact that approximately 1,000 acres of vines were in their fourth leaf, and therefore grapes were picked for the first time.
Paul Bonarrigo, owner and head winemaker at Messina Hof Wine Cellars in Bryan, TX, stated that grape quality in the High Plains was "good, very good." Bud break was somewhat late, and after a hot August, a big part of the ripening process happened during milder temperatures in September and October, and that has helped the quality of the grapes. Temperatures dropped to 33° F on October 11, and he anticipated that harvest would be finished by the end of the next week. He also reported that vineyards in the Hill Country near Fredricksburg had had a good season, with an average yield but that, overall, tonnage was up.
North Texas has had "a very good year, a very strange year," Michael Cook, viticulture program specialist at Texas A&M University, told Wine Business Monthly. "It was the wettest growing season on record, with some locations receiving up to 60" of precipitation." As a result, disease pressure was up, and downy mildew was a problem if sprays were not regularly applied. In vineyards with an appropriate spray schedule, he reported that fruit quality was "fabulous," the grapes had "good color, adequate yield and excellent quality."
Cook also commented on the increasing popularity of Syrah and Tempranillo among Texas growers. "It [Tempranillo] is cheaper to farm, has a heavy crop with good quality, and does well in heat," he said. Albariño and Mourvèdre are also becoming more popular with growers.
Missouri
In the summer of 2018, vineyards in Missouri suffered more from drought than too much rain. According to Dr. Dean Volenberg, director of the Grape and Wine Institute at the University of Missouri, lots of rain didn't arrive until October 2018 and intermittent rainfall continued during this year's growing season. "It's been a good year, overall," he said. The hottest weather with many days in the 90s occurred during September, then temperatures dropped significantly the first week in October, and frost arrived by October 14.
Volenberg noted two variations on the normal cycles of pests and diseases. Missouri routinely has a major problem with Japanese beetles, and during last year's drought, there were lots of them. He theorized that the drought followed by October rains somehow interrupted their mating cycle and the adult beetles didn't lay many eggs. "This year there were almost no Japanese Beetles in the vineyards. I've never seen a population crash like that," Volenberg said.
He also reported seeing more bitter rot in vineyards, which he described as a typical hot, wet weather disease. With that problem occurring, he stated, "Growers need to check their pesticides and use sprays for late season rots."
Georgia

The wet weather of 2018 continued in Georgia until late March this Spring. There were no threats of frost, and in late April and early May, it was dry during bloom and fruit set, according to Dr. Cain Hickey, associate professor of viticulture at the University of Georgia. "It was the best fruit set possible," he said. "We had beautiful weather through veraison, and lots of sun that ripened the fruit well. Yields were up big time and sugars were higher than normal."
Most importantly, there were no hurricanes. "Growers picked when they wanted to pick, not because they had to," Hickey said. "Some let grapes hang longer to see what happens. But then there can be berry shrivel, disease pressure and bird damage." He also noted that growers with mature vineyards were happy, as they got just enough rain at the right times and didn't need irrigation. The only vineyard managers who were unhappy were those who had planted new vines that could have used a little more rain.
North Carolina
Steve Shepard told Wine Business Monthly that this year's growing season in North Carolina was "Spectacular! Really, really good – the best one I've seen in 30 years! We've had no rain since July 20, and everything came in earlier than usual. We started picking Pinot Grigio on August 8, about a week early; Cabernet Sauvignon harvest began September 12 – it was beautiful, beautiful fruit, excellent quality."
The only problem Shepard noted was that the Pinot Grigio showed signs of Pierce's disease, and after harvesting 3 tons off 2 acres, he pulled it out. He commented, "Disease pressure is more of a problem for North Carolina than cold temperatures."
"I've been hoping for this [kind of season] for years," he said. "It was easy this year – hurricanes didn't get close to us, everything was perfect. I'm tickled to be able to experience a harvest like this. It was a fun year!"
Virginia

How was the 2019 growing season in Virginia? "Fantastic!" enthused Michael Shaps, winemaker and partner in Michael Shaps Wineworks in Charlottesville, VA. "It was a complete 180 from last year." He noted that there had been some threats of frost this Spring, but nothing that was serious or significant. As in other parts of the South, the area around Charlottesville had more rain than normal in April and May, but the summer had more average rainfall.
Shaps commented that the one hurricane early in the season came up the Atlantic coast to North Carolina and then turned out to sea. After that threat of rain, there were no other hurricanes, and the area had no rain in September. "We were able to pick fruit based on maturity and flavors, not because of weather. It was ideal!"
"I would compare the 2019 growing season to 2017," Maya Hood White, vineyard manager for Early Mountain Vineyard, stated, then added, "2018 was traumatizing! This season embodied everything that 2018 was not." She continued, "We have a different idea now of what we're looking for. In 2017, it was let it hang, let it hang, let it hang til the grapes reached the highest sugar. In 2019 we picked when the grapes were phenologically ripe but could pick based on other factors. I like the freshness we get by picking earlier."
White noted that there were blocks in their two vineyard sites that they liked in 2015 and 2016, and now select specific blocks to pick at different times. This year they harvested grapes from one Cabernet Franc vineyard at three separate times to take advantage of different and interesting flavor components for their blended wines. "We've learned to trust the information we now have," she said.
One problem the team at Early Mountain encountered was winter injury to young vines. "Young plantings struggled last year. They went into the winter with wet feet, which resulted in some winter injury even though the temperatures didn't get that cold," White stated. "2019 was perfect for vines. We had warm days, cooler evenings and a few rains in September, but that didn't impact the vintage. We couldn't have asked for a better season."
Maryland

The 2019 growing season began with more rain in Maryland, and that worried Phineas Deford, vice-president of Boordy Vineyards in Hydes, MD. "The vines didn't completely harden off last fall. This Spring we had more rain than at the same time last year, and I was concerned that would impact fruit set," he told Wine Business Monthly.
Boordy has two vineyard sites, the Long Green Valley Vineyard in Hydes and a second one with 25 acres on South Mountain on the eastern edge of the Appalachian Mountains near Burkittsville. Traditionally, the South Mountain Vineyard gets less rainfall than Long Green Valley. This year, the higher elevation site at South Mountain had rain into July while many of those rainstorms missed the Hydes vineyard.
"In early August, it just dried up," Deford said. "We had thinned down to about 14 clusters per vine, but the clusters were massive. They were bigger than we ever could have anticipated, and we had a big yield because of those cluster weights. Everything was really beautiful! Harvest began earlier than ever before; we picked Pinot Gris by mid-August, and all the whites finished two weeks earlier than usual." Most of the white grapes at both vineyard sites were harvested before Labor Day.
According to Deford, in September there were no storms, no hurricanes, and it was "a relaxed harvest, we could pick what we wanted, when we wanted. There was no disease pressure, except for a bit of downy mildew, and we saw very little late-season bunch rots. The grapes had beautiful physiological ripening, and skins remained intact, which allowed us to get good tannin extraction. Brix levels ranged from 23.5° to 25° and the pH numbers didn't skyrocket." He noted that the only challenge for Maryland growers was some downy mildew in vineyards where that problem was not addressed early enough with proper spray programs.
"It's all good news this year after such a tough year last year," Deford said. "I have high hopes it will be a great vintage."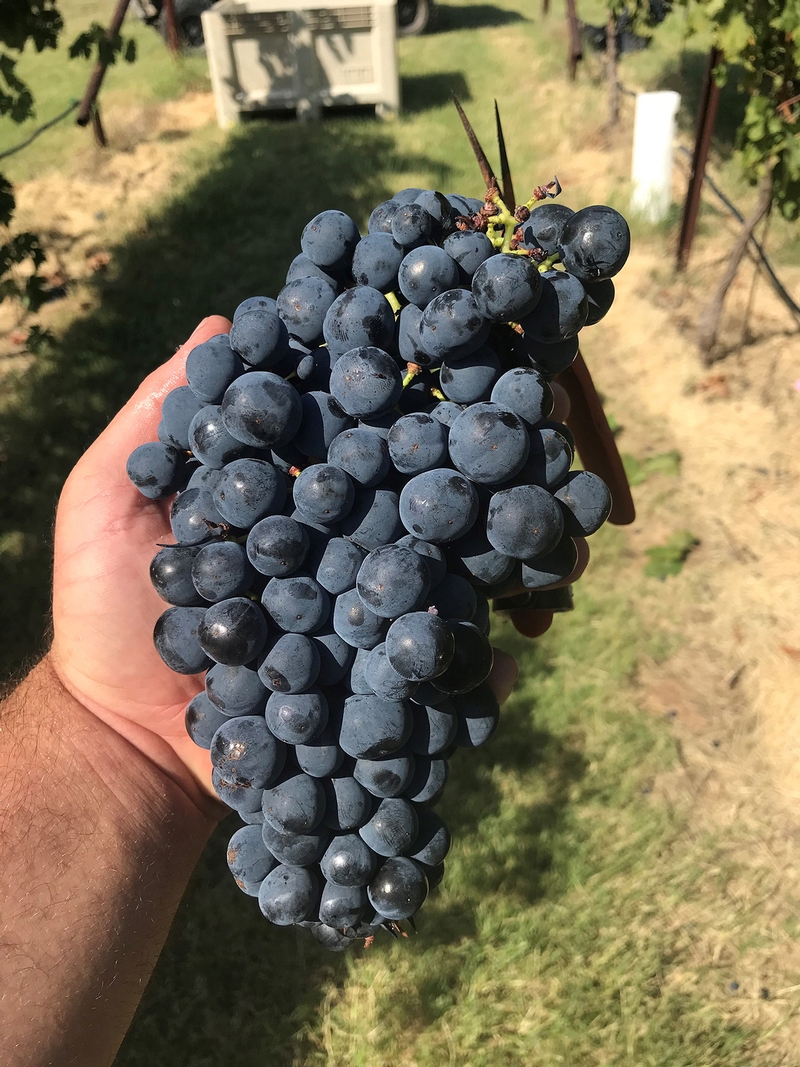 Tempranillo grapes. Photo credit: Michael Cook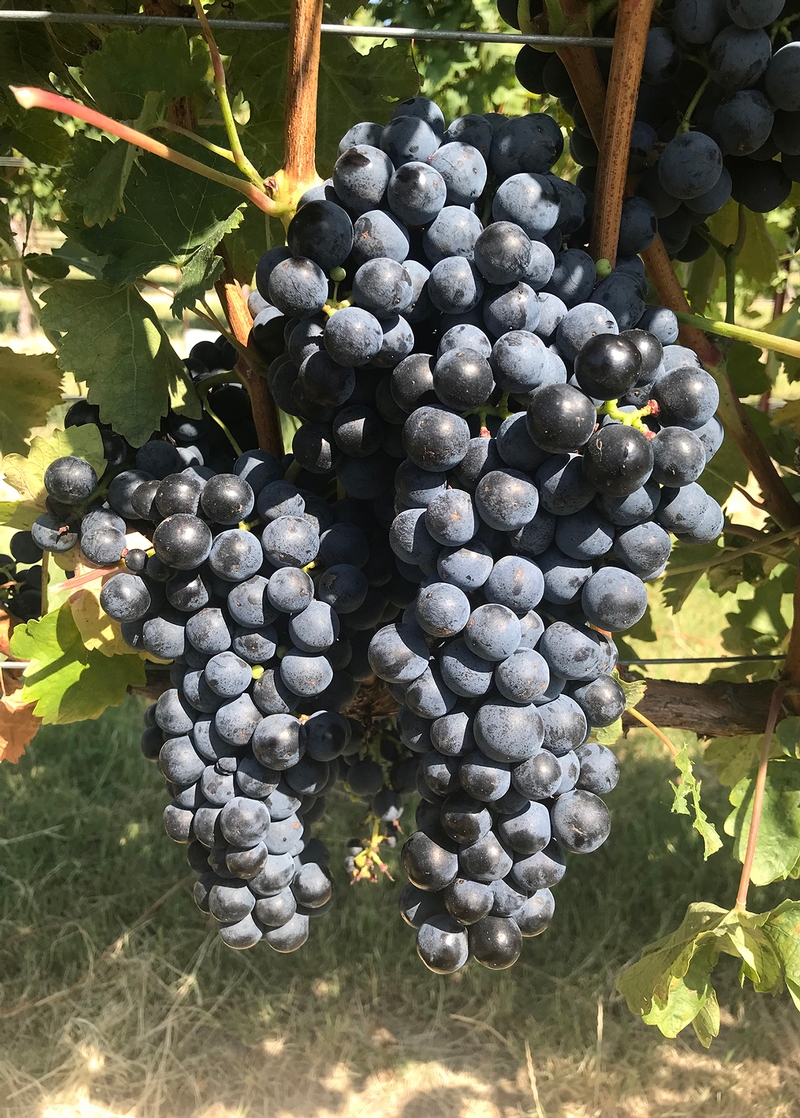 Tempranillo grapes. Photo credit: Michael Cook