The Kincade Fire burned more than 76,825 acres in Sonoma County and is now 30 percent contained
Wineries and growers are "weary" and want to wrap things up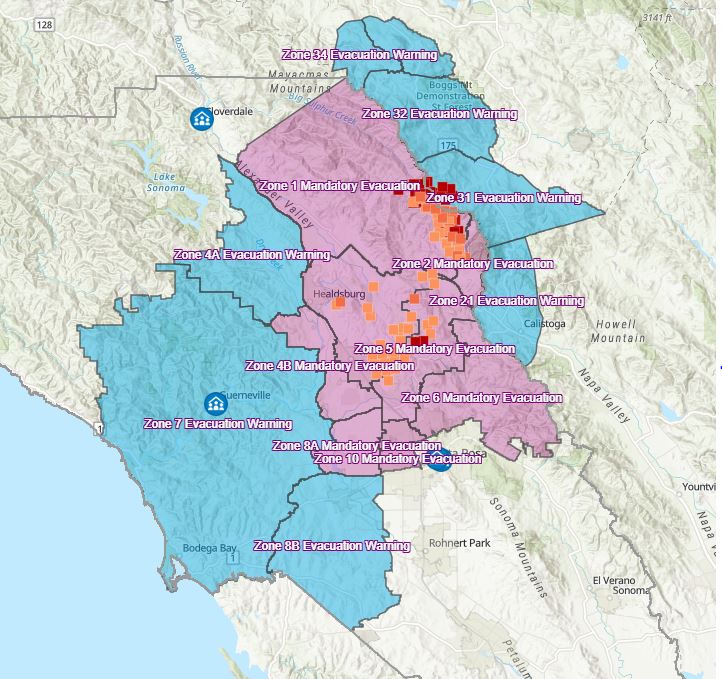 Thousands remain under evacuation order in Sonoma County. Map courtesy of Sonoma County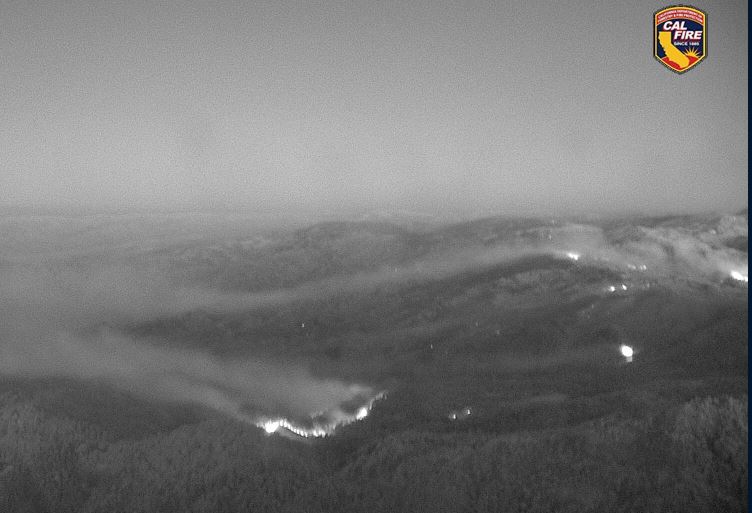 View of the Kincade Fire. Video still courtesy of ALERTWildfire.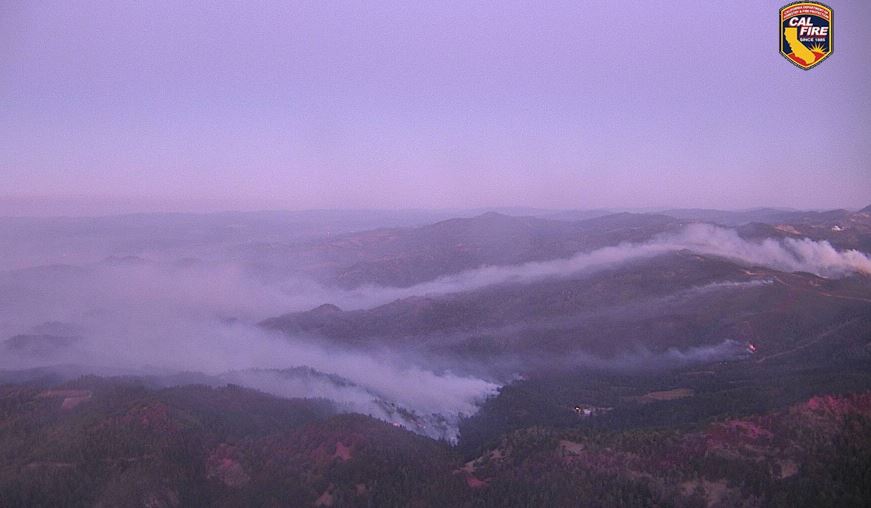 The Kincade Fire has burned more than 76,825 acres in Sonoma County and is now 30 percent contained as of Wednesday morning, according to CAL FIRE. Firefighters continued to make progress as a red flag warning remains in effect until Wednesday afternoon.

More than 200 structures have been destroyed, including dozens of homes and at least two wineries in the Alexander Valley - Field Stone Winery and Soda Rock Winery. Evacuation orders remain in effect.

Glenn Proctor, partner at Ciatti Co., said the first priority is people's safety and staying out of the way of first responders.

In the meantime, people are helping one another, he said. He knows guys who keep a chainsaw in their truck in case someone needs help.

"I think everybody is rallying around each other," Proctor said.

Most of the fruit in Sonoma was harvested before the Kincade Fire ignited Oct. 23. Growers had harvested about 92 percent of the fruit before the fire broke and another 3 percent before Saturday's wind storm, Karissa Kruse, president of the Sonoma County Winegrowers said Monday.

Mike Needham, broker and partner at Turrentine Brokerage, said both the wineries and the growers are "weary" and want to wrap things up."

"Everybody is getting tired of it," Needham said Monday.

One concern is the potential for smoke taint after the vines have been exposed to smoke.

Smoke on Monday drifted to other regions, including the Napa Valley.

Glenn Andrade, senior vice president of winemaking at Trinchero Family Estates, said crews collected samples Tuesday for testing. The winery still has to pick about 5,000 tons of mostly Cabernet Sauvignon in the Napa Valley and another 6,000 tons from the Central Valley.

The region also has to contend with blackouts, which Proctor and others said has made things "more complicated."

For instance, harvested fruit has had to be diverted when wineries have not been able to receive shipments because of lack of power.

Constellation Brands' properties in Sonoma County – SIMI and Clos du Bois – are closed to the public.

"We continue to monitor the Kincade Fire closely and are taking all necessary measures to ensure the safety of our employees as our top priority," said Constellation Brands spokeswoman Alexandra Wagner. "Our Sonoma County properties - including SIMI and Clos du Bois - will remain closed to the public until the area is confirmed safe by local authorities."

"The majority of our Sonoma County harvest is complete, and we anticipate no material impact to our 2019 vintage." Wagner said Tuesday. 'Our thoughts are with our colleagues in the area, the crews working to contain the fire, and the entire community."

In American Canyon, Sutter Home's facility in American Canyon lost power over the weekend as did other buildings in the industrial. The wine company re-scheduled bottling for Friday, Andrade said.

Jessica Tuteur, president and general manager at Infinity Bottling LLC in American Canyon, said Infiniti Bottling lost power at 8 p.m. Friday. "We cannot do anything," Tuteur said Tuesday. The wines in tanks were fine, she said. The staff was monitoring the temperatures and gassing head space by hand daily, Tuteur said. "Once power is restored we will need to do full sanitation and then should be good to go!"

Power returned Tuesday afternoon. But it is unclear for how long. Pacific Gas and Electric Co. has announced its fourth public safety power shutoffs, affecting 540,000 customers in 27 counties.

The Kincade Fire ignited Oct. 23 near the Geysers in northeastern Sonoma County shortly after a PG&E transmission line in the area failed. Pacific Gas and Electric officials said the line had not been de-energized.

The California Public Utilities Commission has launched an investigation of California's utility companies' public safety power shutoffs in California, including PG&E. Newsom has been critical of PG&E.

"I want to see the CPUC launch a total reform of power shutoff rules and regulations," he said in a written stamen, referring to the commission. "Utilities must be held accountable and be aggressively penalized for their overreliance on PSPS, and the product of this investigation must be new rules and regulations to do that. I also want to see customers not charged for PSPS. It seems obvious, but under the current rules, utilities can do just that. It's unacceptable and must be remedied."

Newsom has suggested that billionaire Warren Buffet buy the company. Questions have been raised about whether or not the company should be a publicly traded company.

Pacific Gas and Electric Co. CEO Bill Johnson on Tuesday cautioned that the problems remain, regardless of the ownership. "I think what we all need to remember is regardless of ownership, structure or any of those things, these challenges don't go away. The risk doesn't go away…it doesn't get any smaller, Johnson said.
The Need to focus on mitigating that fire risks.

In the meantime, PG&E is considering a Newsom request: giving credits to PG&E consumers affected by the rolling blackouts.

A new site helps displaced residents. For information, check: https://response.ca.gov/

For information on the shelters, check: https://socoemergency.org/

For information on PG&E blackouts, check: https://bit.ly/2Nf1XqT
For information on the fire check: https://bit.ly/2Pm9SW9, https://bit.ly/31QYZ10
Editor's Note: This article has been corrected.