Journalist and Wine Writer Mort Hochstein Dies
Morton Hochstein, May 1929 -- October 2019
October 30, 2019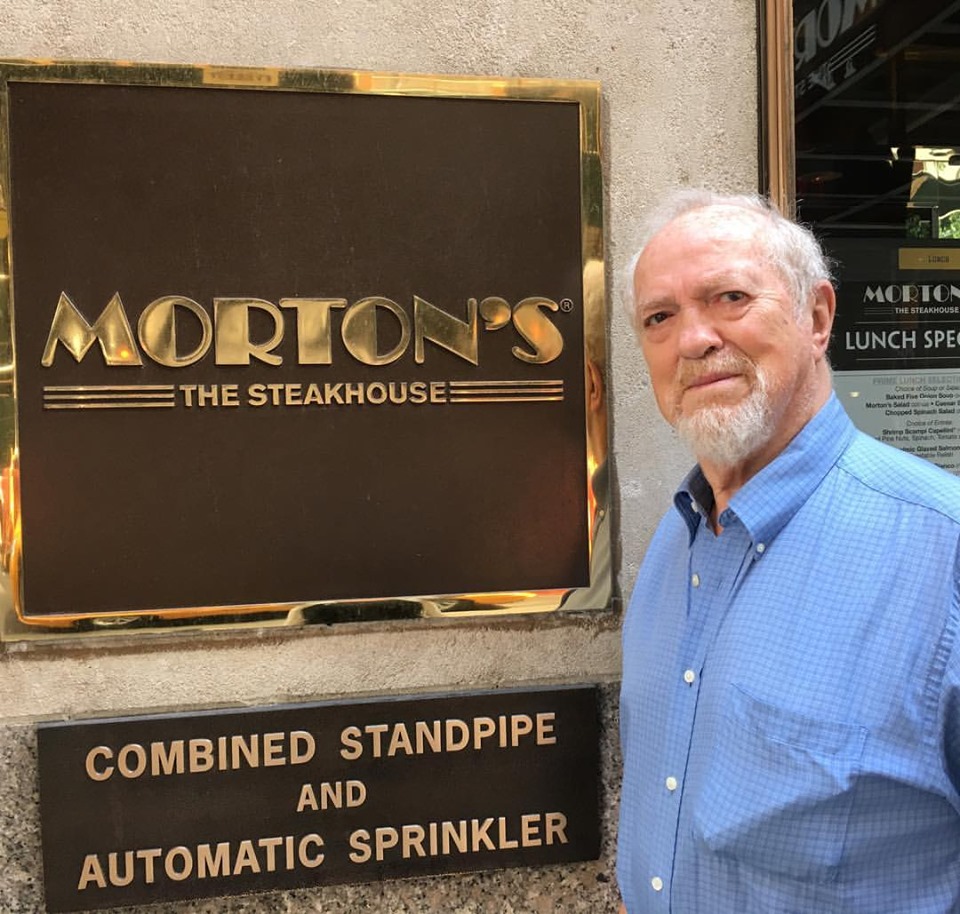 photo by Bess Hochstein
Morton Hochstein, May 1929 – October 2019

Some knew him as Mort. Others knew him as Morty, or Hock or Hocky.

Morton Hochstein, a widely published journalist based in New York City passed away last week.

Mort Hochstein was with NBC News and the Today show before launching his second career writing about wine, food and travel. His second career allowed him to pursue three of his greatest passions.

His obituary in the New York Times said he had "wrapped up the cancer story on his own terms, painless, peaceful of sound mind at home."

Mort Hochstein had celebrated his ninetieth birthday in June.

He died with Rolaine, his wife of 68 years, at his side.

Daughter Bess Hochstein said Mort had called his health care aide Felicia Omari to say, "I quit" and that she protested a few times but he had been insistent. "I quit." Then he went back to sleep and never woke up.

"We were all lucky to have had the opportunity to say our goodbyes to him before he was gone," Bess Hochstein said.

Mort Hochstein served in the Army in public relations during the Korean War at Fort Meade, among other locations, and graduated from Syracuse University before landing a job in PR with NBC. There he promoted stars such as Sid Caesar, Carl Reiner, Mel Brooks and Imogene Coca when Your Show of Shows was one of the most popular TV shows in America and Jack Paar hosted the Tonight Show.

Mort later moved into the news side of the business. As a newsman for NBC and a writer/producer for the Today Show, he had a front row seat to history: from Mary Martin performing Peter Pan live for a national audience; to covering the Gemini 10 space mission; attending the World Series; and meeting stars such as Olympic champion skier Jean Claude Killy, Joe Namath of the 1969 world champion New York Jets, and even OJ Simpson before he was awarded the Heisman Trophy. While with NBC, he introduced audiences to The Who in a remote segment produced in London with Barbara Walters.

On one of the most terrible days in American history, in 1963, Hochstein was a rookie newsman on the desk at NBC. On this November day, the AP teletype machine in the newsroom rang 5 bells, announcing a bulletin, the President had been shot in Dallas. It was lunch hour and many executives and news casters, including Chet Huntley and David Brinkley were at their regular lunch appointment at Hurley's Bar and Grill.

There was no one in a position of responsibility available to make the call to take the soap opera off the air so that the news bulletin could be delivered. Hochstein knew this was worthy of breaking in on the network and he gathered a local newscaster, turned on the lights in the small special news studio on the fifth floor of 30 Rock, and demanded that Master Control make the switch. Bill Ryan of WNBC announced the news to the NBC viewers.

Hochstein befriended many guests on the Today Show. One frequent guest-turned-friend was Roy Andries de Groot, a rotund, semi-blind, eccentric bon vivant and self-proclaimed food and wine expert. Roy had written a cookbooks and travelogues. Hochstein, Roy, and Roy's dog ended up travelling through Europe a number of times, visiting vineyards and restaurants.

For many years Hochstein was a beverage columnist with Nation's Restaurant News.
He also shared his experiences with publications such as Wine Spectator, Wine Enthusiast, Saveur, Food and Beverages, Culinary Trends, Chain Store Age, and Wine Business Monthly.

Hochstein developed a fondness for New York State wines and the Finger Lakes district. He became a promoter of the industry there, featuring it on Today and in articles he wrote during his second career. He developed friendships with industry leaders such as Walter Taylor, Dr. Konstanin Frank, and Herman Wiemer.

Mort Hochstein was a people person: wine was as much about the personalities as it was about the vintages.

Besides his Wife Rollie (Rolaine), Mort Hochstein leaves three children Eric (Linda), Kate (Juan) Bess (Kipp), six grandchildren and three great-grandchildren. Services and a celebration of life were held last Sunday at the Plaza Jewish Community Chapel in Manhattan.