Kincade Fire Grows to 21,000 Acres, Containment is 5 Percent, More PG&E Blackouts Are Expected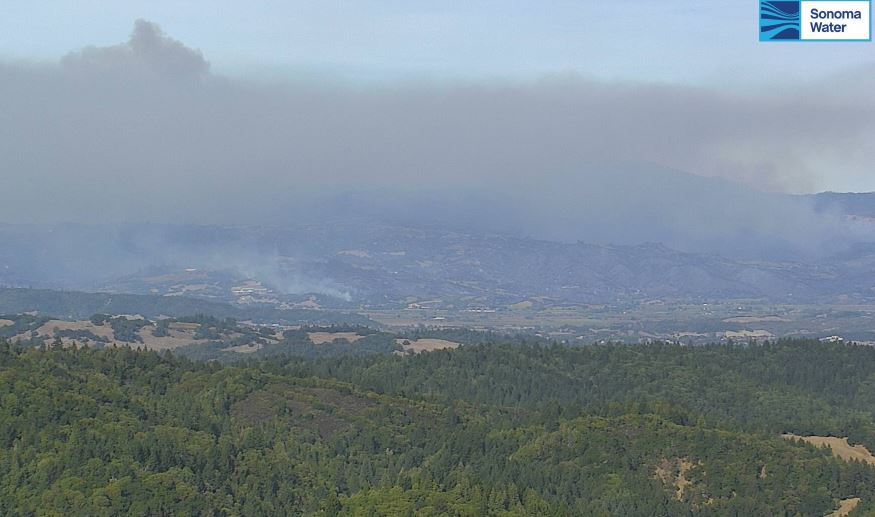 Smoke from the Kincade Fire. View from ALERTWildfire camera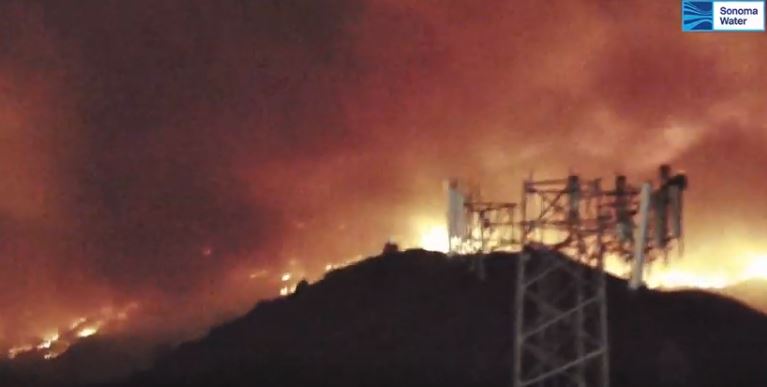 View from ALERTWildfire camera
Updated 10/25 at 9:00 am ...
The Kincade fire has scorched more than 21,000 acres in wine country since it was first reported Wednesday night in north Sonoma County and 49 structures have burned, according to CAL FIRE. The fast-moving, wind-driven blaze was 5 percent contained as winds died down Thursday evening. No fatalities or missing persons have been reported. About 2,000 residents, including the entire town of Geyserville, have been evacuated.
More than 1,300 firefighters from the entire region are fighting the fire day and night in difficult terrain. Fire retardant was dropped during the day. Additional fire crews are expected to arrive Friday as strong winds are anticipated for this weekend.
"We absolutely are up against the clock," CAL FIRE incident commander Mike Parkes, a deputy chief in the Sonoma- Lake-Napa unit, told reporters Thursday evening.
The state fire agency reported the fire has destroyed 49 structures. It remains unclear if wineries have been damaged in the blaze.
The fire broke Wednesday night a few hours after Pacific Gas and Electric Co began to shut off power Wednesday afternoon to 179,000 customers in 17 counties to prevent debris from touching power lines and igniting a wildfire. PG&E reported Thursday night that power had been restored to 93 percent of the affected customers.
However, weather forecast models predict the strong and widespread dry offshore winds on Saturday night through Monday, possibly the strongest offshore winds in years, according to PG&E which may order a third round of blackouts this weekend.
"We do believe there is strong potential for a significant event," PG&E CEO Bill Johnson said Thursday.

It could be "a large-scale shutoff" of the same order as the one of Oct. 9, during which about 738,000 customers were left in the dark in more than 30 counties, including Napa and Sonoma counties, according to PG&E.
The upcoming safety power shut-off may last longer, Johnson said. The regions affected include the North Bay, the Sierra Foothills, the Peninsula, the East Bay, the Central Coast and Humboldt County, Johnson said.

PG&E officials reported Thursday to state regulators with the California Public Utilities Commission that a failure on one of its 230KV transmission line on the Geysers was reported at 9:20 p.m. Wednesday. It is unclear if that led to the wildfire that first reported about 10 minutes later near The Geysers geothermal plant now known as the Kincade fire.
The company reported that its transmission lines in the area remained energized while power to its distribution lines had been cut off.
At about 7:30 a.m. Thursday, CAL FIRE personnel brought to the attention of a PG&E troubleman what appeared to be a broken "jumper" cable on the transmission tower – a piece of wire that jumps the conductor over the insulator, according to PG&E which filed an "Electric Incident Report" with the CPUC.

"Filing the EIR does not tell us where the fire started," said PG&E CEO Bill Johnson Thursday evening, referring to the Electric Incident Report.
The 43-year-old transmission tower was inspected four times in the last two years, including earlier this year, Johnson said. "It appeared to have been in excellent condition," he said.
"The transmission lines in the area remained energized during the wind event, consistent with our established protocols and procedures," Johnson said.
These protocols and procedures remain in place. "We still at this point do not know exactly what happened," Johnson said, as he discussed the transmission tower incident.
PG&E takes into consideration a number of conditions, including wind speed, wind direction, fuel content – and how dry the fuel is – as well as humidity when ordering a public safety power shutoff – or PSPS.

Generally, transmission lines can withstand winds up to 55 miles per hour, and distribution lines, up to 45 miles per hour, according to PG&E. "It really accounts for debris flying into the lines," Johnson said.
The fire broke in an area where power had been shut off, according to maps of the blackout. Altogether the utility turned off power to more than 27,800 Sonoma County residents, including in and around Geyserville.

Most fires involving electrical equipment involves smaller distribution lines in contact with tree or debris, according to PG&E. Distribution lines are lower voltage lines than transmission lines – though both are high-voltage equipment.

However, PG&E's clearance right-of-way along distribution lines is less than around transmission lines, according to the utility.
PG&E does not want to cut power to an area larger than necessary, said Mark Quinlan, PG&E incident commander for the public safety power shutoff. "We're trying to be as surgical as we can," Quinlan said.

Local officials and others have criticized PG&E for the blackouts, including for the lack of communication during the events and their scope.
Gov. Gavin Newsom, who has accused PG&E of greed, sent a letter Friday to the company and two other California utilities – Edison International and San Diego Gas and Electric Co. – all of which have conducted public safety power shutoffs.
Newsom called the duration of these events "unacceptable." Agreed-upon protocols and measures have not been followed "consistently" or "sufficiently," he also said. "The only consistency has been inconsistency."

Wineries closed doors Thursday because of the Kincade fire, including Jackson Family Wines facilities in the Alexander Valley.

"I can confirm that our wineries located in the Alexander Valley region were evacuated and currently remain closed but have not sustained damage. This includes Stonestreet Estate Winery, Vinwood, Vérité and The Spire Collection at Field Stone Vineyard," said Kristen Reitzell, vice president of public relations.

Robert Young Estate Winery posted on Thursday on Facebook that the fire had reached the property but not the winery or the tasting room. "Our family and team are safe. We are very grateful to the fire crews working hard to fight this fire," according to the statement. The winery late posted photos of firefighters resting on its lawn and said it would remain closed Friday.
Jordan Winery on Alexander Valley Road in Healdsburg was closed. So was Francisco Ford Coppola Winery in Geyserville.
Julia Jackson, a daughter of Jess Jackson and Barbara Banke, said on Facebook she lost her house in the fire. "My home burnt down to the ground last night," wrote Jackson, who works for the family business.

Jackson and her family have worked to combat climate change. "Stuff is just stuff, thank god I'm alive. This is why I'm doing the work I'm doing. This is why. This is why."
State air officials cautioned Thursday that smoke may blanket the San Francisco Bay Area region. They advised residents to stay indoors or head for air-cooling centers such as public libraries.
For fire information, check: https://bit.ly/2WcCouX
For information on PG&E's public safety power shutoffs, go to: https://bit.ly/32OtEgT