Napa County Reviewing Rules and Permitting Process for Small Wineries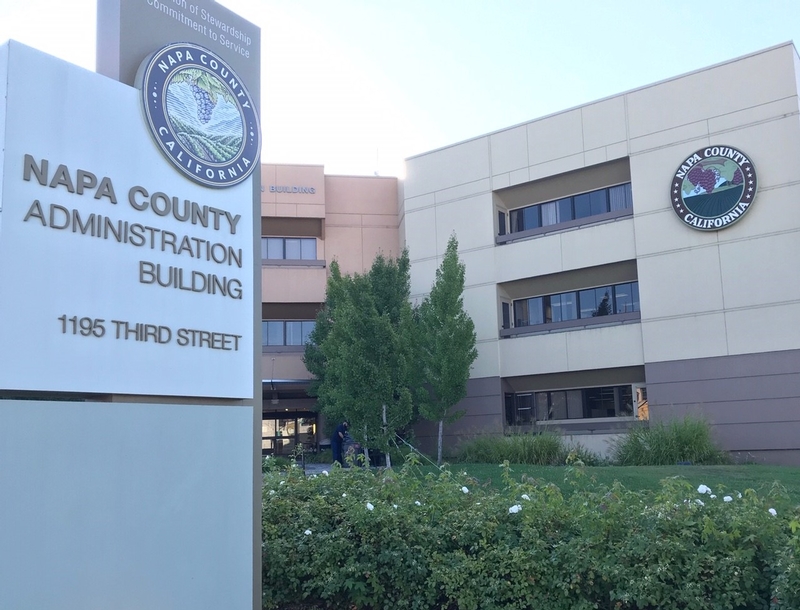 Napa County officials are reviewing a set of proposed new rules for small wineries and streamline its permitting process.

One issue is that 34 wineries producing 20,000 gallons or less were approved under resolutions approved in the 1980s. Of those six closed or never opened. Twenty-eight are in operation. The permits issued under the "Small Winery Exemption" did not allow public tours or wine tastings.

These small producers who want to have wine tastings and sell wine direct-to-consumer have to apply for a use permit, a lengthy and expensive process.

The outline of a proposal known as the "Small Winery Protection and Use Permit Streamlining Ordinance" was presented Oct. 15 before the Napa County Board of Supervisors. If adopted, the rules would allow wineries to have a zoning administrator – instead of the planning commission – to review use permit applications if certain criteria are met.

The county also proposes to streamline the winery approval process under certain conditions. Applications for minor modifications could be vetted administratively and approved by the planning director without public hearing. The minor modifications would be posted publicly; property owners within 1,000 feet would be notified.

For instance wineries increasing producing to up to 30,000 gallons a year could apply for a minor modification under the streamlined process.

Producers who seek to schedule no more than 11 marketing events a year, including 10 that generate fewer than 12 daily vehicular round trips and wineries that want to install a commercial kitchen could also have their applications reviewed and approved without public hearing.

Other requests could be approved administratively by obtaining a building permit or other permit. That would include applications to add a cover for a crush pad, install new water tank and either add a connection to a municipal water service or a recycled water system.

In addition, the proposed ordinance would allow use permit changes for existing wineries located in the business park is unincorporated Napa County to be approved by a zoning administrator of the planning director to spur the development of winery and winery-related businesses in the industrial area. The area near Napa County Airport receives municipal water. It is Delta water transported through the North Bay Aqueduct and treated by the city of American Canyon's Jamieson Water Treatment Plant off Highway 12.

Napa Valley Vintners and other trade associations praised Napa County's outreach to the industry regarding streamlining the approval process, including allowing some applications to be approved administratively via building permits.

At the same time, Napa Valley Vintners said Napa County should differentiate between wineries producing up to 20,000 gallons a year under the 1980-era rules and brand-new wineries when drafting its new ordinance. The county should consider the Small Winery Protection Ordinance separately from the proposal to streamline use permits, according to the trade association.

Michelle Novi, associate director of industry relations for Napa Valley Vintners, also urged Napa County to consider adopting Caltrans evaluation standards to determine when a left-hand turn lane is required, an expensive requirement. The current system is "simplistic" and" antiquated."

Debra Dommen, a representative for Treasury Wine Estates, made a number of suggestions including that wineries already allowed to have catered food service for wine pairings permission should be allowed to build a commercial kitchen by applying for a building permit.

Winemaker and winery owner Randy Dunn questioned the proposal. In an e-mail to Napa County officials, Dunn wrote that a 30,000-gallon winery is by "no means" a small family winery. "This would mean a crush facility for about 200 tons of fruit, coming off of 50-70acres!!," he wrote. That represents about $10 million in vineyard value, he said.

"Trying to push 30,000 gallons winery permits thru to protect the small guys out there is ridiculous, and I think that you all realize that," Dunn said.

Napa Vision 2050, an environmental grass roots organization, said the group considers the proposal as "further erosion to the Agricultural Preserve" – the 1969 law that leaves the Napa Valle floor to agriculture.

The Center for Biological Diversity, an environmental organization, said it is concerned that the proposed new ordinance would spur "significant increases in the intensity of wine industry activities in Napa County" without "proper environmental review." One concern is the cumulative impacts on County resources, the organization stated in a letter to the county.

Mike Hackett, an Angwin resident and environmental activist, and others spoke against the outline presented last week, saying large producers will take advantage of the ordinance. "This is an intensification of agriculture in Napa County," Hackett said.

Representatives for a group known as "Small Family Farms" seek rules for micro producers, including having tastings at vineyards.

"We have a dream," said Miriam Puentes, who owns the label Honrama Cellars with husband, Jose.
Elise Nerlove Rutchick, whose family has a small vineyard is south Napa, also asked for rules for micro producers like her family's company which produces 1,000 cases of wine a year instead of "one-size-fits-all" regulations. That bar for compliance has gotten too high for wineries like hers to clear, she said.

"We are never going to be a big winery," she said. In fact, her family winery is never going to be a "small winery" under the county's 20,000-gallon a year definition. "Twenty thousand gallons is over 8,000 cases of wine," she added.

"We're trying to make it in Napa. We have something unique to offer," Nerlove Rutchick said.

Napa County Planning Director David Morrison denied the ordinance would not result in intensification. The decisions would be appealable.

Napa County Supervisor Alfredo Pedroza spoke on the change in the wine industry. The current rules are "not appropriate for the way folks are doing business sustainably," he said.

Adding one employee triggers the need for a major modification – and a public hearing. "To me that speaks of a broken system."

He and other supervisors asked for a separate discussion on micro wineries.

Morrison said a draft ordinance could be prepared by late November and a final ordinance could come before the Board of Supervisors by December.