Flaneur Wines at the Carlton Grain Elevator Elevates Willamette Valley Wine Guest Experiences in Downtown Carlton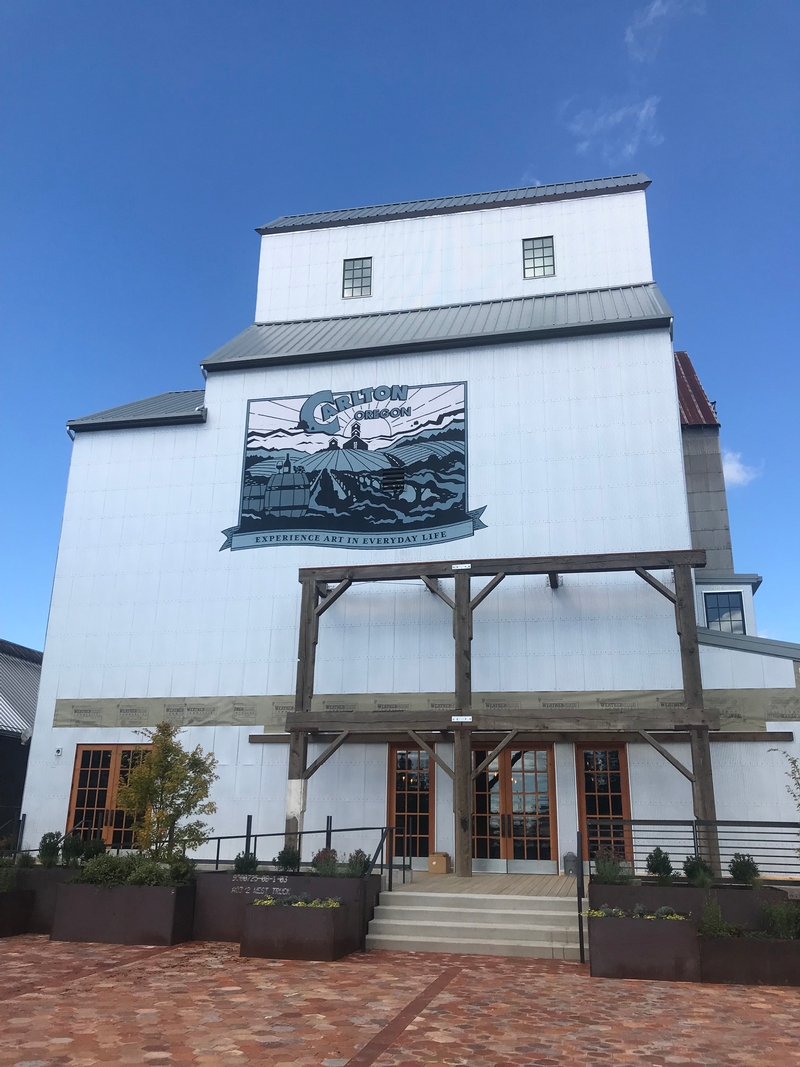 Exterior wooden frames, and hand-painted mural by Anthony Kuenzi of Kuenzi Design for Flâneur Wines at the Carlton Grain Elevator. Photo by L.M. Archer
Carlton, Ore. —What's old is new again in downtown Carlton, where Flâneur Wines introduces its innovative wine tasting and culinary center, Flâneur Wines at the Carlton Grain Elevator.
"The overall vision is to create a world-class wine and hospitality experience," said Flâneur Wines owner and founder Marty Doerschlag. "Something that is unique, with organic farming and thoughtful winemaking at the forefront, always. People talk about wine wrapped up in history and experience, and this collection of tasting experiences we are creating is trying to do just that—marry the two together and give guests a reason to come back."
The Pace of a Tortoise
Doerschlag purchased the 125-year old abandoned grain elevator from legendary winemaker Ken Wright of Ken Wright Cellars in 2013, with an eye towards repurposing it at some point. A midwestern transplant, Doerschlag ambled upon the Willamette Valley wine scene shortly before purchasing the structure during a period of extensive travel. Charmed by the region, he stayed on, founding Flâneur Wines. Flâneur Wines honors Doerschlag's previous nomadic existence; loosely translated, 'flâneur' means a "leisurely wanderer, a worldly explorer, a connoisseur of life" once romanticized in the 19th century. The term connotes not just a turn of phrase, but also a frame of mind. Thus, a true flâneur saunters the world "at the pace of a tortoise." Hence, the tortoise features prominently in all Flâneur Wines branding.
The winery's inaugural vintage in 2013 produced 220 cases of Pinot Noir with fruit outsourced from three Willamette Valley vineyards. Today, production tops 5,000 cases sold primarily direct-to-consumer; most grapes are sourced from Flâneur Wines' two, organic, dry-farmed estate vineyards. One of the vineyards, Flanerie (meaning 'the walk of the flâneur') comprises eight acres of Pinot Noir in the Ribbon Ridge AVA acquired in 2014.
The other, a 54-acre estate in the Chehalem Mountains AVA called La Belle Promenade, figures prominently in the winery's "off-campus" tasting experiences. Purchased in 2012, the location consists of a 36-acre vineyard planted to Pinot Noir, Chardonnay, Pinot Meunier, Aligoté and Gruner Veltliner, plus a spacious tasting and event area dubbed the Blue Barn, and a smaller, more intimate structure christened the Ghost Barn. "There will be three distinct tasting areas," Doerschlag said. "La Belle Promenade offers the opportunity to feel the soil beneath your feet and gaze upon the vineyard from stylish and rustic digs of the old Blue Barn, or truly unique Ghost Barn, with benches built into the roof for a view truly like no other."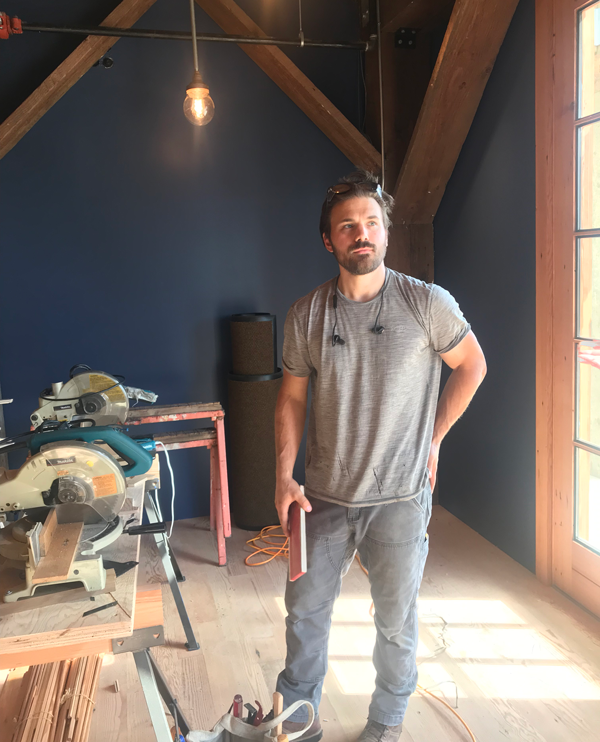 Jon Basile of Basile's Workshop in McMinnville, master woodscraftsman for Flâneur Wines at the Carlton Grain Elevator
Devil in the Details
Over the last five years, Doerschlag fulfilled rigorous seismic upgrades and building codes in his quest to complete the Flâneur Wines at the Carlton Grain Elevator retrofit, including reinforcement, redesign and re-footing of the 110-foot-high grain elevator south tower. Additionally, Doerschlag invested time and treasure selecting just the right details to amplify each guest experience in his novel wine center. "For the last five years, every city I travel to, I make it a priority to visit architectural salvage yards, and look for interesting items," he said. These finds include 100-year-old reclaimed terra cotta tiles imported from the Burgundy region of France, four columns salvaged from an abandoned coffee roaster in Brooklyn, N.Y. for use as a garden pergola, and five marble slabs resurrected as bar features.
All told, the sprawling downtown wine campus totals 2,500 square feet of high-end wine hospitality nirvana. Today, the formerly forlorn space offers a cozy, re-imagined interior that seats between 50 and 75 visitors. Old grain elevator components now serve as wine displays, clever lighting and one-of-a-kind finishings. Outside, al fresco seating for another 50 guests fans out across a spacious wooden deck and tiled patio appointed with upscale furnishings, accent pieces and rustic fire features.
Enhanced visitor experiences include casual, by-appointment-only and private, curated wine tastings and tours, as well as bottle service, bottles-to-go and a rotating chef-inspired wine and food pairing option. What's more, a full, commercial-grade chef's kitchen and wood-fire pizza oven stand at the ready for wine club member and bespoke events, guest chef pop-ups and themed wine dinners.
"The Grain Elevator offers modern amenities and comfort set inside a 125-year-old structure that is larger than life, physically and imaginatively," Doerschlag said. "Guests will walk across 19th-century terra cotta pavers or lean against marble slabs excavated from Philadelphia's Monument Mall...all subtly integrated into the original Grain Elevator structure. Last but not least, we will create a dedicated tasting area within the winery. We are touching upon where it is grown, where it is made and where it is enjoyed."
Honoring Community
Clearly, Doerschlag displays not only a knack for delighting wine guests, but also for honoring community. To that end, Doerschlag engages local artisans on the project, such as master craftsman Jon Basile of Basile's Workshop in McMinnville. Basile's Carlton Grain Elevator contributions include everything from renovations and millwork, to coffee tables repurposed from grain elevator wood and pulleys. Moreover, Portland muralist Anthony Kuenzi of Kuenzi Design adds his singular style to the south tower, with a hand-painted mural featuring Flâneur's logo, replete with tortoise.
Skirting the property, workers hustle to transform a nearby warehouse into Flâneur's winery. Adjacent silos and a gravel path hint at potential enhancements to the community-centric site. "Ken Wright bought these grain silos from Bob Nistler, who once owned Flâneur Wines at the Carlton Grain Elevator and the Madsen Grain Company," pointed out Flâneur Wines director of sales and hospitality, Russell Lichtenthal. "And the whole gist behind the deal was that you're not allowed to tear anything down. It's always about refurbishing, rather than rebuilding." Doerschlag echoes this community philosophy, as his upcycled wine utopia illustrates.
Clearly, this wanderer-turned-winemaker relishes the retooled Flâneur Wines at the Carlton Grain Elevator, both as a testament to his past life as a 'flâneur,'as well as an homage to his current community of Carlton. "You see those [exposed wooden] frames on the outside of the building, [and] you know you are going to be entering a very unique and special place." Doerschlag said. "It's the teaser from the outside. The bait that lures you in."