Domestic Table Wine Pushes Total Market up 4%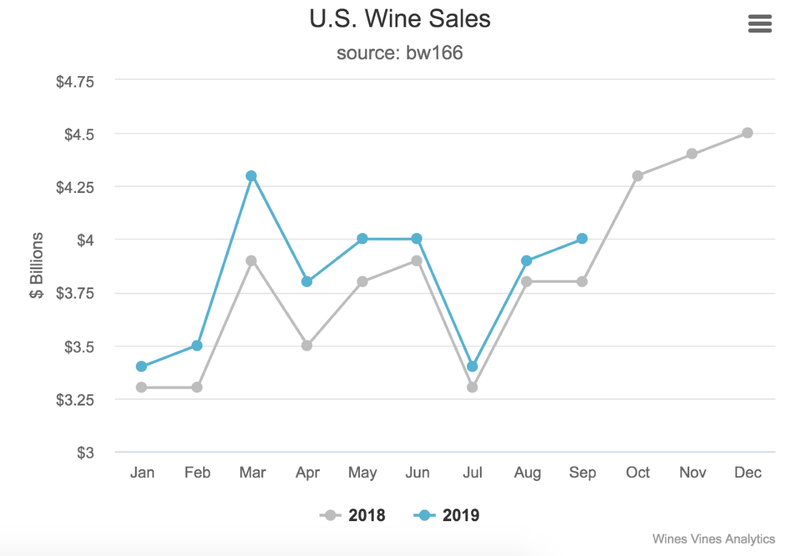 Sonoma, Calif.—Domestic table wines were fundamental to growth of the U.S. wine market in September, as fresh tariffs clouded the outlook for imported wines.
The value of the total wine market in the U.S. rose nearly 4% to more than $72 billion in the 12 months ended September, according to market research firm bw166. Domestic wines led the growth, with sales during the period up 4% versus last year to $48.4 billion. Within the category, table wines showed the strongest growth, rising 6% — an increase that represents an additional $2.3 billion in sales. This is more than the value of sparkling wines sold ($2.1 billion) or bulk imports ($1.5 billion).
The positive sales numbers are part of the regular Wine Industry Metrics featured in the Wine Analytics Report. October's issue of the report also included the top 25 performing brands in the off-premise sector and an examination of direct-to-consumer and e-commerce sales.
Domestic wine sales are typically more than double those of packaged imports, which increased just 3% versus a year ago to $24 billion. While sparkling wines from Italy and France, not to mention Sauvignon Blanc from New Zealand, have been strong performers in the market, the announcement Oct. 2 of a 25% retaliatory tariff on several types of wine from the European Union could dampen sales or shift the composition of what's selling.
Off-premise sales data from Nielsen underscore the dominance of domestic wines, which increased a scant 1% versus a year ago in four weeks ended Sept. 7 to total $810 million. Sparkling wines saw the strongest and most consistent growth, rising 4% in value and 2% in volume, while table wines saw the value of sales increase 1% while volumes declined.
Domestic table wines remained a driving force relative to imports, however. The segment accounts for 74% of total table wine sales through off-premise outlets tracked by Nielsen, or more than three times imports, in the 52 weeks ended Sept. 7. Domestic table wines also increased at more than twice the rate of imports.
California was by far the leading source of wines sold through off-premise outlets Nielsen tracked, with sales of $9.5 billion (up 1% versus a year ago), followed by Italy at $1.2 billion (up 2%) and Australia with $721 million (down nearly 1%). The top three regions represent 80% of off-premise sales and were well-represented among the country's top 25 brands, with California claiming four of the five top-sellers, including Barefoot, Woodbridge, Franzia and Sutter Home.
The fastest-growing off-premise brands (by dollar value) included Josh, Bota Box and Stella Rosa, but New Zealand's Kim Crawford ranked eighth.
Oregon posted the strongest growth among the top 10 regions that Nielsen tracked, with sales rising more than 13% to $208 million. The gain worked out to nearly $25 million in additional sales in the latest 12 months, a significant lift for a region that accounts for just 1% of the off-premise channel.
Where imports are strongest is in on-premise accounts. According to Nielsen CGA, the 52-weeks ended Aug. 10 saw $17.9 billion worth of wine sold, up 1% from last year. Imports represented $5.9 billion of the total, up 2% from last year and a growth rate more than double that of domestic wines.
Direct-to-consumer shipment data for September was not immediately available from Wines Vines Analytics. Hiring activity for DtC positions does remain strong.
Winejobs.com's Winery Job Index increased 7% in September from a year ago to 234. Demand for vineyard help doubled versus a year ago, while listings for direct-to-consumer positions, including tasting room and retail staff, rose 35%. Sales and marketing positions were also in demand, with the index rising 17%.
While the most recent U.S. Department of Labor statistics indicate a tightening job market, the Winery Job Index points to a stable hiring environment. Department of Labor data indicate that wineries and vineyards employ approximately 90,000 people nationwide, led by California.