The Best Grapes in Southeastern Pennsylvania
Eight wineries making a difference in The Keystone State
Many people across the country, and even within the state, have no idea that there is a wine industry in Pennsylvania, and that many of those wineries are making truly excellent wines.
That may be in part because Pennsylvania is not one region, but three very different ones. The regional differences are especially important when growing grapes and making wine is considered.
The northwest corner of the state is part of the Lake Erie Grape Belt, an area that extends along Lake Erie from Ohio through Pennsylvania and into New York. The lake moderates cold winter temperatures and permits the growing of thousands of acres of juice and table grapes, as well as some wine grapes. The climate there has more in common with that of the Finger Lakes in New York than with the rest of the state to the east and the south.
The Lake Erie region is separated from the southeastern part of the state by the Allegheny mountains that cut across Pennsylvania from the southwest to the northeast. Much of the area is formerly coal country, with poor soils, cold winters, and less agricultural history.
The Southeastern region, which follows the foothills of the Alleghenies from Gettysburg northeast to Allentown and then south along the Delaware River to Philadelphia, has warmer, humid summers, the threat of hurricanes in the fall, and somewhat milder winters. In many ways the region has terroir and climate traits that are similar to parts of New Jersey, Delaware, Maryland and northern Virginia.
The fact that Pennsylvania has three very different regions has major implications when anyone starts to look for "The Best Wine Variety in Pennsylvania." A grape that grows well and makes a great tasting wine in one area, may grow and make good, but different tasting wine in another area. A result, it is likely that Pennsylvania as a region will never be recognized for one "Signature Wine," in the way that Oregon is known for its Pinot Noir wines and Missouri for its Norton.
Consequently, it was appropriate for eight wine journalists to visit eight wineries in the Lehigh Valley, Lancaster County, and the Brandywine Valley areas in Southeastern Pennsylvania, to meet the people, see vineyards and wineries and then taste the wines being produced with 100% Pennsylvania-sourced grapes. The media tour, titled "Shout Out PA!," was organized by David Furer, a wine consultant and columnist based in the Hudson River Valley.
It is important to note that the concept of using 100% Pennsylvania-grown grapes is not new. When Prohibition ended in 1933 strict laws were put in place in the state that regulated the production of wine. Most important, all Pennsylvania wine had to be sold through stores run by the newly established Pennsylvania Liquor Control Board. As a consequence, new wineries were slow to open because they could not sell their wine directly to consumers.
The beginning of the renaissance of the Pennsylvania wine industry took place with the passing of Act 272, the Limited Winery Act, in 1968. Under this law, Pennsylvania wineries were limited to producing 50,000 gallons (that amount was increased to 100,000 gallons in 1970) or less of table wines that were to be made only from grapes grown in Pennsylvania. The clause to restrict wineries to using Pennsylvania grapes was included primarily as an incentive to growers to plant more vines.
It was not until 1999 that legislation was passed that permitted wineries to purchase 25% of their grapes from growers within 350 miles of their winery. After the U.S. Supreme Court handed down the Granholm decision on the direct shipping of wine in 2005, the 350-mile limit on grape purchases was no longer enforced and Pennsylvania wineries could buy grapes from anywhere.
The Lehigh Valley

Galen Glen Winery, Andreas, PA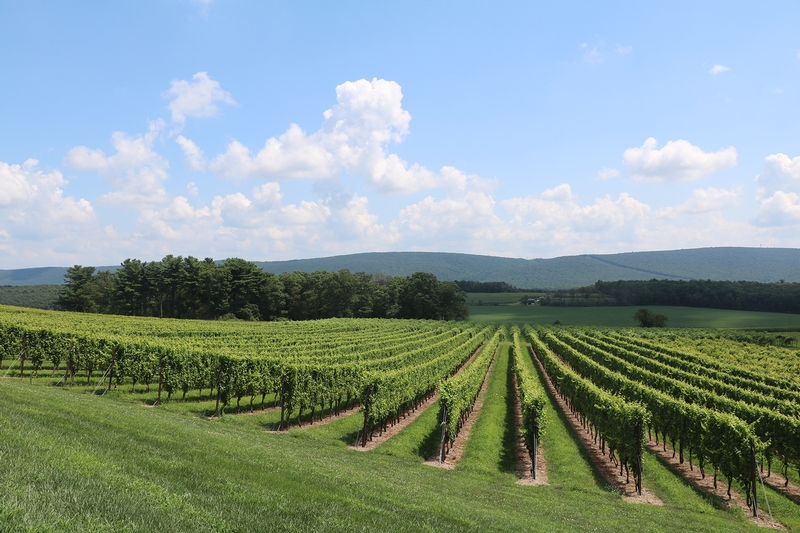 The vineyards at Galen Glen Winery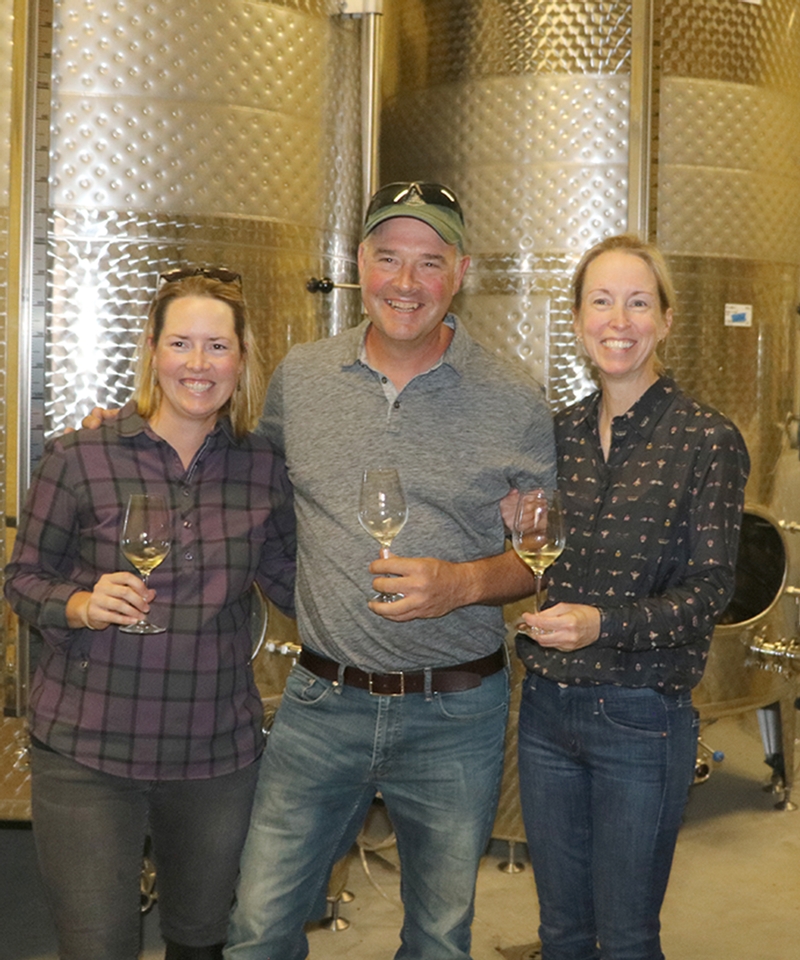 Erin Troxell (left) is vineyard manager and daughter of Galen Troxell, owner, and Sarah Rhodes-Troxell, winemaker, at Galen Glen Winery in Andreas, PA.
Galen Troxell and Sarah Rhodes-Troxell planted their first two acres of grapes in 1995 on the farm that had been in the Troxell family for six generations. Sometimes "grandpa's farm" is not a great place to grow grapes, but the Troxell farm is a glacially carved "U" shape, or glen, that is located in a drier microclimate between two mountain ridges. The top five feet of soil is glacier deposit, which are "atop millions of years old sea fossils," and the vineyards planted there are consequently well-drained.
In 2003 Troxell planted three acres of three different clones of Grüner Veltliner, the second oldest planting of that variety in the United States (the oldest is in Oregon). There are now approximately 20 acres planted primarily with Riesling, Gewürztraminer, Grüner Veltliner, Cayuga, Chambourcin, and Cabernet Franc.
The winery, which opened in 1998, produces between 6,500 and 7,000 cases a year. The Troxells' daughter Erin graduated from Cornell University's viticulture and enology program in 2010 and then studied and worked in France, Germany, New Zealand, California and Long Island, New York before returning to manage the vineyards at Galen Glen. Since her return, they have planted more Grüner Veltliner and Cabernet Franc, and would like to add more Regent and Cabernet Dorsa.
Located northwest of Allentown in the foothills of the Pocono Mountains, the winery is an easy drive from New York City and Philadelphia. They have 25,000 to 30,000 people visit each year and three years ago, their sales were 90% direct to the consumer. Now 60% of their wine is sold in the tasting room and 40% by other venues such as grocery stores and restaurants.
Galen Glen's most notable wine is their Grüner Veltliner, which has been recognized in competitions and comparative tastings as one of the best white wines produced not only in Pennsylvania but on the East coast. Their red blend of Cabernet Dorsa, Zweigelt and Regent, known as "Red German Bastards," and their Chambourcin are also worth the trip to the winery. It will be interesting to see if Regent and Cabernet Dorsa will catch on in the East, as the vines are not readily available.

Stony Run Winery, Kempton, PA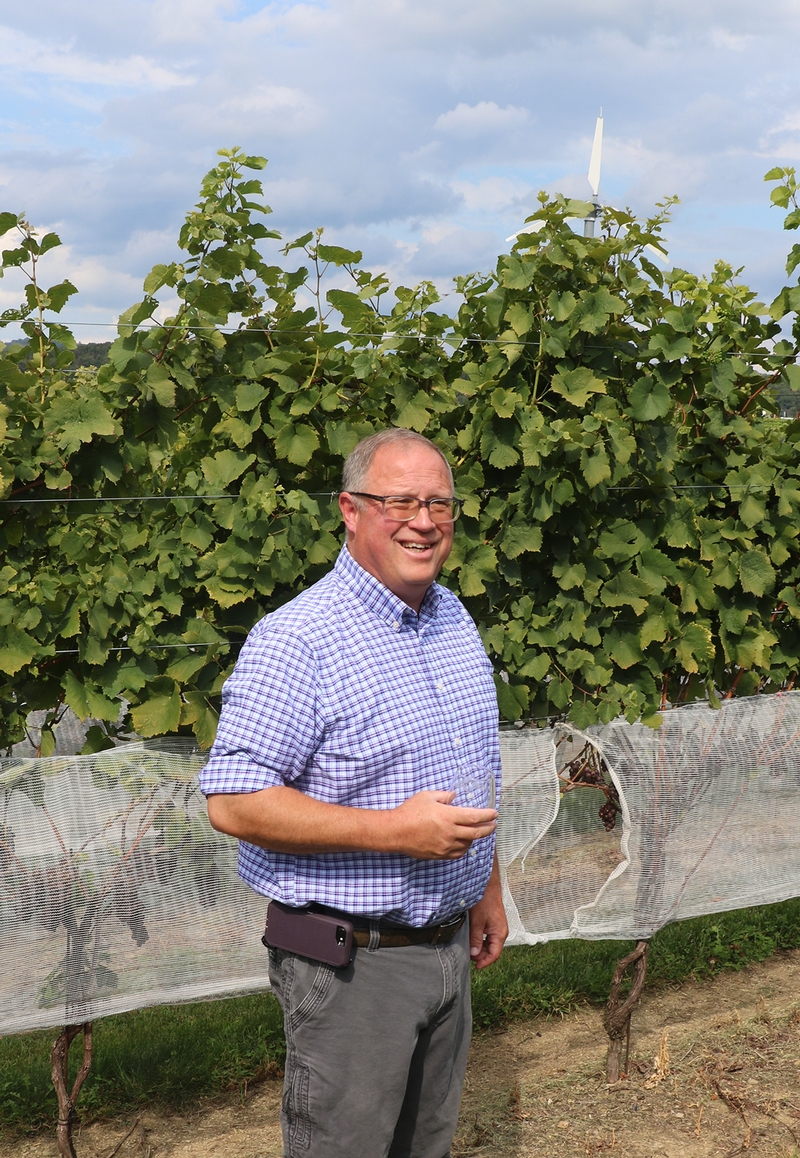 Larry Shrawder, owner and winemaker at Stony Run Winery in Kempton, PA
Located in the rolling hills west of Allentown and southwest of Galen Glen, Stony Run is the newest winery to open on this tour. The winery was licensed in 2016, but the tasting room only opened last year. Larry Shrawder, the owner and winemaker, purchased the farm where the tasting room and winery are now situated in 2007 and six years later acquired the farm next door, which was already growing 22 varieties of grapes on 12 acres. He is currently finishing the renovation of Independent Park in Breinigsville, a 25-acre site north of Reading, as a more accessible tasting room and event facility.
A total of 60 acres are now planted near the winery, with 45 acres producing. Shrawder has purposely planted the southern slopes of his hilly property with red varieties, while white grapes are planted on the northern slopes. Until last year, most of Stony Run's grapes were sold to other Pennsylvania wineries.
Shrawder anticipates that his crop will be a bit light this year – producing about 6,500 cases – because of the cold winter temperatures, especially last January. He thinks that because 2018 was a very wet year, the vines didn't harden off before the cold weather moved in. Sauvignon Blanc and Malbec were two varieties that were especially hard hit. He has replanted the Sauvignon Blanc in a new location and plans to relocate the Malbec as well, because he likes its nose, good flavors, and its mouthfeel.
Another challenge this year has been an increase in the number of spotted lanternflies (SLF). He has seen the SLF honeydew, especially on Viognier vines, and has sprayed with both Sevin and Mustang Maxx in an attempt to control them. Nearer to his house he has used a mist of Blue Dawn and water.

Stony Run's most successful wine has been its Cabernet Franc, which Shrawder thinks is the best red grape variety for Pennsylvania. He also likes Albariño for the area, although he admits that it can have low yields in the vineyard. Shrawder stated that his goal is to raise the bar on Pennsylvania wines. "We have the climate, the terroir," he said. "We can bring in the technology to make great wines. We have the tools and I think we can be successful."

Setter Ridge Vineyards, Kutztown, PA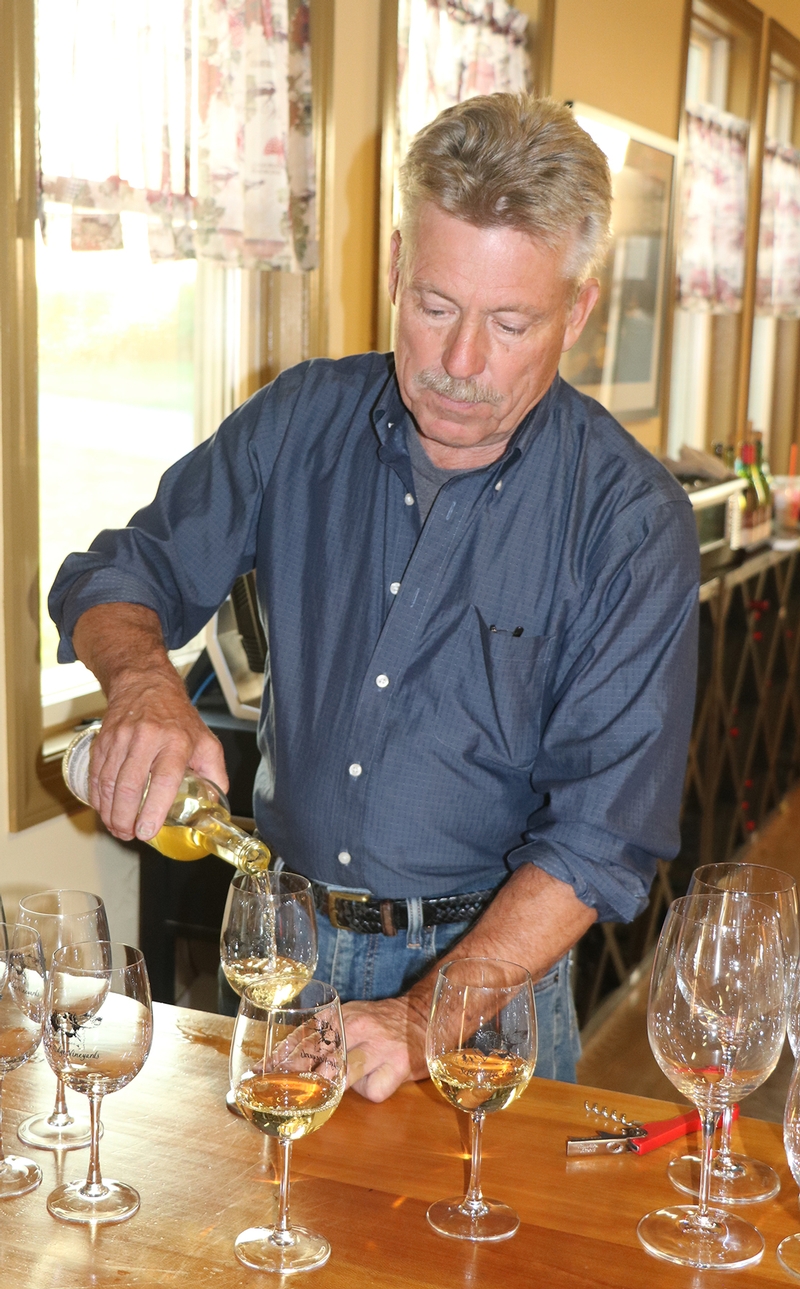 Richard Blair, owner and winemaker, pours wine for visitors at Setter Ridge Vineyards in Kutztown, PA.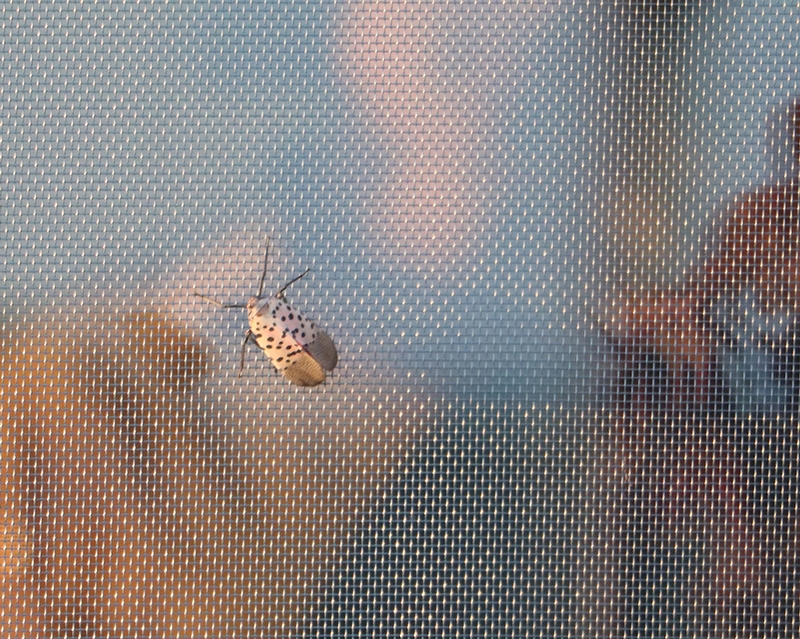 A spotted lanternfly on a window screen outside the Setter Ridge Vineyards tasting room. These insects arrived in Berks County, PA in 2014 and have caused major damage in some vineyards, including Blair's family farm vineyard
Richard Blair planted eight acres of grapes on his family farm outside Kutztown in 1998. Known as the Stonehedge Vineyard, the vines were surrounded by woods that limited sunshine on his vines and, when the SLF arrived in Berks County in 2014 and increased in 2015, his vineyard there was severely damaged. He intends to replant the vineyard ultimately with Pinot Noir and Chardonnay grapes, in part because it is a high location at 1,150 feet and summer temperatures never go above 90° F.
Fortunately, Stonehedge was not his only vineyard. Blair had purchased a second property in 2007 that had been planted with corn. He started to plant grapes in 2008 and 2009 on the fractured shale soil and now has 24 acres planted high on top of a hill facing southeast, south and southwest (and trees are down at the bottom of the hill). He is currently growing Pinot Noir, Chardonnay, Sauvignon Blanc, Riesling, Gewürztraminer, Pinot Gris, and Cabernet Franc and has added some Tannat and Petit Verdot.
Blair has long been an advocate for Pinot Noir in Pennsylvania, and once told me, "If you can find a good site for Pinot Noir, I think we can do remarkable things with Pinot Noir on the East coast." He also likes Sauvignon Blanc as a white variety and recognizes that Cabernet Franc may be the best red grape variety for the region.
We saw a few SLF while we were touring the vineyard or outside the winery, but they haven't been quite as devastating as at the other site, in part because last year Blair sprayed the vines every three days beginning in mid-August.
The three-tier, gravity flow winery at Setter Ridge was built into the north side of the hill in 2010, with the tasting room and large outdoor patio on the top level. Grapes also arrive from the vineyard at this level and are dumped into the stemmer-crusher or directly into fermenters on the middle level. The lowest level, which is built into the bedrock of the hillside, has no heat, and contains the stainless-steel tank room, barrel room, a bottling area and finished bottle storage.
In good years, the winery produced 5,000-6,000 cases, but last year, between the incessant rain and the SLF, production was down to 2,500 cases. Blair's daughter, Missy Wilson, is the winery manager and handles the tasting room and marketing.

Lancaster County

Waltz Vineyards Estate Winery, Manheim, PA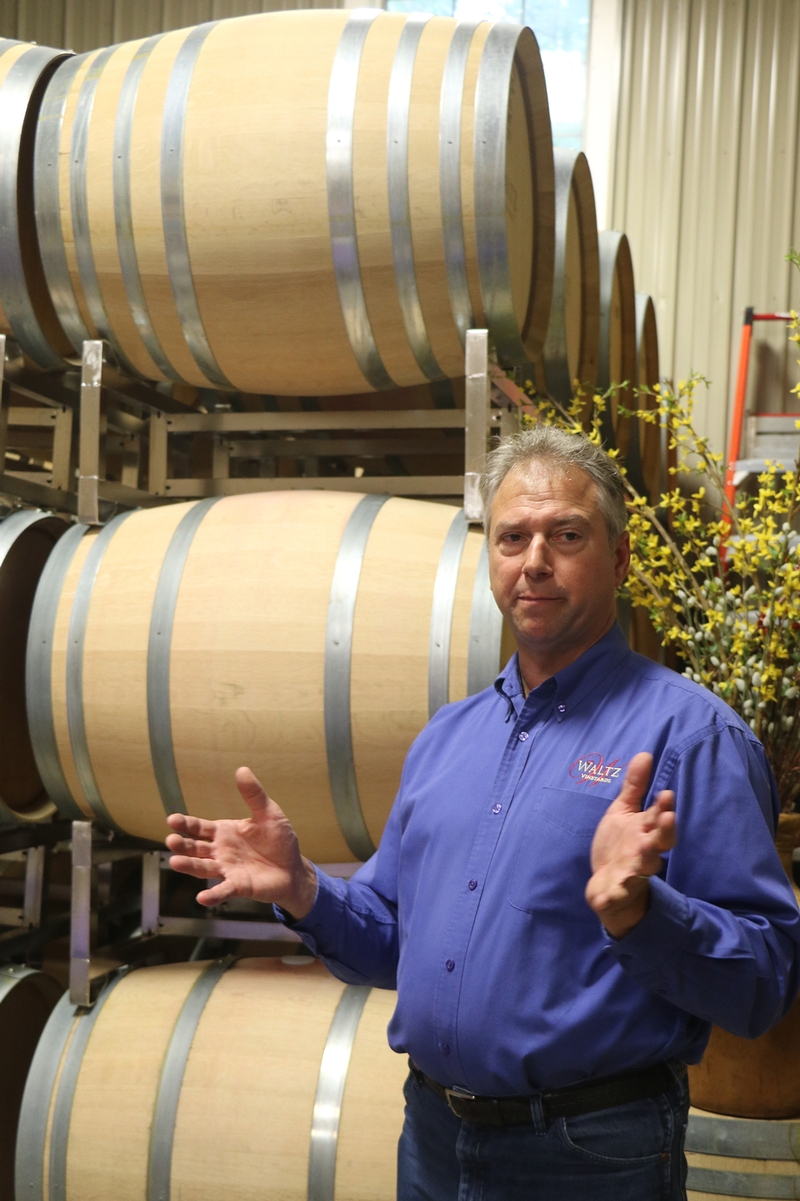 Jan Waltz, owner and winemaker, in the barrel room of Waltz Vineyards in Manheim, PA
Before Jan Waltz planted grapes on his family's farm, he brought in soil scientists to test the site. The verdict: the land was a "world class vineyard site." The soil is well drained and has medium vigor, with some clay to hold some water. But for the most part, the vines have to struggle to survive and, consequently, are deep rooted.
Waltz then planted Cabernet Sauvignon and Merlot in 1997, added Chardonnay, Sauvignon Blanc and Sémillon in 2004, put in Muscat Canelli in 2010 and Cabernet Franc in 2015. Waltz specifically chose vinifera varieties for two reasons: vinifera grapes had more value and his goal was to make high quality wines. A total of 35 acres are now planted with vines, and the winery produces about 7,000 to 8,000 cases per year.
For the first ten years, Waltz sold all their grapes to ten wineries. In 2008 they became a licensed winery and now have a tasting room at the winery and two locations in Gordonville and in Lititz, PA. Kim Waltz, Jan's wife, manages the tasting rooms, the Wine Club with 850 members and sales to restaurants in Hershey, Lancaster and York. They no longer sell any grapes to other wineries.
When he first started planting grapes, Waltz found mentors at wineries in Italy and worked with an Italian enologist. He has consulted with Gino Razzi, owner of Penns Woods Winery in Chadds Ford, PA, since 2002. The vineyard is now about 50% mechanized, according to Waltz; however, all the grapes are hand-picked.
The last five years have presented some new challenges. Winter temperatures have been colder, with the Polar Vortex in 2014 beginning that trend and the sudden drop in temperatures last January before the vines had hardened off after the excessive rainfall during all of 2018. Waltz noted that all their Cabernet and Merlot in 2018 went into a rosé wine, which fortunately has become a popular style of wine.
Waltz noted that he tries to focus and not make too many different wines. He particularly likes Sémillon, as it makes a nice wine without using oak. "I can do something with it every year," Waltz said. "Merlot also does well on our site. It grows well no matter what the year, and doesn't lose its color in a wet year, the way Cabernet does. Merlot is very at home here." On the other hand, he thinks that it is a challenge to make Cabernet Sauvignon in Pennsylvania. While the variety is cold tolerant, it has to have a long enough growing season to avoid green pepper flavors. He has found that it helps to pull leaves and expose the Cabernet fruit to the sun.
A second generation may be joining the Waltz winery at some time in the future, as their son Zach graduated from Cornell University's viticulture and enology program this past spring.

Grandview Vineyard, Mount Joy, PA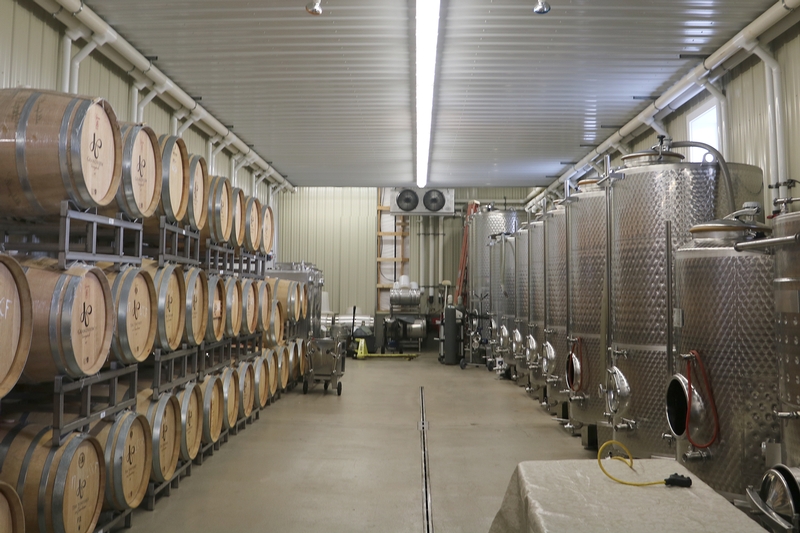 The barrel and tank room at Grandview Vineyard
Larry Kennel started his winemaking career as a home winemaker, picking roadside elderberries, raspberries and wine berries to make into dry fruit wines. In 2006 he learned that the soils on their small family farm in Mount Joy, PA would be good for growing grapes. Three years later, he planted Cabernet Sauvignon and Merlot, and some Pinot Noir that the nursery added into the mix. In the ten years since then, the Merlot has had as much as 75% winter kill, while the Pinot Noir has done much better.
The winery opened with two generations of the family involved in its operation in 2009. Larry is the winemaker, his wife Marilyn is the office manager, and both their daughters and their husbands are part of the project. Sarah Haines handles the marketing, her husband Scott is the vineyard manager, Fran Kratz is the tasting room manager, and her husband Steve also helps at the winery.
All 5.5 acres of the farm are now planted, and one of Kennel's major challenges is finding vinifera grapes or juice in Southeastern Pennsylvania to meet their need for about 4,500 cases each year. His favorite white wine grape is Albariño because of its crispness and its citrus flavor profile. Those grapes are picked by sugar and acid levels, but mostly based on taste. The original Albariño vines did not survive their first year, so Kennel replanted them in 2013; in 2018 they did not like all the wet weather and produced only about 15% of a normal crop.
On the other hand, Cabernet Franc has done exceptionally well for Kennel, and avoided the cold weather damage that Merlot has suffered. A friend has planted eight acres with Cabernet Sauvignon, Cabernet Franc, Merlot, Pinot Gris, Chardonnay and some Sauvignon Blanc, and Kennel is optimistic that next year will be a better year.
Kennel thinks his best wines are blended wines, and he said the blend of Cabernet and Merlot is "pretty special." The 2016 Grande Rouge is a blend of 48% Merlot, 32% Cabernet Sauvignon, 16% Cabernet Franc and 4% Petit Verdot. The Merlot tends to soften the wine, he believes, while the Petit Verdot gives it color depth and at 4% doesn't overwhelm the other flavors in the blend.
Vox Vineti, Christiana, PA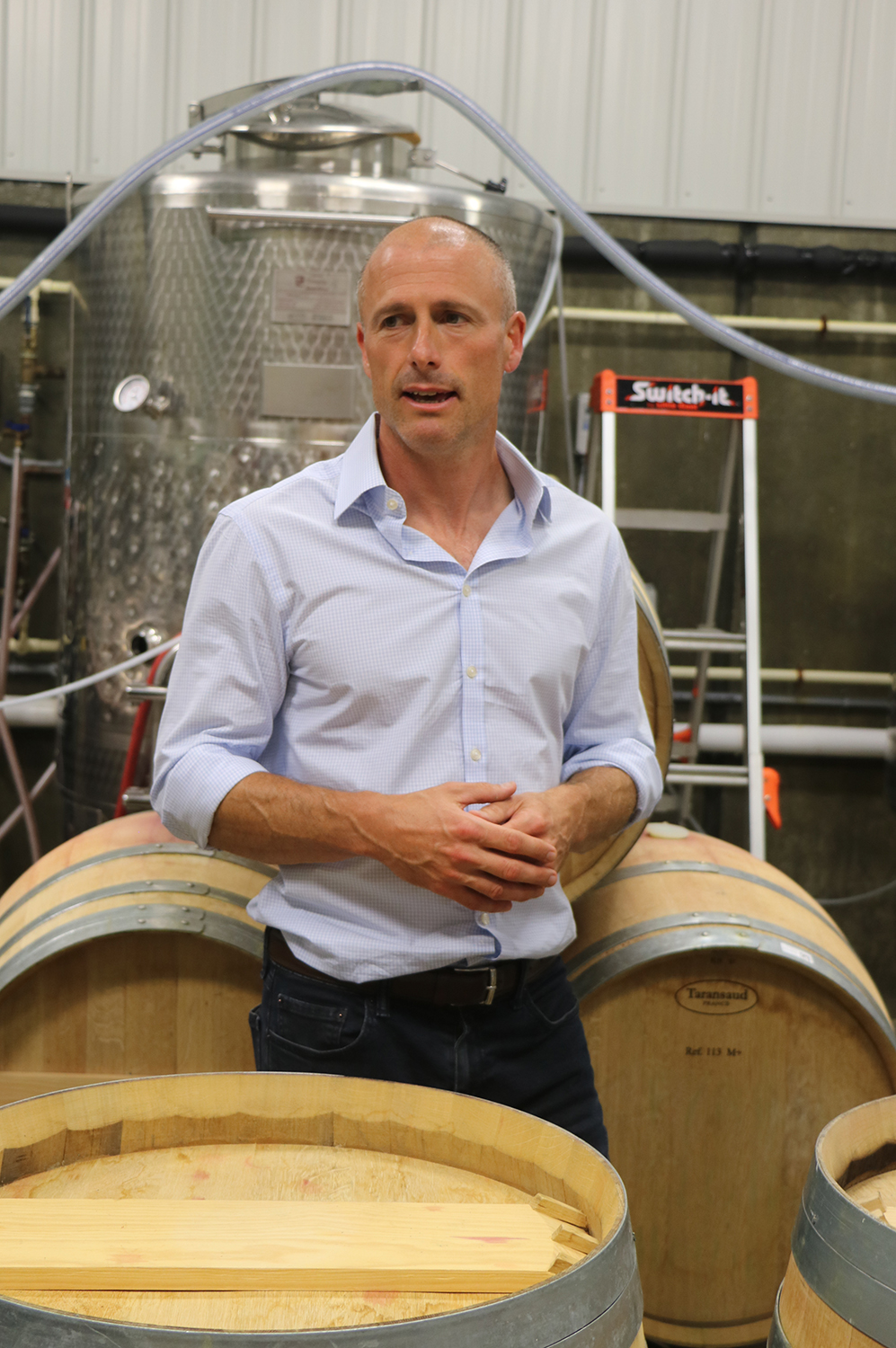 Ed Lazzerini, owner and winemaker at Vox Vineti Wines in Christiana, PA
Vox Vineti (Latin for "voice of the vineyard") is one of the smallest wineries in Pennsylvania. While Ed Lazzerini, the owner and winegrower, has a 78-acre site, only about 20 acres are suitable for planting. Since he started the winery in 2010, he has planted approximately five acres with 2,000+ vines per acre at 0.9 x 1.8 m spacing.
When Lazzerini started to search for a potential vineyard site, he looked in northern Virginia, Maryland and southeastern Pennsylvania for "an inspirational rocky hillside." The land he purchased in Andrews Bridge is a low vigor, rocky, primarily south-facing hillside with "excessively well-drained" soils. "You go down 18 inches," he says, "and you get to schist." He wants to induce water stress on the vines so that they ripen the fruit, not grow more leaves. A major problem for him in the vineyard is not birds, but groundhogs.
The vineyard is planted with Cabernet Sauvignon, Cabernet Franc, Petit Verdot, Sauvignon Blanc, Sémillon, Nebbiolo, Barbera and Merlot. However, the Merlot has not done well and hasn't produced a crop since 2012. Vox Vineti wines are primarily Bordeaux blends, with the exception of a varietal Nebbiolo. Lazzerini thinks that Nebbiolo is "very expressive of place," and that his site has a long enough growing season to ripen it. He also believes that in order for a wine to be labeled as a varietal, that it should be 100% of that variety. In 2017 he produced both a varietal Nebbiolo and a varietal Cabernet Franc.
Each year Lazzerini produces between 200 and 300 cases of wine in the 1,500 square-foot winery facility that was built in 2012. He relies on native yeasts and traditional pied de cuve techniques to start fermentations and uses a combination of old and new French oak barrels.

Brandywine Valley

Galer Estate Vineyard and Winery, Kennett Square, PA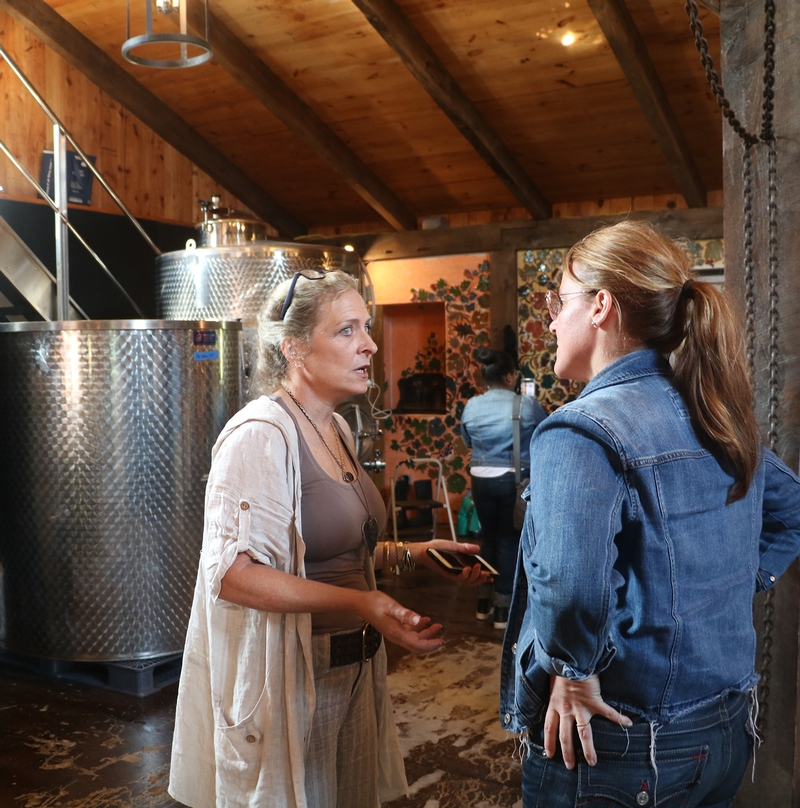 Lele Galer, owner of Galer Estate Vineyard and Winery in Kennett Square, PA talks with a visitor in the winery which is visible through windows from the tasting room. Galer, an artist and sculptor, has included her artwork even in this processing area

When Brad and Lele Galer purchased the property on Folly Hill Road just north of Longwood Gardens in Kennett Square, PA in 2007, they thought they were acquiring a turn-key winery. There were four acres planted with Chardonnay and Cabernet Sauvignon in 1998, a 3,000 square foot winery in a bank barn, and a tasting room. Instead, it took them the next four years to reorient the Chardonnay vines from east-west orientation to north-south, and to renovate the tasting room and winery space.
The Galers hired Virginia viticulturist Lucie Morton to evaluate the soils near their home, as well as at the winery, and to train Jan Grimes as their vineyard manager (Grimes then got her viticultural degree at Washington State University). An additional five acres were planted at their home vineyard, which Morton had determined was an ideal site. Cabernet Franc, Petit Verdot, Albariño, Grüner Veltliner, and Vidal grapes were planted and are now producing. Merlot suffered from winter damage; the vines were removed and replaced with Grüner Veltliner.
Lele Galer is an artist, and her paintings and sculptures are a part of the winery and vineyard environment. Her artistic influence and skills are apparent in the reuse of salvaged items for lamps, countertops and other items throughout the facility.
The winemaker, Virginia Mitchell, has been with Galer Estate since 2014. She received her food science degree at Penn State and worked at a winery in Australia and at Mazza Vineyards in North East, PA before choosing to work at a boutique winery and joining the Galers' staff.
In reviewing their wines, Galer noted that she would like to do a Merlot, but knows it is not the right grape for their location. For a white wine, she likes Albariño which is grown at their home vineyard. However, it has small, tight clusters and she would like to figure out how to get it to produce more fruit.
As for a favorite wine, she said, "I love Cabernet Franc. It's very consistent, a good performer. Everyone around here has a good one." Previous vintages of their Cabernet Franc have won double-gold medals at the San Francisco Chronicle Wine Competition; the 2017 was definitely a young wine but headed in the same direction as those earlier wines. Currently, Galer Estate is producing an average of 2,500 cases each year.
Penns Woods Winery, Chadds Ford, PA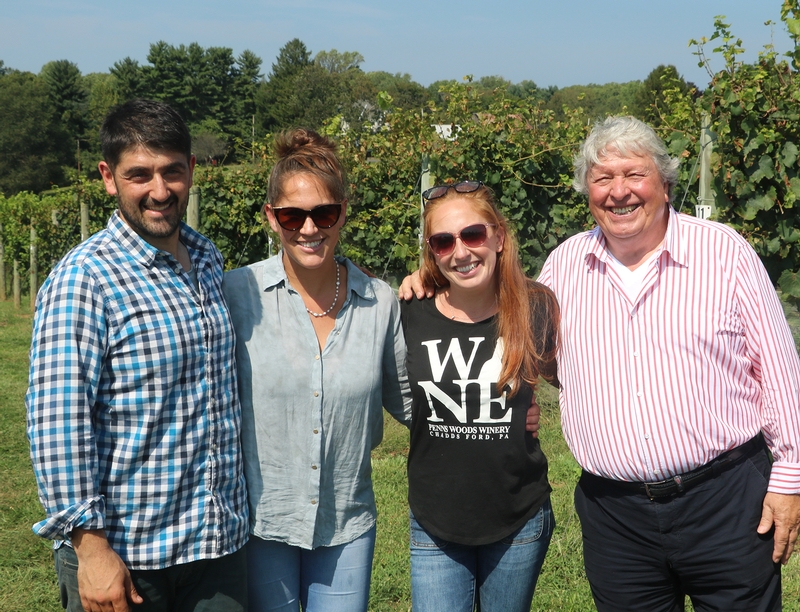 Gino Razzi (right) is the owner and winemaker at Penns Woods Winery in Chadds Ford, PA. His daughter, Carley Razzi Mack (to his right), is co-owner and marketing director, while Davide Creato is winemaker/cellarmaster and his wife, Andrea Creato, is the winery's general manager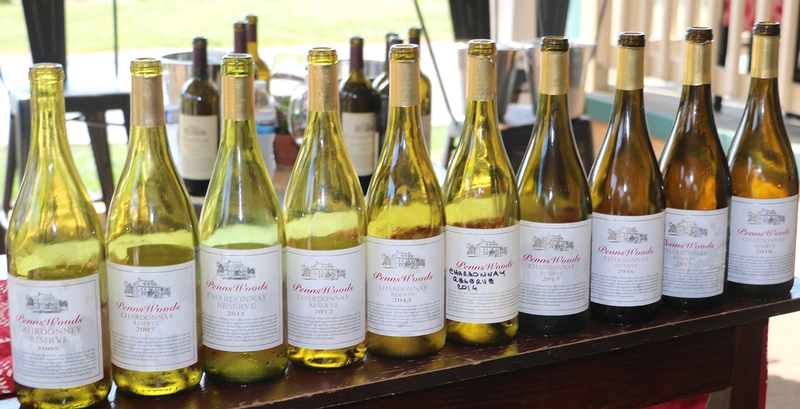 A flight of ten Penns Woods Chardonnay Reserve wines, 2005 - 2018 wines
Gino Razzi, owner and winemaker of Penns Woods Winery in Chadds Ford, PA, immigrated to the U.S. from Abruzzo in southern Italy and settled in Delaware County, PA in 1962. For three decades he was a wine importer and distributor before starting to make wine in 1995. The next step was to look for a place to grow some grapes and make wine, a process that brought him back to Southeastern PA. In 2004 Razzi purchased Smithbridge Winery in Chadds Ford; his daughter Carley Razzi Mack became the marketing director in 2010.
The original vineyard was planted in 1979 by John F. "Trip" Stocki, who sold the grapes primarily to the nearby Chadds Ford Winery. Stocki expanded his vineyard to seven acres and opened his own winery in 1992, but after five years, decided he preferred grape growing to winemaking. Geoff and Frances Harrington bought the winery from Stocki, opened Smithbridge Cellars in 1998 and doubled the size of the vineyard.
Today Penns Woods tasting room and wine shop are located on a hill overlooking 15 acres of vinifera vineyards. Razzi opened his wine library for us and poured a vertical tasting of ten Chardonnay Reserve wines, beginning with their second vintage in 2005. The tasting certainly demonstrated that excellent Chardonnays can be made in Pennsylvania and the reserve Merlot, Cabernet Franc and Cabernet Sauvignon wines that followed were also fine wines.
Razzi noted that his site was somewhat different than others we had visited, because his vineyard is closer to the Delaware River, which helps to moderate temperatures during the winter. The winery makes between 4,000 and 4,500 cases a year at their winemaking facility in Eddystone, not far from the Philadelphia airport. He thinks conditions this summer have been good for producing good healthy grapes, and their production may go up to 5,000 cases.
The best grapes for Pennsylvania?

Based on the wines tasted at the eight wineries we visited in Southeastern Pennsylvania, the region is making high quality, excellent wines. The next question: is there is one best red wine variety and a best white variety for the region? One way to explore that issue is to review what the winery owners are growing and what they consider to be the region's signature wines.
It is interesting to note that all eight wineries grow Cabernet Franc. Six of the owners think that the variety makes one of their best wines, and three of the eight said that Cabernet Franc is definitely emerging as the signature red wine for Southeastern Pennsylvania. Cabernet Sauvignon is not as widely grown, and more often is used in blended wines than as a stand-alone varietal, while Merlot has suffered winter damage in several locations.
The answer to the question of which is the best white variety is not as clear. While seven of these winemakers produce a Chardonnay – only Vox Vineti does not – most of them are not stepping forward to proclaim that variety should be recognized as a signature wine. Some wineries may excel at making a Chardonnay, but most are different from Chardonnay wines produced in California or France. Nor is there any excitement about Sauvignon Blanc, although five grow it and make some high-quality wines.
There seems to be much more interest in two varieties that are less widely planted and somewhat new to the region, specifically Grüner Veltliner and Albariño. Two of the three wineries in the Lehigh Valley make a Grüner, but currently only Galer Estate is growing that variety in the somewhat warmer climate of the Brandywine Valley. The wines made from Grüner Veltliner have been excellent, but the variety needs to be more widely planted and more wines produced
While all three wineries with an Albariño on their tasting lists are enthusiastic about the variety as a wine, there is concern that the clusters are small and tight, and the yields are somewhat low. More growers may need to plant these vines in the region, see how they respond in different microclimates and determine if the yields can be increased and wine quality maintained at as high a level as it has been in the wineries currently making an Albariño wine.