Top 10 U.S. Wine Distributors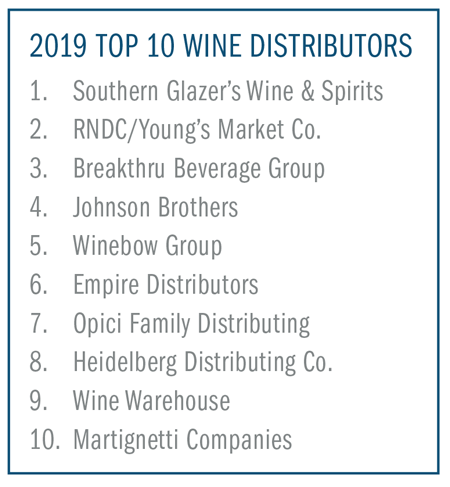 Southern Glazer's Wine & Spirits remains the largest wine distributor in the United States and retained its No. 1 position on the list of the Top 10 U.S. Wine Distributors in 2019. No. 2 Republic National Distributing Co. formed a partnership with No. 4 Young's Market Co as the largest companies strengthened their hold on the wholesale wine market.
The September issue of the Wine Analytics Report features the third annual Top 10 U.S. Wine Distributors list, which is based on proprietary data from the Wines Vines Analytics' Distributor Market Service. The rankings are based wholly on distributors' wine business and not their entire beverage alcohol portfolios. The list first appeared in the pages of Wines & Vines magazine.
The biggest story in the world of wine wholesaling this past year was the megadeal that didn't happen. Republic National Distributing Co. (RNDC) and No. 3 Breakthru Beverage Group had announced plans to merge and form what would have been a national giant with the reach and portfolio depth to compete directly with Southern Glazer's Wine & Spirits, but the deal was quashed by the U.S. Federal Trade Commission. The companies cited a "protracted review process" in withdrawing their merger plans for review, while the feds cited concerns over higher prices and worse service for consumers and suppliers.
RNDC did obtain federal approval for a partnership with Young's Market Co. that solidified its No. 2 position on this year's list of Top 10 U.S. Wine Distributors. The top two distributors now account for $27 billion in wine sales or more than half of the nearly $50 billion U.S. consumers spend on domestic wines per year.

2019 Top 10 Wine Distributors
1. Southern Glazer's Wine & Spirits
2. RNDC/Young's Market Co.
3. Breakthru Beverage Group
4. Johnson Brothers
5. Winebow Group
6. Empire Distributors
7. Opici Family Distributing
8. Heidelberg Distributing Co.
9. Wine Warehouse
10. Martignetti Companies

The latest Wine Analytics Report features more insights on the top wholesalers including the number of wineries represented by each company and U.S. states covered.
The new report is available at wineanalyticsreport.com.
Press contact:
Andrew Adams, Wine Analytics Report editor
707.940.3938, andrew@winesvinesanalytics.com
About Wines Vines Analytics
The Wines Vines Analytics division of Wine Communications Group publishes the Wine Analytics Report and also provides data and business intelligence services to the wine industry. The group maintains the wine industry's most accurate databases and offers data-driven analysis, data, insights and reports to help clients grow and manage their businesses. The Wine Analytics Report is a monthly, digital publication featuring the latest Wine Industry Metrics, market analysis and news on the people and trends shaping the wine industry.