99 percent of Sonoma County Vineyards Certified Sustainable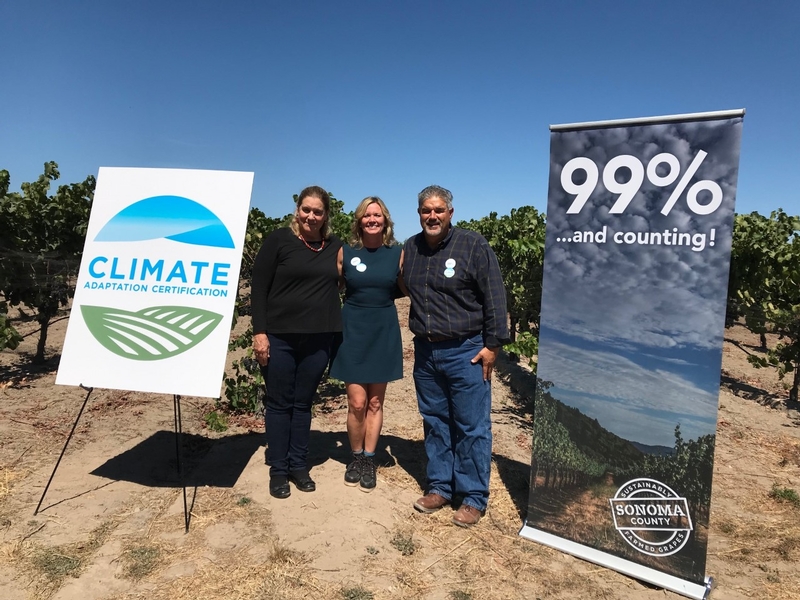 Karissa Kruse, president, Sonoma County Winegrowers, and Glenn Proctor, right, president, Sonoma County Winegrowers, hosted a press conference on Dutton Ranch to announce that 99 percent of all vineyards in Sonoma County are sustainable certified. Laurel Marcus, executive director at California Land Stewardship Institutes's Fish Friendly Farming, left, presented the new climate adaptation certification program in collaboration with Sonoma County Winegrowers. Photo by Kerana Todorov/Wine Business Monthly.

Sonoma County Winegrowers on Thursday announced that 99 percent of its vineyards are certified sustainable. The trade association also announced its next project – the launch of a pilot climate adaptation certification program to fight climate change.

The record-breaking percentage of vineyards certified sustainable was announced five years after 1,800 said they were committed to pursuing best management practices and having their properties certified sustainable by a third party.

That voluntary effort has led Napa-based Fish Friendly Farming to collaborate with Sonoma County Winegrowers on a pilot climate adaption program to find a local solution to climate change, a global problem.

"It's our belief that the best way to impact any sort of climate change is through local solutions," Karissa Kruse, president, Sonoma County Winegrowers, said Thursday. "It's actually about taking action and about having measureable practices that we know will make an impact."

Fish Friendly Farming, run by the California Land Stewardship Institute, developed the climate adaption certification program to reduce greenhouse gas emissions – carbon dioxide, nitrous oxide and methane - and to boost carbon sequestration in vines, soils, trees and shrubs. It did so after reviewing more than 300 scientific articles and a scientific peer review, said Laurel Marcus, who leads Fish Friendly Farming.

"We're working with the winegrowers of Sonoma because they did such a fabulous job with their sustainability program," Marcus said. "It's really outstanding."

"Ninety-nine percent is a big number," Marcus said. "That's a really big accomplishment to get to that point."
Twenty yet-to-be selected Sonoma County vineyards will take part in the pilot voluntary climate adaption certification program which entails the preparation of a farm plan.
The group will evaluate current practices on each vineyard site and work with growers on environmentally-friendly farm practices such as reducing tillage, increase cover crops and grass filter strips – dense, permanent grass. Fish will also evaluate fertilizer use as nitrogen produces nitrous oxide, one of the most potent of the greenhouse gases, Marcus said. Farmers' practices will also improve soil health, she also said.

Agriculture produces only 8 percent of all greenhouse gas emissions in California, Marcus said. The rest comes from transportation, energy and various industries.
Trees planted near vineyards under the climate adaptation certification program, for instance, will sequester carbon that offset greenhouse gas emissions from other sources. "So it's not like the farmers are just taking care of their own emissions, they're taking care of the rest of us," Marcus said. "This helps everybody."

Fish Farming will then use the USDA/Colorado State University model "COMET-farm" model to quantify reductions in greenhouse gas emissions and carbon sequestration under each scenario.
Three yet-to-be selected regulatory agencies will review and certify the farm plan, a step similar to other sustainability program like Fish Friendly Farming. A timeline and a list of actions will then be issued.

Napa Valley Vintners joined this summer the Porto protocols that commit to fight climate change. Sonoma County Winegrowers' Kruse said growers in Sonoma County's approach to climate change is to understand what practices they can do on their farms.
"At the end of the day to really have impact, you have to do it farm by farm. It's practice by practice," Kruse said.
Glenn Proctor, chairman of the Sonoma County Winegrowers and partner at Ciatti, the grape and bulk wine brokerage firm, is a fourth generation winegrower.
He recalled his grandfather, Louie Puccioni, urging him as a young child to care for the family ranch. "Someday it will be your responsibility to maintain this ranch and pass it on to the next generation – take care of it,'' his grandfather said when they worked together in the vineyard.
Farmers want to manage their resources correctly and be part of the solution, Proctor said as he discussed the next step, the climate adaption certification program.
"We think that all growers see these programs as a way to maintain agriculture in Sonoma County for generations to come," said Proctor, whose family continues to grow grapes in Dry Creek.
The climate adaptation certification pilot program is being developed thanks in part to a grant of about $100,000 from the California Department of Food and Agriculture, according to Marcus. Fish Friendly Farming has certified since 1997 more than 120,000 acres in nine counties.
Editor's Note: This article has been corrected.

by Kerana Todorov