Spotted Lanternfly Research: There now are answers to some questions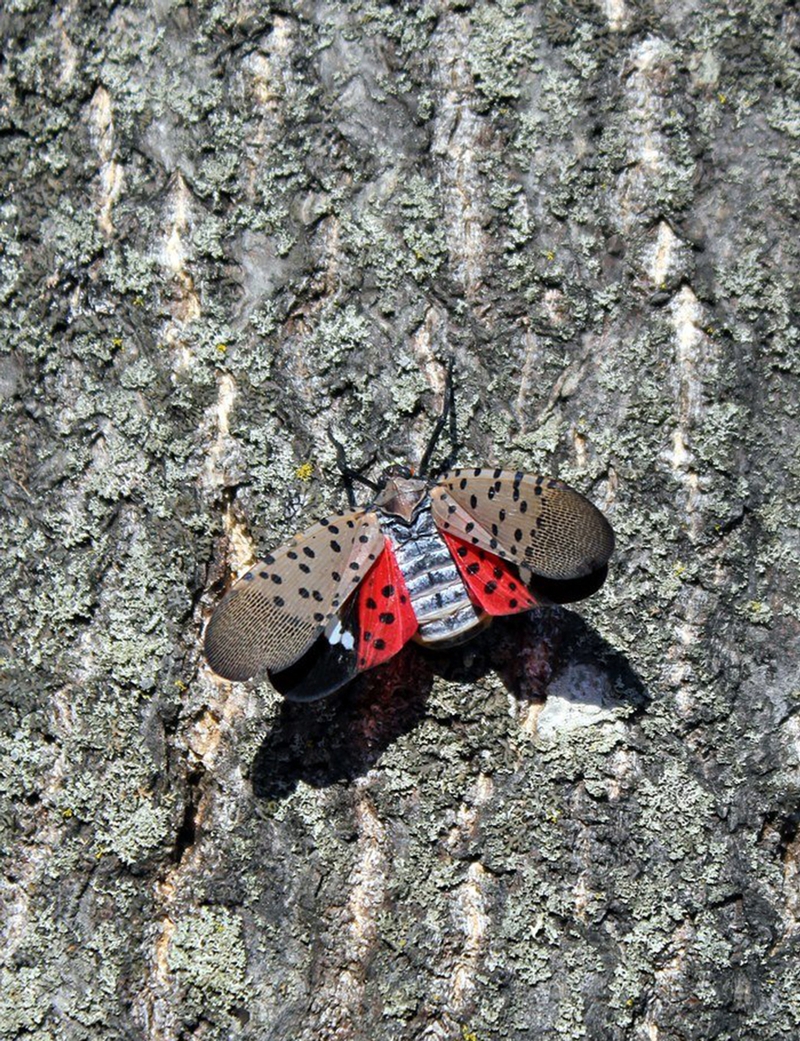 Adult Spotted Lanternfly (Lycorma delicatula)
When the new invasive species known as the spotted lanternfly (Lycorma delicatula) was first identified in Berks County, Pennsylvania in 2014, only a few facts were known about the insect: it is a plant hopper native to China, India, Japan and Vietnam, and the one-inch-long insect prefers to feed on the sap of grapevines, apple and stone fruit trees, hardwood trees including maple, as well as more than 70 additional species. Because of its fondness for grapevines, the spotted lanternfly (SLF) immediately became a concern for the grape and wine industry in Pennsylvania and neighboring states.
By early November 2014, the Pennsylvania Department of Agriculture had established a quarantine zone in five townships and two municipalities in Berks County in an attempt to prevent the movement of the pest to new areas. However, in spite of the quarantine and the efforts of volunteer groups to band trees and scrape off egg masses from trees or other smooth surfaces, the SLF began to spread.
As of August 2019, colonies of SLF had been found in 13 counties east of the Susquehanna River and south of the Pocono Mountains in Pennsylvania and in Maryland, New Jersey, Virginia and Delaware. They have been reported in New York, Connecticut and Massachusetts, but not in large numbers.
An allocation of almost $1.5 million from the U.S. Department of Agriculture Farm Bill in 2015 provided funds to Penn State University, Kutztown University, and North Carolina State University for research on the range of the SLF, its impact on grapes, and an analysis of its DNA. Outreach and extension work by Penn State was also funded, as were projects by the Pennsylvania Department of Agriculture to do surveys and implement control of the SLF. Earlier this year, the U.S. Department of Agriculture allocated more than $6.2 million in new funding for Pennsylvania's SLF projects; the state's Farm Bill that was passed by the Pennsylvania legislature in June 2019 included more than $3 million for continuing efforts to understand and control the SLF.
As the prevalence of the SLF has increased, so have the number of researchers looking for more information on the SLF's biology, behavior and management techniques. Entomologists, researchers and extension agents at Penn State, Cornell University, Rutgers University, Temple University and Virginia Polytechnic Institute and State University currently have numerous projects underway.
Not surprisingly, Penn State researchers have been at the forefront of setting up testing sites both in vineyards and other locations across southeastern PA. Julie Urban, senior research associate in entomology at Penn State established a project at the Berks campus of Penn State in Reading, PA in 2018 to test the efficacy of 20 different insecticides. She planted 250 one-year-old vines with sleeves surrounding each vine and in July introduced ten SLF nymphs into each sleeve. The vines were checked every two, seven and 14 days to count how many SLF were alive or dead. The trials using nymphs ended in late July and tests with adult SLF began in early August.
Penn State's most recent publication, "Spotted Lanternfly: Management in Vineyards," notes that "Many of the same insecticides that are effective at killing the nymphs are also good at controlling the adults: dinotefuran (Scorpion, Venom), bifenthrin (Brigade, Bifenture), thiamethoxam (Actara), carbaryl (Carbaryl, Sevin), and zeta-cypermethrin (Mustang Maxx)." The report points out that Penn State researchers "have not yet been able to establish definitive economic thresholds and critical application timing to prevent injury." Grape growers are encouraged to monitor the population levels of SLF in vineyards "closely and frequently," as large numbers of adult SLF can move into vineyards in just a few days.
Heather Leach joined Penn State University's College of Agricultural Sciences as an extension associate in May 2018 to focus specifically on the SLF. One of her responsibilities is to get information about the SLF to residents and businesses in the quarantine zone as well as in areas that may be affected by the spread of SLF in the future. She monitors vineyards in numerous locations to determine how this season differs from last year, and she is also involved in several research projects in southeast PA.
For example, during the last week in August when the adult SLF were beginning to emerge, Leach set up an experiment in a home winemaker's vineyard in Lehigh County PA that had five-year-old vines with a trellis system in place. Cages were placed around 16 individual vines and then a known quantity – zero, low, medium and high – of SLF were introduced into the cages in four replicates. The SLF will remain in the cages from Monday until Friday when the SLF will be removed by hand. The vines will have the following week to recover before the same numbers of SLF are reintroduced into the appropriate cages. This cycle will be repeated from four to six times, depending on the weather.
According to Dr. Michela Centenari, associate professor of viticulture in the Department of Plant Science at Penn State who is also involved with this experiment, there are several goals for the project. They would like to determine the effect of the different numbers of SLF on the vines' health, production and quality of the resulting wine. In addition, they plan to measure sap flow, gas exchange, yield, and harvest parameters including Brix, total acidity and the metabolites associated with grape and wine quality.
One of the best ways to control the numbers of SLF would be to find a natural enemy of those insects. At one point, a parasitic wasp was identified as attacking SLF, but in low numbers. In late 2017, two scientists at Cornell received reports that fungi seemed to be killing some SLF in Berks County. Eric Clifton, a postdoctoral researcher in entomology at Cornell University, and Dr. Ann Hajek, professor of entomology at Cornell, investigated those reports and determined that two North American fungal pathogens, Batkoa major and Beauveria bassiana, were responsible for causing a localized collapse of the SLF population near an apple orchard at Angora Fruit Farm, a part of Antietam Lake Park in Berks County, PA.
Clifton and Hajek reported their findings in an article in the May 7, 2019 issue of the Proceedings of the National Academy of Sciences of the USA. In the article titled "A pair of native fungal pathogens drives decline of a new invasive herbivore," they stated that "Almost all dead L.delicatula adults on tree trunks were killed by B. major (97%) and attached by fungal rhizoids. On the ground was a mix of L. delicatula killed by B. major (51%) or B. bassiana (49%)." Because of these findings, researchers at Cornell and Penn State this summer tested the one EPA-approved biopesticide currently available that contains B. bassiana on SLF in a park in Montgomery County, PA.
While the SLF is described as a "plant-hopper," the adult insects may to be able to fly farther than scientists originally thought. After there were several reports of tens of thousands of SLF in mass dispersal flights two years ago, Dr. Thomas Baker, professor of entomology at Penn State, Dr. Andrew Myrick, assistant research professor of entomology also at Penn State, and their research team set up flight dispersal research sites at a fruit farm in Berks County in 2017 and another site a year later at Dorney Park in Allentown, PA. They documented the flight paths of individual SLF during mass flight dispersals and measured both ground and air speed, as well as the duration, distance and trajectory of their flights.
The Penn State team found that the average flight of a SLF lasts just 11.5 seconds. However, on occasional hot days with a vertical up-draft of warm air, the insects can be lifted up hundreds of feet and then be carried down wind between 325 and 650 feet. The full report of their research, entitled "Analysis of Anemotactic Flight Tendencies of the Spotted Lanternfly (Lycorma delicatula) during the 2017 Mass Dispersal Flights in Pennsylvania." was published in the January 2019 issue of the Journal of Insect Behavior.
While the SLF has definitely expanded its territory in the past five years, Leach reported seeing a "slightly reduced population in some areas of Berks County," and that the individual insects seemed to be smaller. She noted that it's important that a bio-pesticide be developed so that growers can get away from broad spectrum pesticides and especially from neonicitinoid sprays. "For most people, it's bad for 2-3 years, then it's not so bad. Right now, I'm cautiously optimistic, more so than I was before."
Note: Penn State's publication, "Spotted Lanternfly: Management in Vineyards," is available at the website https://extension.psu.edu/spotted-lanternfly-management-in-vineyards. The pesticide table is included in that article.