Iris Vineyards, Making Quality Bubbles South of Salem
Bespoke Bubbles Bursts Misperceptions about Southern Willamette Valley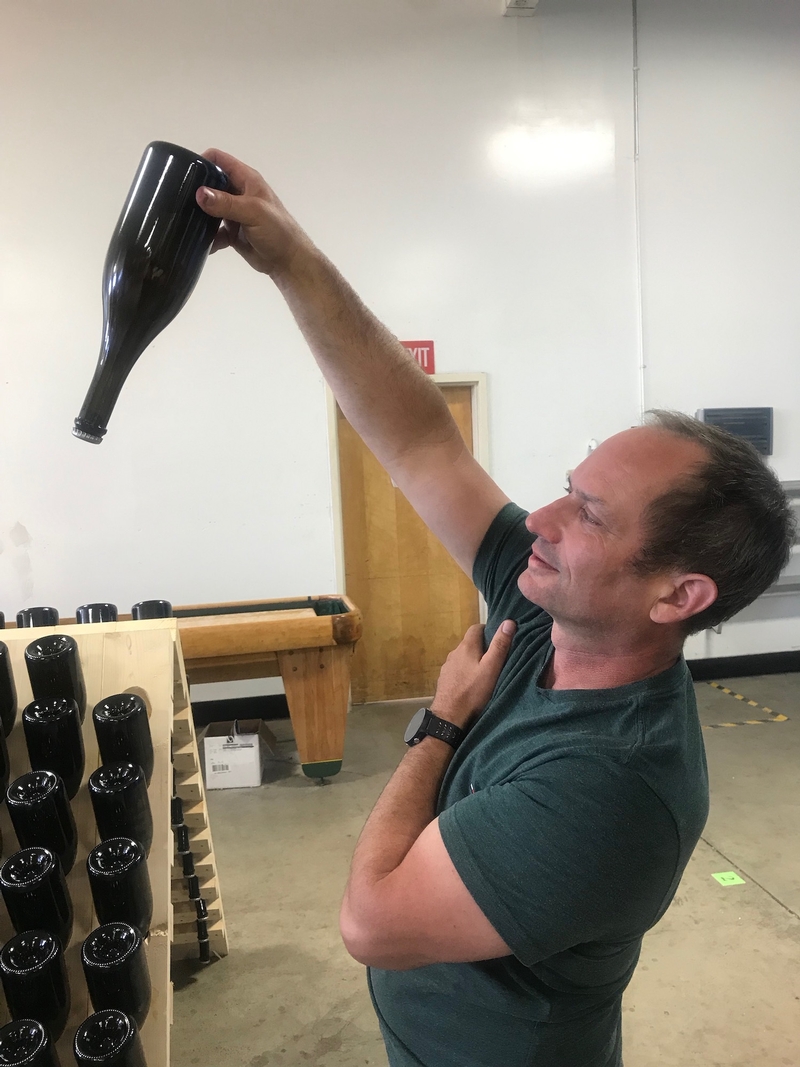 Aaron Lieberman


Eugene, Ore. - Most people know about Willamette Valley sparkling wine. But quality bubble makers south of Salem? Not so much. Iris Vineyards in Eugene, Oregon is bursting that misperception, one bottle of bubbly at a time.
Sense of Place

Often compared to Burgundy in France, the Willamette Valley AVA (American Viticultural Area) runs north to south from Portland to Eugene, much like Burgundy runs from Dijon to Lyon. A few wine wags compare northern Willamette Valley (Portland to Salem) to Burgundy's Côte d'Or. If that's so, perhaps the southern Willamette Valley may best resemble the Mâconnais, since both share a lack of status enjoyed by their 'grands crus' siblings up north. But such discounting belies an unexpected benefit. Lower expectations allow for greater experimentation. And greater experimentation often yields extraordinary results, such as Iris Vineyards sparkling wine.
Unintended Consequences
Winemaker Aaron Lieberman didn't set out to make bubbles at Iris Vineyards. But he acknowledges a lifelong fascination with the stuff. "I've always loved sparkling wine. I remember, as a child, the only time we got to drink was sparkling wine on the holidays, or for special occasions. Dad would let us taste a little bit, so as a kid, I really enjoyed it."
Lieberman went on to study soil science at Oregon State University (OSU). After graduation, he worked in Guatemala with the Peace Corp for three years. He returned to Oregon in 1996, entering the wine industry, eventually working his way up the ranks for such notables as Amity Vineyards, DePonte Cellars, and Owen Roe. In 2008, Lieberman garnered the position of winemaker at Iris Vineyard, a 870-acre estate in southern Willamette Valley owned by Richard and Pamela Frye.
"The microclimate between here and the north, if you're talking about the whole valley, isn't that different," says Lieberman. "There are localized areas that are hotter and warmer, or cooler. Our estate vineyard, Iris Vineyards, is a cooler area, and not only that, it's at a higher elevation. The top of our vineyard is nearly 1100 feet, and the bottom is about 800 feet. So we actually ripen later, and we retain acidity really well. It's a natural fit for sparkling wine, I think."
Many Hands
By the time Lieberman joined Iris Vineyards, he'd already experimented with sparkling at his own side project Cottonwood, a private label he founded in 2002 with his father. After shuttering Cottonwood in 2013, Lieberman shared some of his sparkling trials with the general manager at Iris Vineyards. The rest, as they say, is history.
"We started in 2015 with a brut rosé of pinot noir," says Lieberman. More labor and capital intensive than still wine, sparkling requires different equipment, and more production steps. "It's a lot of capital," Lieberman acknowledges. "I love sparkling wine, and I don't mind the work," he says. "But at the same time, you have to be smart about it. The wine has to be good, and the process has to be as efficient as possible, otherwise the price point is really high, because it's a lot of hand labor."
Lieberman and his 'dream team' of five: general manager David Cordtz, cellar master Damien Lapuyade, quality assurance supervisor María Ignacia Alarcón, and maintenance manager Paul Eckstine, do everything in house. Lieberman even builds his own tirage bins and riddling racks. The team also maintains their mostly second-hand equipment, much purchased from Anne Amie Vineyards in Carlton, including a neck freezer, corker and wire caging machine.
Lieberman uses a 1990 electro-mechanical Willmes membrane press for pressing fruit. "It's not computerized," he says. "I train press operators every year, and they stand there, and hit the buttons. But you get really high quality juice." Other equipment includes a Mori-Tem six spout filler for tirage bottling, a Officine Pesce crown capper from Criveller, and a Barida foil pleater from Collopack Solutions. Labels are applied either manually, or on their own mobile bottling truck.
Lieberman's hands-on approach runs counter to most other Oregon fizz makers, who eliminate overhead by employing mobile bubble bottlers like Radiant Sparkling Wine Company. "Though there may be several other wineries doing it that way [in house], I don't know who they are," he says, "because everyone I talk to outsources some, if not all, of the work to others."

Bespoke Bubbles
This craftsmanship carries through the entire process. Recently, Lieberman and his staff tasted through 24 barrels of 2018 pinot noir, non-estate base wine from Winter's Hill in Dundee, ultimately choosing five deemed suitable for their single-vineyard cuvée. "All of our sparkling base is fermented and aged in French oak barrels," he says. Barrels used for the sparkling base wines are the same used to previously ferment and age Chardonnay. "We source barrels from Mercurey and Seguin Moreau for this wine. However, most of these barrels are neutral, with the newest ones being third-fill." Once bottled, the wines spend a minimum of 15 months en tirage in the winery, while extended tirage wines age approximately 27 months. More time in bottle allows greater autolysis (yeast breakdown) to occur, yielding a creamier, textured wine with nuanced, toasty aromas, and tiny, pin-point bubbles.
"Our current plan is to do three wines: a blanc de noirs, a brut rosé, and a blanc de blancs," he says. Eventually, the winemaker hopes to introduce a fourth, blended brut for general distribution. Presently available only DtC, (direct to consumer), demand for the bubbles continually outpaces production. In 2015, Iris Vineyards produced 70 cases of brut rosé of pinot noir in 2015. By last year, that number jumped to 400 cases of blanc de noirs and brut rosé combined.
Visibility from Iris Vineyards' bespoke bubbles program benefits other wineries in the area, too. Lieberman cites some of his neighbors, such as Capitello, Territorial Vineyards and Wine Company, King Estate, and Hayworth Estate Wines. "Over the years," Lieberman concludes, "Southern Willamette Valley" has been ignored at best, and derided as producing inferior wine at worst. There are several wineries, including Iris Vineyards, trying hard to overcome this stigma."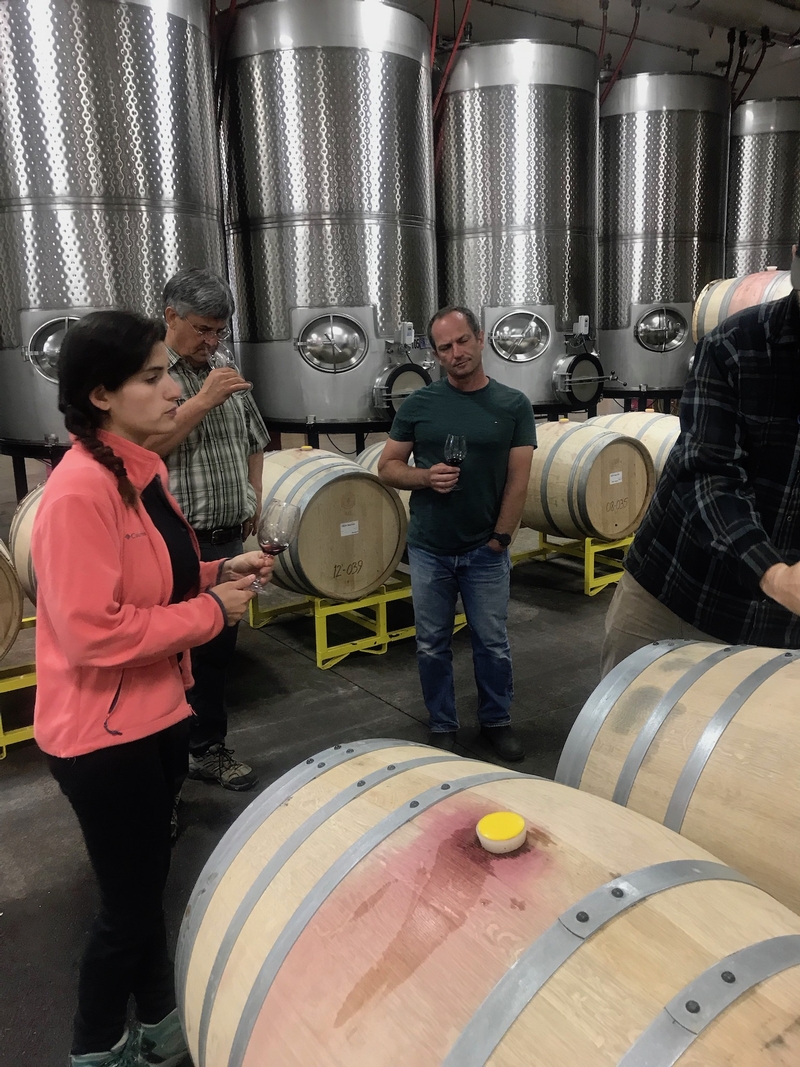 Iris Vineyards quality assurance supervisor María Ignacia Alarcón, general manager David Cordtz, winemaker Aaron Lieberman, cellar master