Designing Wine Labels That Connect
Each package has to have a compelling story, a true story if possible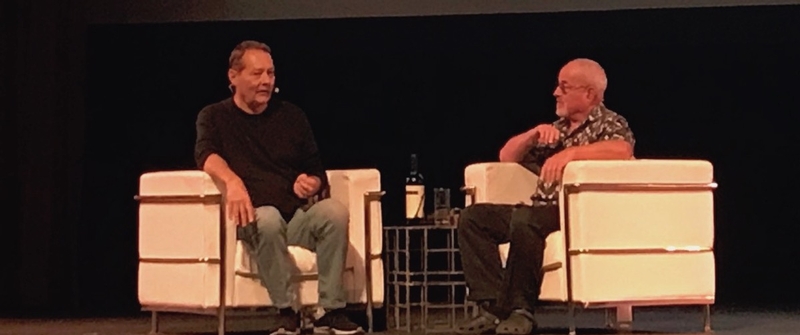 Chuck House, co-founder of Icon Design Group, left, discusses design with Lance Cutler, right, a winemaker and contributing editor at Wine Business Monthly. Kerana Todorov/Wine Business Monthly

Chuck House, the graphic designer behind the iconic Frogs' Leap wine label, can find "good dirt" in many places for inspiration.

He found it when he visited his daughter's kindergarten class years ago, where he came across one of the little girl's art work. The drawing was incorporated in a label for a reserve Cabernet Sauvignon in the Napa Valley. He's also found it in vineyards and artifacts.

Look for "good dirt" in every-day situations, House said Thursday at the sixth annual wine packaging conference in Yountville, an event presented by Wine Business Monthly.

Winemaker and Wine Business Monthly contributor Lance Cutler, who has known House for four decades, led the discussion at Lincoln Theater. House continues to make his label mockups by hand, Cutler told the audience. "He cuts things out. He paints things. He likes doing that. He's like a little kid."

House, who has worked with winemakers such as Randall Grahm at Bonny Doon Vineyard and Marchese Lodovico Antinori, thrives on the winemakers' energy and enthusiasm for their craft. He also connects with winemakers because they work with their hands.

"We all like to work with our hands. It's part of our nature," House added. "Even if we're doing something on the computer, you're working with your hands. You're connected."

A bottle of wine is like a character to House. "It has a neck. It has shoulders. It has a body. It comes to the table as guest. And it really does have a deep connection to our heritage and culture as a sculptural object," House said.

House, who develops color palettes for labels by visiting vineyards and other sites, said labels have to tell a story. "The storytelling aspect is critical. Each package has to have a compelling story. And it should be a true story if possible, anchored in something genuine. It is a lot easier to remember your story if it's not a lie," House said.

Other speakers Thursday included representatives from Nielsen.

Alternative packaging drives growth in the wine industry, which faces competition from energy beverages, sparkling and seltzer water and Kombucha, according to Nielsen.

Canned wine sales total $93 million over the past year. It is not a "fad" but a "significant trend," said Peggy Gsell, client business partner at Nielsen. "Consumers are allowing it and they're being receptive to it when they start seeing wine in these other formats," Gsell said.

Kelly Nielsen, vice president at Nielsen Innovation BASES, presented research on consumer trends.
Consumers still like the traditional bottle of wine for home consumption. At the same time, they preferred alternative packaging for special occasions or in the outdoors, Nielsen said.

3-liter box formats, plastic bottles sold four in a pack or aluminum bottles are associated with special occasions, according to the research. Screw capped-bottles are also becoming increasingly popular, according to Nielsen's presentation.

The research also showed consumers perceive the plastic bottles four-pack format as the most "portable, convenient, feminine and tasty" among the alternative packaging format and aluminum, the most high end, according to the research.

Consumers do not automatically associate alternative packaging formats with a given brand, Nielsen said.
"There is probably some opportunity for ownership," she said. In addition, design is the greatest influencer, according to the research.

Consumers perceived wine in 3-Liter box as "cheap" whereas the branded format was considered "tasty" and "premium," according to Nielsen's presentation. A branded Tetra package such as "Bandit" was "modern," "portable" and "unique."

Design and branding do matter, Kelly Nielsen and others said during the conference.