IPNC 2019: Burgundy and Bubbles Blend Brilliantly
McMinnville, Ore. - Burgundy and bubbles blended brilliantly in Oregon Wine Country at the International Pinot Noir Celebration (IPNC) 2019. From July 26-28, nearly 830 pinot noir lovers gathered for a three-day immersive food and wine experience on the grounds of Linfield College in McMinnville, Oregon to taste over 250 wines from 78 wineries in Austria, Alsace, Burgundy, California, Canada, Champagne, Chile, Germany, New Zealand, Oregon, and South Africa.
This year's theme centered around the Côte Châlonnaise in Burgundy. Master of Ceremonies Steven Spurrier, Decanter's consultant editor, and organizer of the historic 1976 Judgement of Paris blind tasting, moderated the Grand Seminar entitled "Châlonnaise - the 3rd Côte." Panelist included Amaury Devillard of Château de Chamirey, Thibault Gagey of Maison Louis Jadot, and Anne-Laure Hernette of Antonin Rodet. The panel shared their impressions of wines from the villages of Bouzeron, Rully, Mercurey and Givry, dispelling any myth of Burgundy as home to only super-expensive Grand Crus. Instead, Spurrier deftly guided the group through an inspired flight of fresh, easy-drinking wines of great value and pleasure.
"My father and Jacques Lardière have participated in the IPNC several times in the last 30 years," says Thibault Gagey, also of Résonance Oregon. "It was a great honor for me to be part of it this year, especially at the Grand Seminar. This year's Grand Seminar, focusing on the Côte Châlonnaise, was especially great having Steven Spurrier as a moderator, as he is such a charming and respected man. In addition to that, I believe many people who were not aware of the Côte Châlonnaise before, discovered a wonderful place with pleasurable wines that offer outstanding quality."
"Steven Spurrier's presence has been a real gift," concurs Amy Wesselman, executive director of IPNC for the past twenty years, and co-founder of Westrey Wine Company. "It's just been wonderful to have him on campus, and his presence. He brings such a depth of knowledge, and such a warmth to the room - it's just really special."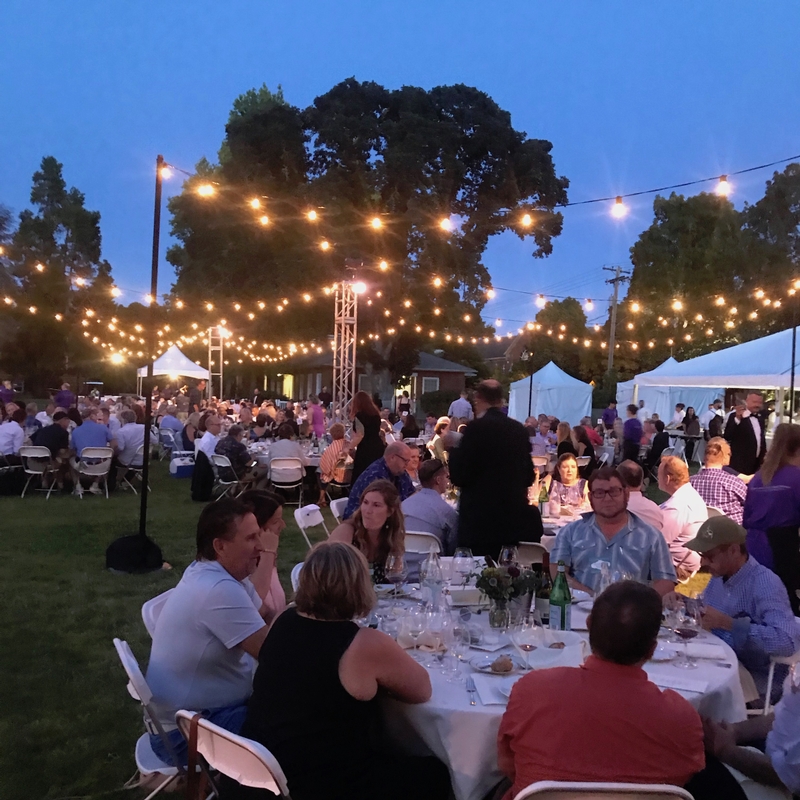 Attendees gathered for the Grand Dinner, a chance to meet Pinot Noir winemakers at the International Pinot Noir Celebration in McMinnville, Oregon. Photo: L.M. Archer
After the Grand Seminar, guests broke into groups for local vineyard tours. Those not on tours attended the "University of Pinot," tackling diverse topics such as "Pairing Pinot Noir," "Pinot Noir and Riesling," and "Pinot 101," plus deep dives into Canadian Chilean, German and Sta. Rita Hills pinot noir.
"For me, this is quite unique," says winemaker Felipe Marin of Casa Marin in Santiago, Chile, one of the Chilean seminar presenters. "We travel around the world, and I have never come across an event of this magnitude. Not only magnitude, but how well organized everything is - the food, the people here are so nice, and so kind, so open."
"I've never been to an event of people who have so much knowledge and interest in our wines," adds Casa Marin commercial manager Jamie Verbraak. "For us, that was a bit emotional to see that. When we did the alfresco tasting, we had this impact - people came to our table several times, and brought other people over - we felt a bit proud."
Founded in 1987, IPNC draws consumers and wine industry members alike. "IPNC is my favorite wine event in the US," says Carolyn Thompson, founder of Washington Women's Leadership Initiative. "As an avid consumer of wine, and an executive outside of the wine industry, I love meeting people who are passionate about their work. The networking opportunities and well-planned events make this an ideal trip to plan with key clients who can meet a wide variety of influencers in the food and beverage industry. Transporting people outside their four walls, and allowing them to unplug and stretch beyond their traditional experiences is important for all business people, no matter what the industry."
Underpinning the entire event, Anne Nisbet, culinary director since 2013, and her crack team of 60 guest chefs and innumerable volunteers created a dizzying array of campus buffets, vineyard luncheons, the Grand Dinner, Northwest Salmon Bake, Sparkling Brunch Finale and Passport to Pinot. In addition to IPNC's bevy of volunteers, loyal donors and a rotating Board of Directors provide additional support. The 2019 board included Matt Berson of Love & Squalor Wines, Andrew Biggs of Hunt & Gather Catering, Ellen Brittan of Brittan Vineyards, Clare Carver of big table farm, Michael Davies of REX HILL, Gina Hennen of Adelsheim Vineyard, Bryan Hill of àMaurice Cellars, Greg Jones of Linfield College Evenstad Center for Wine Education, Michelle Kaufmann of Stoller Family Estate, Linda Levy of Automotive Events, Clifford Robben of Loosen Bros. USA, and Thomas Savre of Lingua Franca.
In 2020, Master of Ceremonies Dorothy Gaiter, senior editor of Grape Collective, will broach the topic of bubbles - bubbles produced from pinot noir, proferring a new experience, and a different expression - of the grape. "IPNC, from the winery's viewpoint, is quite simply a no-brainer," concludes Robert Watkins, CEO of New Zealand's Mt. Beautiful, "Bringing together a high quality, intensely engaged consumer paired with focused, passionate winemakers. The ideal location of Linfield College adds to the camaraderie that develops over the course of the weekend, enabling wide ranging discussions, exchanges of ideas, and shared enthusiasm for the ultimate varietal - pinot noir. This is a must-do event for anyone involved with the most elegant of varietals."