Wine Sales Up, Winery Hiring Down and Packaging Sales Trends
Sonoma, Calif. – Steady growth in U.S. wine sales continued through June but shifts in the industry were evident in the kinds of packaging consumers are choosing and an ongoing moderation in hiring activity.
According to market research firm bw166, total sales of wine in the U.S. increased nearly 3 percent to exceed $71 billion in the latest 12 months and surpasses $3.9 billion in June. Contributing to that growth was a 2 percent increase in sales of domestic wines, which totaled $48 billion in the period as domestic table wine sales increased 3 percent to $44 billion.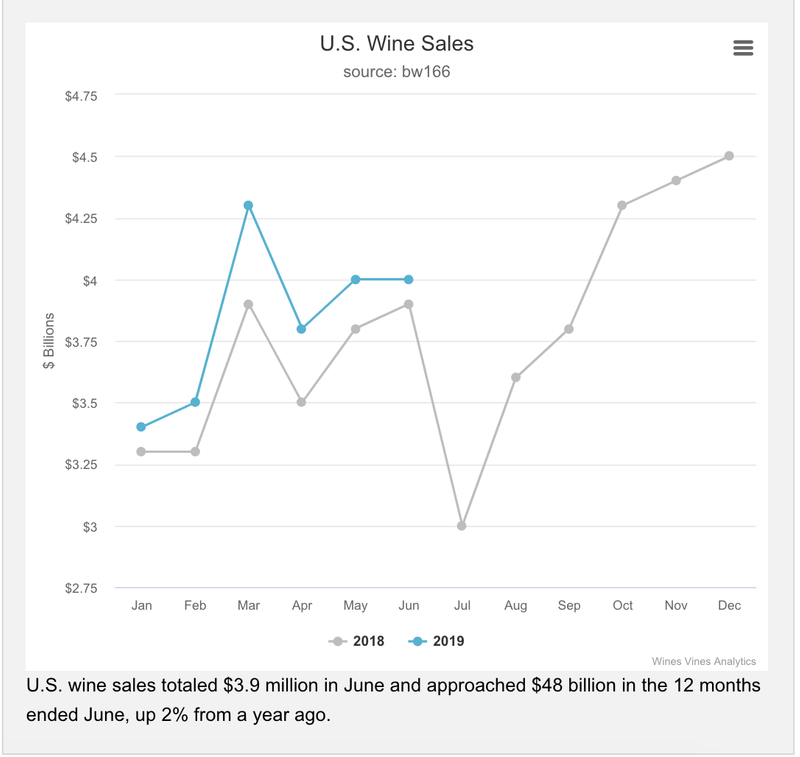 Scan data from Nielsen indicated that sales of domestic table and sparkling wines through the off-premise outlets it tracks increased less than 1 percent to $808 million in the four weeks ended June 15 while sales in the 52 weeks ended June 15 increased 1 percent to $11.3 billion. On-premise sales data from Nielsen CGA for the 52 weeks through May 18 indicated that domestic wines also increased 1 percent.
Meanwhile, direct-to-consumer (DtC) shipments analyzed by Wines Vines Analytics/ShipCompliant also continued to show strong growth in June, despite the arrival of warmer summer temperatures that typically discourage shipments. Shipment value gained 9 percent versus last year to $145 million, while June shipment volume increased 8 percent to 393,807 cases.
Year-to-date shipments increased 7 percent to $1.5 billion, outstripping 5 percent growth in volume to 3,110,378 cases. Stronger growth in value relative to volumes was seen across the board in June, as consumers continued to spend more on lower volumes of wine.
All of the Wine Industry Metrics as well other news, data and insights are in the digital, monthly publication Wine Analytics Report. The July report features an examination of trends in wine packaging.
Drilling into the top-line figures, certain shifts in consumer behavior were evident.
Packaging Sales Trends
While the standard 750 ml bottle continues remains the standard off-premise purchase, accounting for $10.4 billion worth of sales in the latest 52 weeks (up 2 percent from last year), 1-liter boxes saw the fastest growth at 13 percent. The second fastest growth accrued to 375-ml bottles, or splits, up 8 percent. The growth contrasted with a 9 percent decline in bottles larger than 1.5 liters (magnums), while magnums saw sales decline 5 percent.
The declines stem from a number of factors, but they contrast sharply with the rise of canned wines, which also tend to be sold in smaller formats. Overall growth in canned wines was 80 percent in the latest 52 weeks, according to Nielsen scan data. While sales of canned wines in the period were just shy of $90 million, the emergence of the format is attracting significant attention because of its rapid embrace by consumers.
Hiring Activity Slows
Wineries pared back hiring activity in June. Winejobs.com's Winery Job Index fell 11 percent versus a year earlier to 391 as hiring fell in all the major subcategories. Sales and marketing was hit hardest, with a 32 percent decline to 150, followed by demand for DtC positions, including tasting room and retail staff, down 14 percent. Demand for winemaking and production staff was the most resilient, with demand falling just 3 percent in June versus a year ago to 604 and year-to-date demand unchanged versus the same period of 2018.
The moderation in hiring means the Winery Job Index for the first six months of 2019 is 4 percent below the same period last year. However, it remains 4 percent above the same period two years ago, pointing to steady demand in a maturing market.