Creativity in Fermentation
July 01, 2019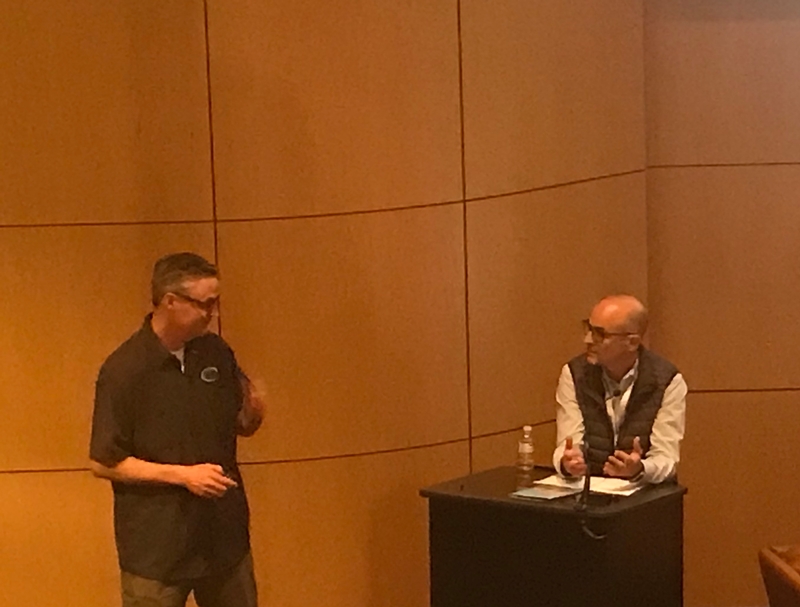 Domingo Rodriquez, Director of Marketing, Scott Laboratories, right, introduces Vinnie Cilurzo, left, owner and brewer with Russian River Brewing



Scott Laboratories hosted an event for winemakers Thursday at the CIA at Copia facility in Napa that was unique because it focused on fermenting wine, but also beer, coffee, kombucha, cider, and even bread.

The Ferment conference was held to cross-pollinate ideas and push boundaries.

"The goal is to use everyone in this room, demonstrations, our amazing staff, technical people, and your experiences to meld together to create some sparks that push you beyond your comfort zone," Scott Labs CEO Zack Scott said. "We know a lot about what we know, but we don't know much about what we don't know. We realized this wasn't going to be something that would be solved by having a conversation amongst ourselves."
Two researchers from Lallemand - Commercial Product Manager Edouard Lordat and Applied Microbiologist Dr. Eveline Bartowsky - opened the conference. Lordat discussed Lallemand's Stimua line of yeast nutrients while Bartowsky talked about Lallemand's non-Saccharomyces yeasts as well as an alternate lactic acid bacteria sold under the brand, ML Prime.
Lalllemand and Scott Labs recently announced a new economic partnership.

Lalllemand Stimula is a varietal-specific series of autolysate yeast nutrients. Lardat noted how each of the Stimula formulations are rich in the vitamins and mineral micronutrients, particularly zinc and magnesium.

Lallemand has a wide range of non Saccharomyces yeast inoculants including Torulaspora delbruckii and Metschinikowia pulcherrima, but Bartowsky also discussed Lallemand Gaia, a non-fermentive yeast (Metschnikowia fructicola) intended for use during cold-soaks to protect must from spoilage microbiota, thus reducing the need for as large of sulfite additions prior to fermentation.

ML Prime (Lactobacillus plantarum) is a non-Oenoccus lactic acid bacteria. ML Prime is intended for co-inoculation during primary (alcoholic) fermentation.
Attendees broke into three groups to taste winemaking trials, alternating between talks on coffee processing and bread making.

Pushing Beer Boundaries

Russian River Brewing owner and brewer Vinnie Cilurzo is known for hoppy beers such as Pliny the Elder – and for a long list of sour, funky, wild, and barrel-aged beers – some of them aged in barrels sourced from local wineries.

Cilurzo started home brewing in 1989, opened Blind Pig brewery in Temecula five years later, was one of the first to make classic West Coast style IPA, and first to make double IPAs in 1994.

Last year he opened his dream brewery in Windsor, separating the operation that makes funky beers from the one that makes "squeaky clean" beers.
Cilurzo was the keynote speaker.

The new brewery includes open-top fermentation tanks, as wide as-they-are tall, made by Gresser, allowing for yeast to assist in creating different complex flavors and aroma for ales and lagers such as Blind Pig and STS Pilsner. Cilurzo said they provide for a clean fermentation because there's so much surface area that by-products blow off more readily than with conventional beer tanks. The brewery has three rooms, with two cold open-top fermenters per room, to keep yeasts separate. They are outfitted with yeast collectors with doors to naturally top-crop yeasts.
"We wouldn't want to have a Belgian strain fermenting with our lager strain fermenting with our California ale strain in the same room," he said.

Sour beers get a boost from a new 12.5 square-foot "coolship" – spelled Koelschip - a shallow fermentation vessel that allows beer to cool.

Winemakers typically try to avoid any and all Brettanomyces, but in beer the organism is often seen as a positive that can produce nice flavors when used in very small quantities in closed, controlled, environments.

One old-style beer Russian River has made in partnership with Sierra Nevada involves spontaneous fermentation and injecting Brett directly into bottles during bottling with special equipment sourced from the pharmaceutical industry, a make-shift inline yeast injector sometimes called "the inseminator."

"It's always interesting to bring an all-Brett beer to a group of winemakers because of what Brettanomyces represents in the wine industry in terms of negative flavor," Cilurzo said. "In beer it's pretty commonly used nowadays, and it's not even really considered a negative anymore, although there are obvious potential issues."

Russian River Brewing uses 1,000 wine barrels. They match used barrels with specific recipes, putting blond ale into Chardonnay barrels; brown ale into Pinot Noir barrels with sour cherries and Brettanomyces; fermenting a dark ale in Cabernet Sauvignon barrels; and pairing a Pilsner made with Sauvignon Blanc grape juice with used Sauvignon Blanc barrels from Merry Edwards.

A new IPA, Happy Hops, is a "not-so-hazy hazy IPA" with the flavors of a hazy IPA where most of the yeast is removed with a centrifuge. "The idea with the 'juicy IPA' is to get really big juicy notes using open-top fermenters and increased temperature for a fruity ester profile from infusion while still getting a "really clean" beer, Cilurzo explained.

Conference attendees tasted three Russian River beers: Sanctification, a 100% Brettanomyces fermented beer with no Saccharomyces added, and some oxygen added to the brewing process; Supplication which ferments with cherries; and Consecration, a dark ale aged in Cab barrels with Brett, Lactobacillus and Pediococcus.

Cilurzo's parents operated a winery in Temecula where he worked in as a kid. They planted the first commercial vineyard in the area in 1968. His sister Chenin Carlton, named for the grape, is in the business in Oregon.

Cilurzo recalled it was the late Scott Labs salesman Pat Heck, brother of Korbel owner Gary Heck, who initially told him about Korbel's interest in starting the brewery that became Russian River Brewing. Cilurzo consulted, then joined full-time, securing the name when Gary Heck got out of the beer business in 2003.

The day concluded with a panel moderated by Jim Duane, winemaker with Seavey Vineyard and host of the Inside Winemaking podcast; Andrew Byers, cider maker with Finnriver Farm & Cidery in Washington; Jessica Just, GM of the Scott Labs Enology Department talkng about kambucha; Lucia Solis with Luxia Coffee Solutions; and Vinnie Cilurzo.
The cross-disciplinary conversation delved into yeast substrates, risk tolerance, risk mitigation, timing, and customer feedback influencing the production process.

Suffice it to say, those factors, and indeed the fermentation regimens for these beverages, vary just a bit.
Jessica Just, who is the former Director of Technical Services with Brew Doctor Kombucha, was a fermentation instructor at Oregon State, where she searched the scientific databases: there were 6,000 hits for wine fermentation, somewhere around 3,000 hits for beer, while kombucha had 273. "With kombucha there are things we can infer that we know about other alcoholic beverages, but what little information there is, is mostly tribal knowledge," she said.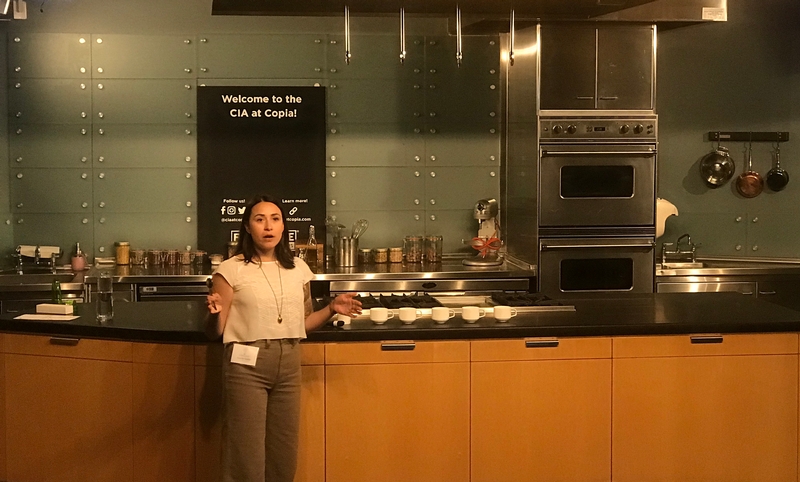 Lucia Solis of Luxia Coffee Solutions attended UC Davis and worked as an enologist with Opus One and Cliff Lede before joining Scott Labs. Now she has her own consulting business working with coffee producers throuthout the world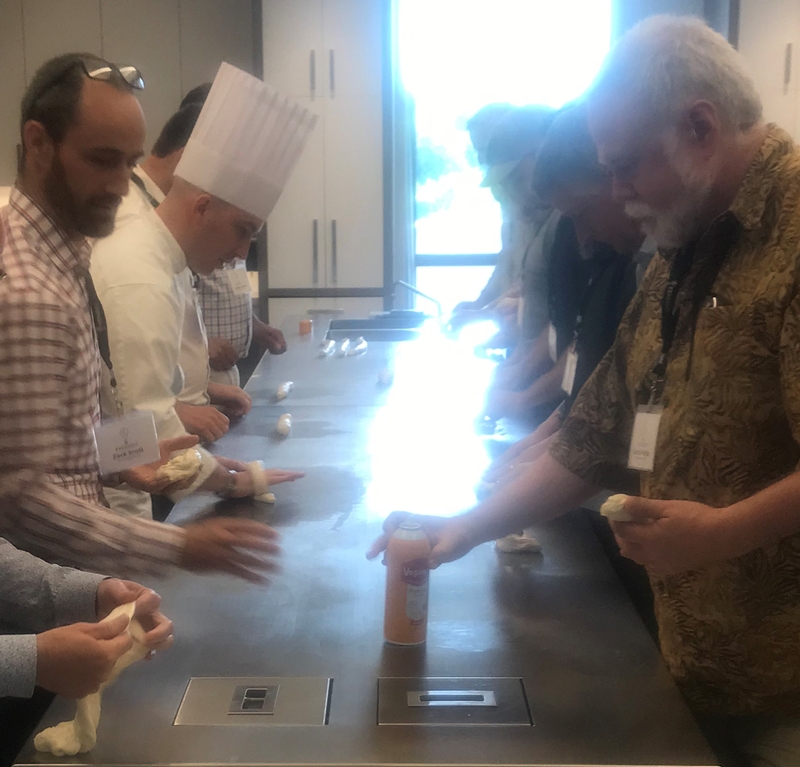 Making bread: New Yeasts expand bread's horizons