"Son of Granholm" - Reactions to Ruling in Tennessee Case
"The decision of the Supreme Court to strike down Tennessee's right to enforce durational residency laws for licensees erodes the Twenty-first Amendment and primary state authority. ... Since alcohol is unlike any other consumer good, the Twenty-first amendment was enacted to give states authority to regulate alcohol as they see fit and that authority remains broad"
- WSWA
"The next step, as the wineries started in 2005 after Granholm, is a state by state attack on exclusionary restrictions"
- John Hinman
"While I agree the Supreme Court's ruling in Tennessee Wine and Spirits Retailers Association v Russell F. Thomas is a large win for the alcohol beverage industry generally, the holding is very narrow,"
- Lindsey Zahn
"Going forward, any State liquor laws that discriminate against nonresidents will need to be carefully crafted to address public health and safety concerns in order to overcome the Court's view that such laws are little more than protectionist measures."
- Tim Droske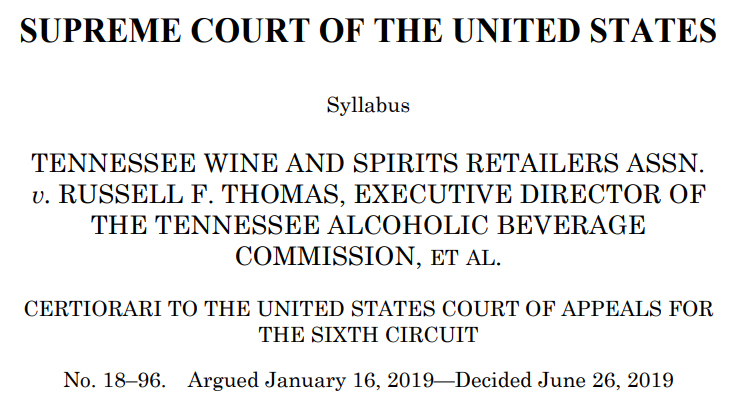 The Supreme Court weighed into the 21st Amendment Wednesday when it handed a win to out-of-state retailers who had challenged Tennessee's residency laws.

The justices ruled that Tennessee's law that requires a retailer be a state resident for at least two years was unconstitutional. In a 9-2 vote, the court affirmed the Court of Appeals for the Sixth Circuit.

Samuel Alito wrote in his majority opinion that the residency requirement discriminates against nonresident.

The 21st Amendment "allows each State leeway to enact the measures that its citizens believe are appropriate to address the public health and safety effects of alcohol use and to serve other legitimate interests, but it does not license the States to adopt protectionist measures with no demonstrable connection to those interests," Alito wrote.

The 2-year residency requirement was "ill suited to promote responsible sales and consumption practices," the justice wrote, adding "there are obvious alternatives that better serve that goal without discriminating against nonresidents."

The residency requirement only protects liquor retailers in Tennessee "from out-of-state competition," Alito wrote.

"We therefore hold that this provision violates the Commerce Clause and is not saved by the Twenty-first Amendment," Alito concluded.

Concurring were Chief Justice John Roberts and Justices Ruth Bader Ginsburg, Stephen Breyer, Sonia Sotomayor and Elena Kagan.

Dissenting were Justice Clarence Thomas and Neil Gorsuch.

The case was a win for Total Wine & More and for Kimbrough Fine Wine & Spirits, a store owned by former Utah residents in Memphis, Tenn. Neither of them met Tennessee's two-year residency requirement when they applied for a liquor license about three years ago.

The residency question came before the US Supreme Court when the Tennessee Wine and Spirits Retailers Association, a trade association representing independent Tennessee liquor stores, challenged a lower court decision that the residency law was unconstitutional. Total Wine opened a store in Knoxville in 2018.

The wine industry wondered if the Supreme Court case could extend direct-to-consumer shipping rights to retailers as Granholm v. Heald had done for producers. The 2005 Supreme Court decision meant that states could not discriminate against out-of-state retailers. On Wednesday, attorneys said the 57-page opinion was a definite win for consumers while others cast doubt that it would open the door to retailer direct-to-consumer shipping.

John Hinman, founder and partner at Hinman & Carmichael LLP in San Francisco, welcomed the decision, calling it "Son of Granholm."
"This is the most significant Commerce Clause decision affecting alcohol since Granholm v. Heald in 2005," Hinman said. "While affirming that the Tennessee residency requirements were unconstitutional because they were protectionist and served no legitimate purpose, the Court articulated a Commerce Clause test for measuring the constitutionality of all commercial restrictions on interstate alcohol sales (not just wine)," Hinman said.
"I interpret this to mean that if there are no DTC statutes on alcohol sales and delivery mirroring local retail delivery protocols restrictions, restrictions on out-of-state merchants selling to the same consumers that similarly licensed local stores sell and deliver to are unconstitutional," Hinman said. "The major impact of this decision will be on wine but the world of spirits was just opened up to the American consumer."
"This is a red letter day for the American Consumer," he said.
"This decision allows retailers to attack discriminatory laws; which will open many states that now permit in-state retailers to ship to consumers but prohibit out of state retailers from exercising the same privileges," Hinman said. "This is 'son of Granholm."
"If a state permits in-state delivery of wine and spirits from in-state retailers it must also permit out of state retailers to exercise the same privileges on equal terms," Hinman said.
"The next step, as the wineries started in 2005 after Granholm, is a state by state attack on exclusionary restrictions," he said.
John Trinidad, partner at Dickenson Peatman & Fogarty in Napa, said that Wednesday's Supreme Court ruling means that Granholm vs. Heald applies to retailers.
"The end result is that states must now defend any discriminatory or protectionist alcohol beverage laws without the luxury of relying on the Twenty-First Amendment, giving retailers wishing to ship across state lines a leg-up in future legal challenges," Trinidad and attorney Bahaneh Hobel wrote on the DPF blog. Hobel is partner at the law firm.
"Today's decision, however, does not mean that retailers can begin shipping across state boundaries legally," Trinidad and Hobel said. "Additional court challenges or legislative changes are needed to fully open the door to retailer direct-to-consumer shipping.
Tim Droske, an attorney with Dorsey & Whitney, noted that the court decision means that " Going forward, any State liquor laws that discriminate against nonresidents will need to be carefully crafted to address public health and safety concerns in order to overcome the Court's view that such laws are little more than protectionist measures."
"Any State laws that explicitly exclude the out-of-state shipment of wine directly to consumers, while not similarly prohibiting in-state direct-to-consumer shipments, could now be constitutionally suspect, particularly to the extent the State has not done anything to justify the law as bearing a relationship to public health or safety," Droske says.
Other attorneys did not see a broad ruling. "I do see it as fairly narrow at this point," said Andrew Bayne, partner with The Bayne Law Group.
So did Lindsey Zahn, an attorney with Lehrman Beverage Law, PLLC. "While I agree that the Supreme Court's ruling in Tennessee Wine and Spirits Retailers Association v Russell F. Thomas is a large win for the alcohol beverage industry generally, the holding is very narrow," Zahn said. "At this point, additional challenges to existing legislation or new legislation will be needed in order for retailers to ship directly to consumers throughout many or all states."
"Tennessee Wine and Spirits Retailers Association v. Russell F. Thomas will certainly call into question the constitutionality of more state alcohol beverage laws that may directly discriminate against alcohol beverage businesses located in other states," Zahn also said. "However, the extent to which the ruling may apply to potentially discriminatory laws other than, e.g., residency requirements is yet to be determined; we will see more as district courts attempt to unravel and apply the Court's ruling."
Total Wine & More applauded Wednesday's opinion in written statement. The Maryland-based chain said it plans to open a second store in Tennessee. That store is slated to open next year in Brentwood near Nashville, according to the company.
Wine and Spirits Wholesalers of America, a trade association with 370 members in all 50 states said it disagreed with the court ruling.

"The decision of the Supreme Court to strike down Tennessee's right to enforce durational residency laws for licensees erodes the Twenty-first Amendment and primary state authority," the association wrote in a written statement. "Since alcohol is unlike any other consumer good, the Twenty-first amendment was enacted to give states authority to regulate alcohol as they see fit and that authority remains broad. In exercising that authority, states have enacted the three-tier system to promote accountability, public safety, and economic competition," the association stated.

The association noted most rules remain in effect.

"The vast majority of state alcohol laws are not impacted by this ruling," the association said in its statement.

"Although WSWA disagrees with the outcome of today's Supreme Court ruling, we agree with the Court that the promotion of public health and safety is a primary function of alcohol regulation, with the three-tier system being paramount to the creation of the safest alcohol market in the world," the association said in its statement.

"America's system of beverage alcohol regulation continues to be a global standard – offering consumers unparalleled safety and selection, ensuring cost-effective and efficient tax collection, guarding against counterfeit alcohol and illegal markets, fostering competition, and promoting social responsibility."

In a statement, the Tennessee Wine and Spirits Retailers Association said the majority opinion recognized that liquor "is a unique commodity" and affirmed states' rights under the 21st Amendment "to enact liquor-related regulations for the health and safety of residents, even if those regulations might be impermissible in other industries under the dormant Commerce Clause."

"The guideposts provided by the decision will be helpful to state legislatures throughout the country as they continue to refine their regulation of liquor," according to the statement.

The Court heard oral arguments in Tennessee Wine and Spirits Retailers Association v Russell F. Thomas on Jan. 16