Chehalem Mountains "Magic on the Mountains" Consumer Tasting Packed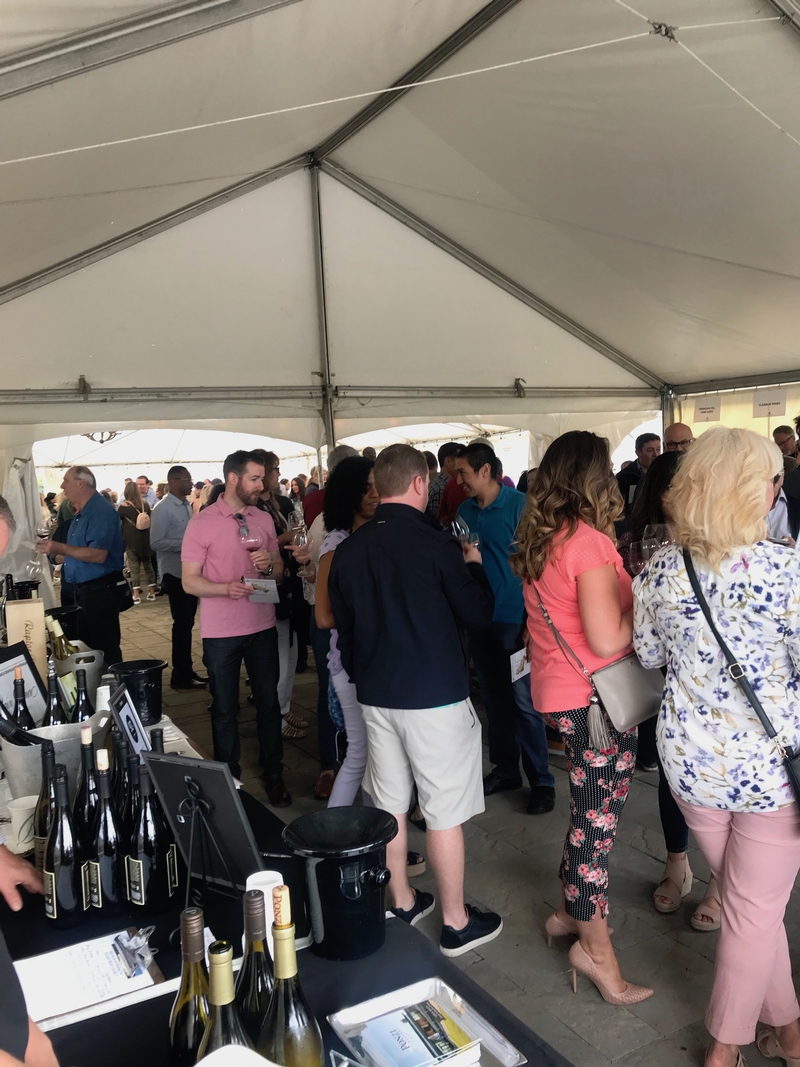 Newberg, Ore.- It was standing-room only at the Chehalem Mountains Winegrowers Association's 1st Annual "Magic on the Mountains" consumer wine tasting event held at the Chef's Garden in the Allison Inn and Spa.
"This is crazy!" says Bryan Laing of Hazelfern Cellars, Chehalem Mountains Winegrowers Association's Director of Communications. "Our goal was to pre-sell 250 tickets, and the tickets just flew out the door. It's packed here today. It's been awesome, the energy is great, people are loving the wines. This is a huge deal for the AVA."
Chehalem Mountains AVA is the closest Willamette Valley sub-region to the Portland metropolitan area, a mere 35 minutes away. "We're the closest AVA to Portland," says Tom Mortimer of Le Cadeau, President of Chehalem Mountain Winegrowers Association, "And we wanted to celebrate our proximity. One of the really good things is that we can get Uber down here to the Allison Inn, so it's very accessible." Celia Austin of Raindance Vineyard and the Allison Inn & Spa adds, "Because we are in the Chehalem Mountains AVA, it's a nice collaboration. The hotel did a package for the weekend, too, so that people could stay at the Allison Inn and participate in this - so it's kind of a win-win for everyone."
In addition to proximity to Portland, and the only AVA with a world-class resort in the area, Chehalem Mountain also boasts a high preponderance of wine country's pioneering vineyards. "It's an opportunity for us to showcase the Chehalem Mountains AVA, which has some of the oldest vineyards in it, " says Corby Stonebraker-Soles of ROCO Winery, who collaborated with Bryan Laing, Tom Mortimer, and administrative coordinator Karolyn Wright to organize the event, "Including the earliest Erath vineyard, and several others that are over 40 years old."
Indeed, the list of winery participants reads like a primer on Oregon icon wines: Adelsheim Vineyard, Alloro Vineyard, Anne Amie Vineyards, Bergström Wines, Chehalem, Colene Clemens, Cooper Mountain Vineyards, Elk Cove Vineyards, Finnigan Hill Vineyards, Flâneur Wines, Freja Cellars, Hawks View Winery, Hazelfern Cellars, Lachini Vineyards, Le Cadeau, Longplay Wine, Ponzi Vineyards, Potters Vineyard, Rain Dance Vineyards, Raptor Ridge Winery, REX HILL, ROCO Winery, Ruby Vineyard & Winery, TRESORI Vineyards, and Vidon Vineyard.
"This is the first consumer event we've done in many, many years," adds Stonebraker-Soles, "It's not about our individuality, as much as it is about helping people realize what a treasure they have right here in the Chehalem Mountains."
Amidst the casual elegance of the Chef's Garden, eager city and valley attendees paid $45 per person (in advance) or $55 per person (at the entrance) to taste prestige wines and nosh on hand-crafted fare from four local eateries, including The Jory at the Allison Inn and Spa, Subterra, The Newbergundian Bistro, and Ember and Vine. "We actually live within the Chehalem Mountains region," says Mary Cressler, co-proprietor with husband Sean of Ember and Vine, "So it's important for us to be here, partly because this is where we live, but also because we love all these wineries, the wines that they make, and think they pair great with the foods that we make."
An assortment of pours tempted palates, from premium Pinot Noirs and Chardonnays, to a plethora of other cool climate varietals like Pinot Blanc, Pinot Gris, Pinot Meunier, Riesling, Aligoté, and Gewürztraminer. Styles ran the gamut, from still reds, whites and rosés, to some of Oregon's most exciting sparkling wines. Diversity in Chehalem Mountain AVA's wines stem from diversity in its soils. "As a winemaker myself, we work with a whole bunch of different sites, and what I'm trying to get out of that is diversity and complexity of flavors that go into the wines," says Bryan Laing of Hazelfern Cellars, "And that's what I love about the Chehalem Mountains. Here in the mountains, we have volcanic soil, marine sedimentary Willakenzie soil, and then on the north side of the mountain, we have all that great wind-blown loess soil, so you have a broad range of amazing qualities from these vineyards."
Proceeds from the 1st Annual "Magic on the Mountains" assist in upgrading the Chehalem Mountain Winegrowers Association website, including the addition of interactive maps. The group plans for an even larger wine and food experience next year, thanks to the success of this year's gathering. Concludes President Tom Mortimer, "We're trying to figure out how to make it bigger next year. We haven't figured that out yet, but it's been a great start."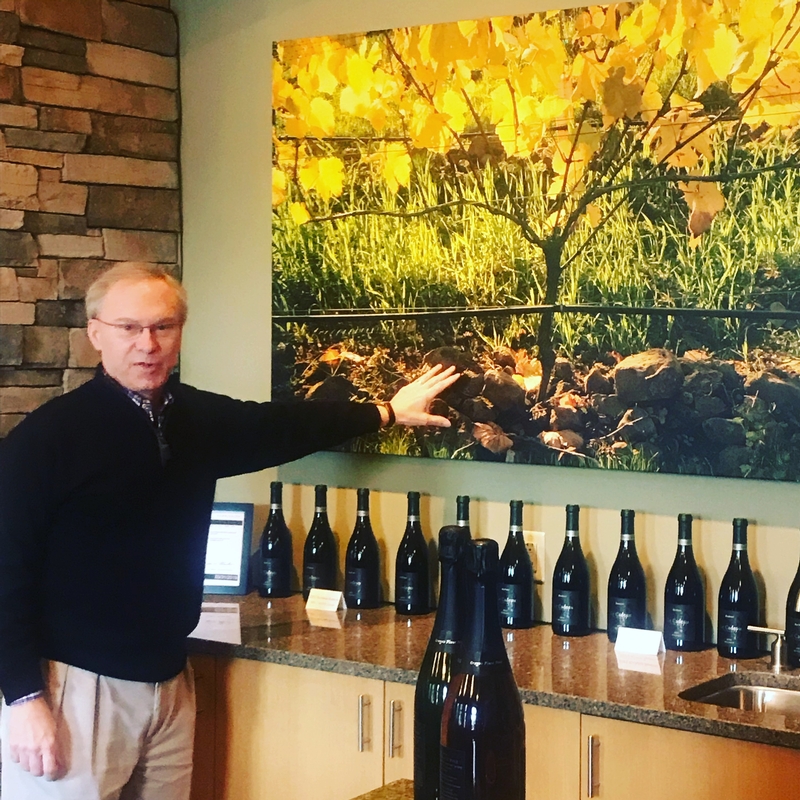 Tom Mortimer Le Cadeau Vineyard ©LM Archer