ROC-Sonoma's Inaugural North Coast Regional Meeting
Thursday, June 6th, winemakers from California's North Coast wine regions gathered to discuss winemaking innovation, technology and trends in the pursuit of creating quality wines.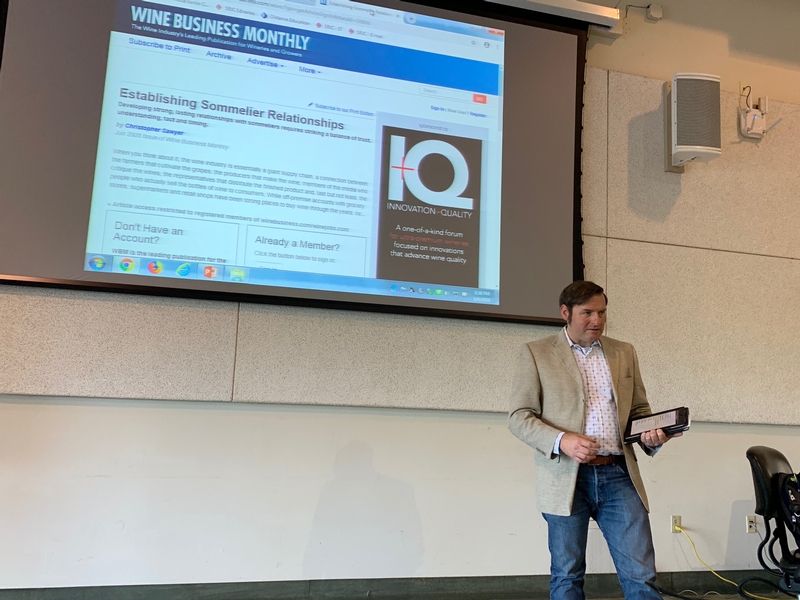 Christopher Sawyer, internationally-renowned sommelier, wine educator and journalist gave the keynote address at the very first R.O.C meeting in Sonoma, Calif.
Sonoma, Calif.—The Research Oenovation Collective (ROC) is a non-profit organization that offers an applied research platform for the wine industry. Led by CEO Peter Salamone, the organization aims to support research and experimentation in vineyards and wineries across the country, bringing analytical rigor, statistical relevance and consistency in experimental design.
"From implementation of new tools and practices to simply creating a contextual understanding of the molecular consequences of physical changes in the winemaking process, the ROC is providing winemakers a much-needed link between discovery research and application development," Salamone has said.
In January, the non-profit announced that it's partnered with the former Sonoma County Wine Technical Group (SCWTG), becoming ROC-Sonoma, and will hold regular meetings throughout the year for local wine industry professionals. These meetings will provide members with access to industry advisors and experts who will deliver seminars and round table discussions on timely, relevant topics.
On Thursday, June 6, ROC-Sonoma hosted its first regional meeting for California's North Coast at the SRJC Shone Farm Ag Pavillion.
The event kicked off with a keynote address, delivered by local Sonoma-based sommelier Chris Sawyer who said he's very excited about R.O.C.'s mission to promote change and creativity in the wine industry, calling it a kind of "third party organization" that allows participants to think together.
"I've been in the wine industry for 25 years, and I've watched our (region's) wines evolve from great wines to world class wines on a large scale," said Sawyer in an interview preceding the event. "Improvement is always needed. Each wine is not a cookie cutter. Each wine is an expression of vintage and place and forces us to think about how we're doing things and improve. That's a good thing."
Understanding that he views wine and the industry from a different angle than his audience, Sawyer's keynote speech addressed how he believes winemaking trials using the R.O.C as a resource can benefit a winery's end-game: sales. "You make a great wine. Now what?" Sawyer asked.
The answer: put the same innovation and creativity used in the winemaking into the resulting wine's presentation. He offered advice, based on his experience, on how to promote and sell wines to sommeliers and wine buyers.
"As a sommelier, the integrity of the wine is reflective of the character (winemaker) who makes it," he said. Sawyer said that, often, he finds that winemakers veer toward being "geekie" or "nerdy" in their presentations of their wines. "They need to lighten up and talk from the heart," he said, noting that a sommelier's job is to tell a wine's story and put the personality behind the wine in front of their clients and customers.
His key piece of advice was to be aware that buyers and sommeliers come from different standpoints on wine, view and taste wine differently. Knowing this, Sawyer said winemakers should do research on the restaurant, shop, and/or the individual sommelier or buyer to find "nuggets to play off of," some common, personal ground that will ingratiate the purchaser to your product. "It's all about the emotional connection to wine," he said.
The meeting also included a technical tasting of a closure trial presented by Sonoma-Cutrer winemaker Cara Morrison, who was an active member of the SCWTG before it became dormant after the 2017 wildfires. She said she's happy to have a local group to consult with and discuss new winemaking techniques, trends, technology and methods.
At Thursday's event, Morrison's trial tested the difference between Diam and Amorim cork closure s on the winery's Pinot Noir and Chardonnay. Each flight included five wines, with each one bottled utilizing a different cork: Diam 5, Diam 10 and Diam 10 beeswax (Origine) closure as well as the Amorim Neutrocork and an Amorim natural cork, which acted as the control.
"We've been hearing a lot about Diam, how it doesn't have TCA, and other winemakers seem really happy with it," said Morrison in an interview with Wine Business Monthly. "We also use a lot of Amorim, and they make a (Neutracork) cork that's comparable to the Diam corks. So we wanted to test them against eachother."
Morrison, along with Julie Lumgair, winemaker for J. Moss and other wineries, wrote an article for the May issue of WBM discussing how trials are an essential part of any winemaking program. Morrison also stresses the importance of working with a collaborative winemaking group like the R.O.C. in order to get multiple opinions on a specific trial, but also learn from other's what ideas and innovations have worked for them.
"We only have three winemakers, so when we taste, it's not a lot of data," she said. "Presenting to 30 to 50 people (at R.O.C.) we'll be able to get a lot of data. With just a couple of tasters, it's hard to pull a clear conclusion. And when you present a trial, it also brings up other techniques, ideas and other ways to approach an issue or problem you're looking to solve."
The event ended with Salamone encouraging attendees to become members of the R.O.C., listing the many resources and benefits the non-profit has to offer—not the least of which is the sense of comradery and community amongst winemaking peers who can learn with and from each other.

The R.O.C-Sonoma is scheduled to meet again in August and December of 2019 and have plans to meet in February, April and June of 2020. Specific dates, topics and meeting locations are TBD.
About ROC
The Research Oenovation Collective, the ROC, is a non-profit mutual benefit corporation registered with the State of California which administers an applied research platform for the wine industry and operates throughout winegrowing regions across North America. ROC regional chapters are developing in California (Paso-SLO, Sonoma, Napa, Lodi and Foothills regions), Oregon, Virginia and Washington. Expansion is planned throughout 2019 and 2020. For information about your specific region or to inquire about any membership or sponsorship opportunities please contact the ROC by visiting our website at www.rocwine.org, email us at info@rocwine.org or call (707) 799-9463 (WINE). Peter Salamone can be reached directly at psalamone@rocwine.org.
Membership in the ROC is open to any individual, corporation or other business entity engaged in operation and/or manufacture of; wine, winemaking products, processing technology, research or technical development. While not required for attending this meeting, participants are encouraged to pre-register as ROC members on-line at www.rocwine.org/join-us, register on-site or simply come and check out the festivities. In addition, ROC sponsorship opportunities are available.