Jerry Brown on Climate Change: "We May Have to Resort to a Lot of Wine Drinking to Handle It"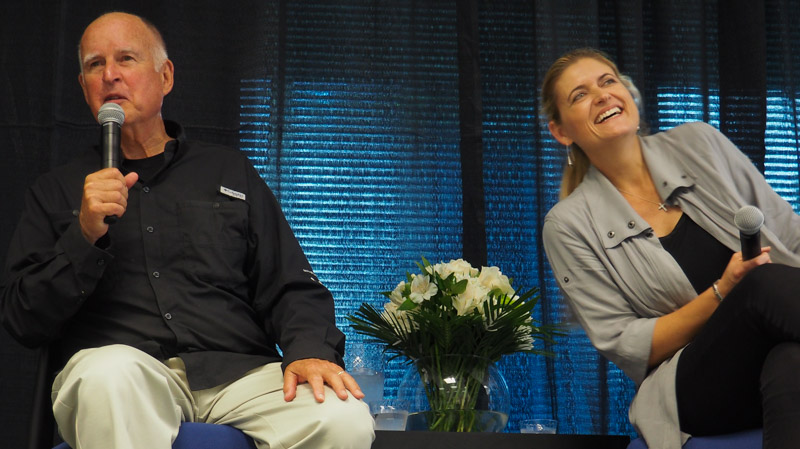 Former Governor Jerry Brown and Anita Oberholster of the department of viticulture and enology at the University of California, Davis, share the stage Monday night to discuss the impact of climate change on California wine. Photo/Mike Dunne

Former California Governor Jerry Brown, now a Sacramento Valley farmer, just can't stop campaigning. No, he isn't running for governor of the proposed rebellious State of Jefferson, which would include Colusa County where Brown now grows olives at his 2400-acre Rancho Venada, but he continues to stump on the issue with which he is most closely identified—climate change.
That mission brought Brown and his wife Anne Gust Brown to the University of California at Davis for a talk billed as "Wine, Wildfire and Climate Change." Brown had little to say of wine, other than to indicate he favors Burgundy and Chardonnay. "I am a wine drinker and I don't like smoke in my wines," he remarked at one point.
He shared the stage with Anita Oberholster of the university's department of viticulture and enology, who since the California wildfires of 2017 has been studying the effect of smoke on grapes and the wines made from them. She presented some of her latest research.
Between them, they drew a grim picture of the state of the environment, both globally and for California specifically, including the state's wine business, but not without threads of optimism.
Brown focused largely on curbing carbon emissions that have been implicated in the warming of the planet. Vehicles, he said, are responsible for 40 percent to 50 percent of carbon emissions. During his first term as governor in the 1970s the world had 300 million cars. "Now there's a billion. At the rate we're going there will be a second billion pretty soon. In California we have 30 million vehicles, more or less, and they travel 345 billion miles every year," Brown said.
But California, he noted, is far ahead of the rest of the country in switching to zero-emission vehicles. "California has about 600,000 zero-emission vehicles on the road. That's about 50 percent of the zero-emission vehicles in America, so we're doing good but we're not doing good enough, and the rest are really doing bad."
If the current rate of climate change isn't tempered or reversed, the catastrophic scenarios he sees include more floods and wildfires, the spread of diseases and "a massive reduction in food production, forcing millions of food migrants to move into Europe and the United States," culminating in social breakdown.
"We may have to resort to a lot of wine drinking to handle it," Brown quipped.
Aside from that, coping with climate change will take "a shift in thinking, a shift in awareness, a transformation" in viewing just how serious the matter is. "It's not just a technological challenge, or scientific challenge, it's a human challenge," he added.
He likened the nation's attitude to climate change to the thinking of a friend who couldn't quit smoking. "Transformations are not easy. A friend told me he'd smoked all his life and he could never stop until he had a heart attack, and then he stopped," Brown said. "The question is what kind of heart attack will it take for us to make the shift?"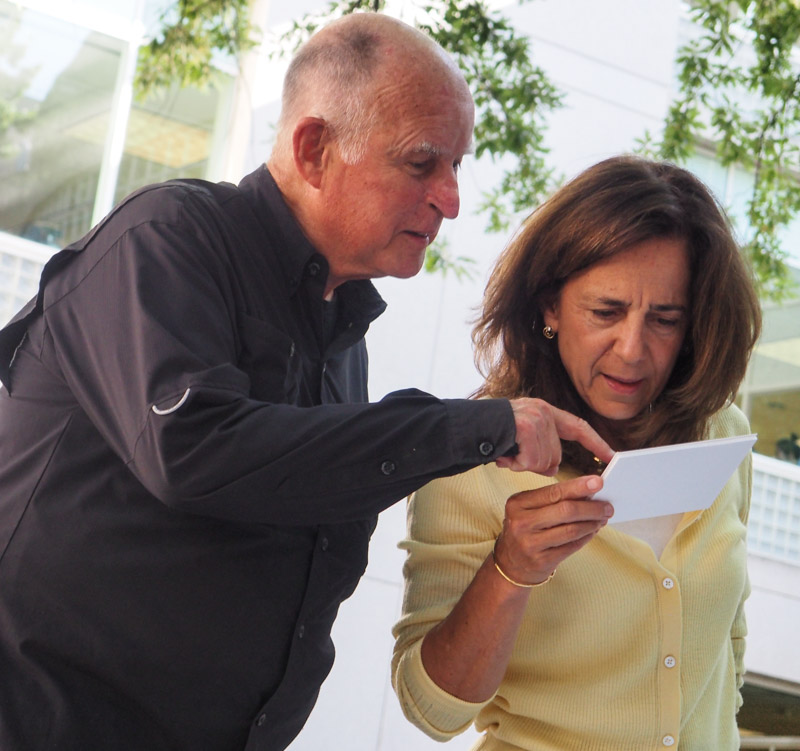 At a courtyard reception at Shields Library of the University of California, Davis, former California governor Jerry Brown and his wife Anne Gust Brown look through tables of memorabilia from his days as a politician. Photo/Mike Dunne
The Latest Research on Smoke Taint and Winegrapes
For Anita Oberholster, the wine industry's climate-change heart attack took place over the last two grape harvests as wildland fires erupted about California, threatening vintages by tainting fruit with smoke, a residue on grapes that makes wines crushed from them essentially unpalatable. Those blazes and the fallout—more than 600,000 acres burned, more than 30,000 structures destroyed, more than 130 lives lost—not only alerted the wine trade to a new normal but abruptly interrupted her own ongoing research on other matters to concentrate on studying smoke taint.
"Wine is one of the more complex matrixes in the world," said Oberholster as she slid through a series of slides to show how complicated the issue is. Not only may different varieties of grape react differently to smoke, bacterial microorganisms in the saliva of consumers may affect whether and how they recognize taint.
She has had marginal success in cleaning up smoke-exposed wines with such measures as less skin contact during fermentation and the use of a "fruity yeast" to avoid or cover up the kinds of aromas and flavors attributed to taint—typically earthy, campfire, ashtray. Initially, such procedures seem to help, but as wines age "the smoke just comes back up," Oberholster said.
She's now collaborating with various companies that boast of assorted methods to clean up smoke-tainted wine to see which are most effective. "We are evaluating objectively all these techniques so we can give some guidelines to winemakers," she said.
As both Brown and Oberholster stressed, dealing with climate change won't be cheap. "How much money are we going to have to spend so we don't have to worry about smoke taint in California wine?" mused Brown. "A lot, and that's only one little, tiny part of the climate-change problem."