Roussillon Wine - Ten Facts That May Surprise You
For most wine lovers the region of Roussillon brings to mind fortified sweet wines. Located in the far south of France, snuggled next to the Spanish border, Roussillon is often referred to as the "Other French Rivera," and has a similar sunny Mediterranean climate as Provence. This allows the more than 420 wineries and 29 cooperatives that operate in the region to produce a wide variety of wines. However, over the last decade they have begun to focus more on dry wines with a fresh fruit-forward style, while still maintaining the heritage of the ancient fortified sweet wines that were lauded by generations of kings.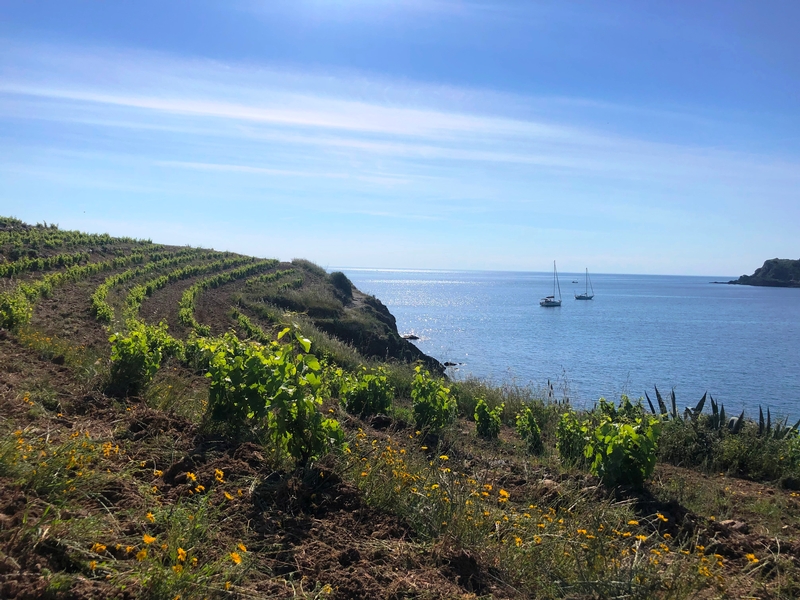 Roussillon Vineyards Along the Mediterranean, L. Thach
As Roussillon emerges as an independent wine region of its own, slowly attempting to disassociate itself with the larger Languedoc wine region to the northeast, surprising facts about its grapes, climate, history and terroir are coming to light. Here are ten facts about Roussillon wine that may surprise you:
80 Percent Dry Wines - even though Roussillon is known around the world for its famous fortified sweet wines called Vin Doux Naturel (VDN), it is now producing a higher percentage of dry wines to cater to current global preferences for less sugar in wine.

Grenache of Three Colors - Roussillon claims to be the oldest home of Grenache in France, and indeed 38 percent of their production is Grenache. What is fascinating, however, is they specialize in three colors of Grenache: Noir, Blanc, and Gris. From this they produce delicious dry white, red, and rosé wines, as well as their legendary sweet wines.

Highest Percentage of Organic Wines - due to its unique climate with 316 days of sun, 22 inches of rainfall and beneficial winds, Roussillon has the highest percentage of organic and biodynamic vineyards in France by hectare, according to the Vins Du Roussillon Wine Council.

White Beaches and Snow-capped Mountains - part of what makes Roussillon unique is its typography. Shaped like an amphitheater the region has 60 kilometers (37 miles) of coastline, including long white sandy beaches and steep hillsides covered with vines descending to the sea. In the background tower the snow-capped Pyrenees and the Corbieres Mountains with vineyards dotting the lower hillsides. All of this combines to create a dramatic and spectacularly beautiful wine region.

Three Rivers and Eight Winds - Flowing down from the high mountains are three rivers that rush to the sea. Along the way they feed the vineyards and many vegetable farms and fruit orchards, as well as create a perfect climate for wine growing. This is supported by winds that come from eight different directions that help to keep the climate more dry and reduce mildew pressure, allowing for more successful organic farming.

Twenty-eight Centuries of Winegrowing - the Phoenicians brought wine grapes to the shores of Roussillon in 624 BC, heralding 28 centuries of winegrowing "know how" in the region.

VDN Wine of Kings - in the year 1285 at the court of the King of Majorca, a doctor names Arnau de Vilanova developed a process to add spirits to wine to stop the fermentation. This resulted in sweet wines that could age for decades and travel the world. Roussillon became famous for its sweet VDN wines made from Grenache and Muscat. They were highly coveted by the kings of Aragon, Majorca, and France.

Ruscino and Red Soil - the name "Roussillon" is derived from two sources. The first is the prehistoric houses that were found on the site of its capital city, Perpignan. These small structures were called "Ruscinos." The second source is the red soil that is found in many of the vineyards, including red clay, schist, and limestone. The term "Rousse" is a shade of red in French and "sillon" means furrow.

Twenty-four Grape Varieties - though Roussillon is most famous for its three colors of Grenache grapes, it grows 24 grape varieties of which 17 are dedicated for AOP (top appellation) wines. From these, they specialize in red blends made from Red Grenache, Carignan, Mourvèdre and Syrah, as well as white blends primarily produced from Grenache Blanc, Grenache Gris and Macabeo.

Award Winning Wines - Roussillon has received numerous top ratings and awards for both its sweet and dry wines from Decanter, Wine Spectator, Wine Advocate and many other wine critics. In 2019 its capital city of Perpignan was named European City of Wine.
In addition to these 10 interesting facts, Roussillon continues to be a popular tourist destination with thousands of visitors arriving every year to enjoy the sunny beaches, hike in the mountains, and explore historic castles. Charming towns such as Banyuls, Collioure, and Ceret, which attracted famous artists such as Picasso, Matisse, and Dali, delight visitors with their museums, cafes, and shops. And of course, the cuisine of Roussillon, with a focus on fresh seafood, vegetables, and fruit, often prepared with a Catalon influence, pair beautifully with the chilled dry white and rose wines, the structured and earthy red blends, followed by a delicious sweet VDN for cheese and dessert.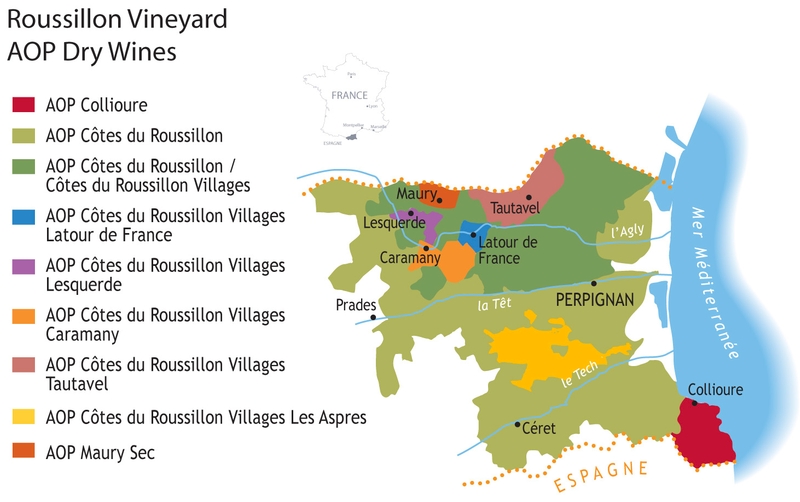 Major Wine Appellations of Roussillon, Vins Du Roussillon Wine Council
by Liz Thach, MW
Dr. Liz Thach, MW is a wine journalist and the Distinguished Professor of Wine & Management at Sonoma State University in California. She just returned from a wine tour of the Roussillon Wine Region. For more information, please contact Liz@lizthach.com