Hundreds Attend Barrel Auction At Newly Renovated Louis M. Martini Winery Near St. Helena
The newly renovated Louis M. Martini Winery on Friday hosted this year's 2019 Barrel Auction, one of the events that raises money for Auction Napa Valley.
The Napa Valley Vintners, the event sponsor, expects its 39th annual Auction Napa Valley will raise nearly $12 million this year. The four-day fundraiser's highlight was its annual live auction Saturday at Meadowood Napa Valley. Auction Napa Valley raises money for more than two-dozen Napa Valley nonprofit organizations that focus on health and children's education.
Friday's Barrel Auction was a busy affair, as hundreds of guests arrived late morning at Louis M. Martini Winery off Highway 29 on the edge of St. Helena. U.S. Rep Mike Thompson, D-Calif., and Napa County Supervisor Alfredo Pedroza, were among those who greeted guests at the door, handing glasses of Louis M. Martini wine.
The guests stopped by barrel rooms, where they tasted and bid on yet-to-be-released 112 lots of Napa Valley wine. Winemakers and owners alike poured the wine straight out of the barrel as wine lovers placed their bids either on their phones or on tablets with the help of volunteers. The guests also donated money to buy dozens of bikes that will be distributed in the community.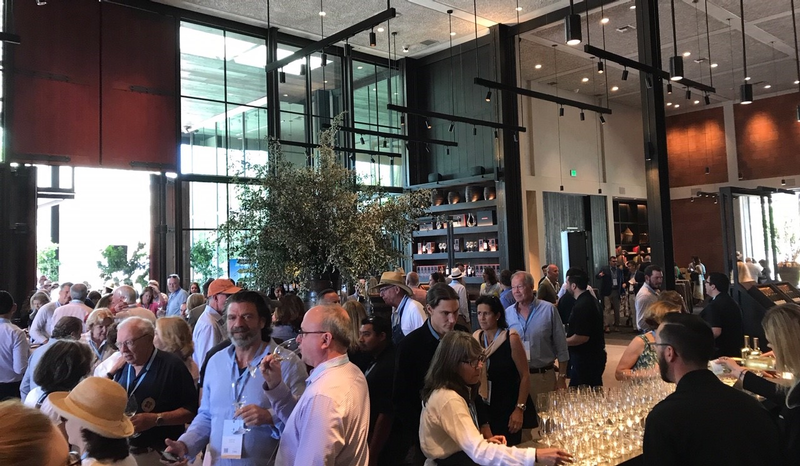 The newly renovated Louis M. Martini Winery hosted this year's Barrel Auction. The winery is a property of E & J Gallo. Hundreds of visitors boarded shuttles to reach the winery on Highway 29. Photo by Kerana Todorov/Wine Business Monthly.


The Barrel Auction also featured dozens of food purveyors serving lobster rolls, pizzas, sliders, charcuterie and other fine bites as bands played nearby. Guests also ate plenty of sweets, including cupcakes, ice cream and fine chocolates.
The 10 top bidders for each of the 112 lots will receive a case of the auctioned wine.
For the second year running, VGS Chateau Potelle of St. Helena received the top bids, this time for its 2017 red wine blend of 97 percent Cabernet Sauvignon and 3 percent Malbec. The electronic board indicated that the 10 top bids for VGS Chateau Potelle's red blend totaled $85,250. The very top bid alone was $25,000.
"We're so happy," said an elated Eric Stauffer, assistant winemaker, shortly after the barrel auction closed at 3 p.m. The vintage was difficult, he said. The winery's usual blend also includes Cabernet Franc and Petit Verdot. But in 2017, the winery lost both its Cabernet Franc and Petit Verdot during the fires.
"It was a lot of work to make the wine," Stauffer said.
Napa Valley Vintners has donated since 1981 more than $185 million from proceeds from Auction Napa Valley to nonprofit organizations in the Napa Valley.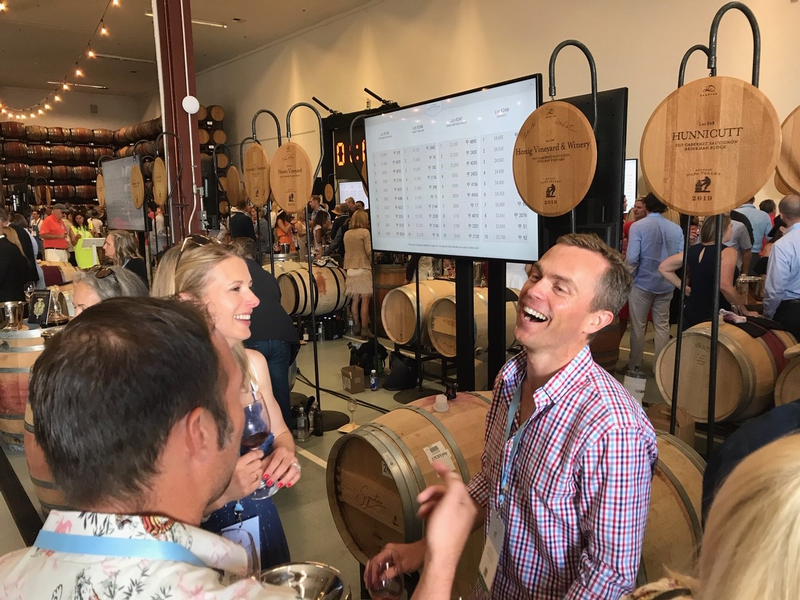 Hunnicutt proprietor Justin Stephens laughs as he pours wine from a barrel during Friday's Barrel Auction at Louis M. Martini Winery near St. Helena. The event is part of Auction Napa Valley. Photo by Kerana Todorov/Wine Business Monthly.