Auction Napa Valley Raises Nearly $12 Million for Local Charities
In its 39th annual Auction Napa Valley event held this weekend at Meadowood Resort, the Napa Valley Vintners raised nearly $12 million dollars for community health and children's education. To date, the organization has invested more than $185 million for local organizations using proceeds from the event, including the recently opened OLE Health Napa Valley Vintners South Napa Campus.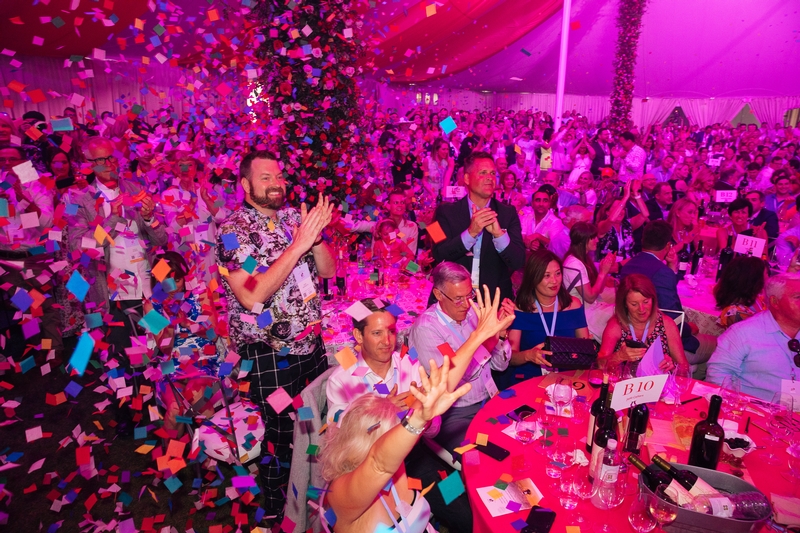 Bidders celebrated a successful run at Auction Napa Valley, held June 1, 2019 at Meadowood Napa Valley.
Photo by Alexander Rubin for Napa Valley Vintners.
This year was particularly special to the NVV, who also provided a Live Auction Lot, as it is celebrating its 75th anniversary. The main event, Saturday's Live Auction, was kicked off by Katy Perry, who performed the acoustic versions of many of her popular songs, including "Roar," "Firework" and more. Following her performance, donors eagerly bid on lots full of rare wines, one-of-a-kind dinners and excursions as well as access to winemaker dinners. Lots included back vintages of magnums, vacations to wine regions from Canada to Bordeaux and South Africa, and more.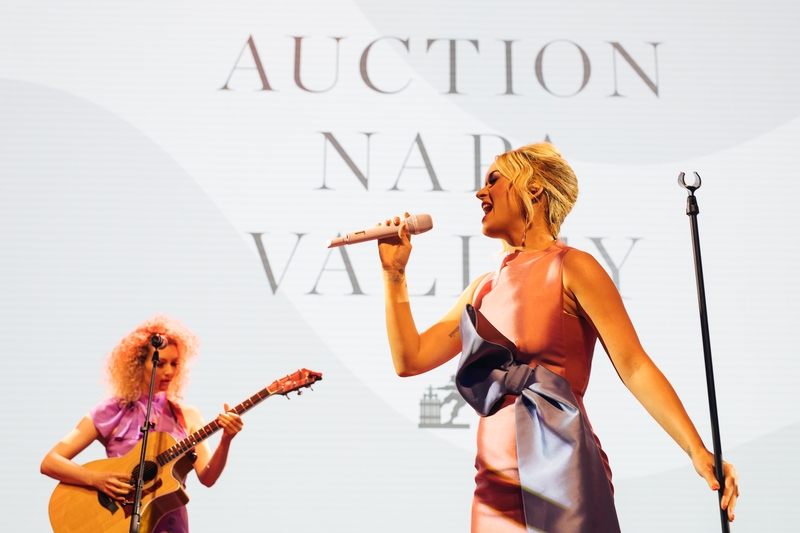 Katy Perry lent her vocal skills as the kick-off to the day's main event, the live auction of 31 exclusive wine-centric lots.
Photo by Alexander Rubin for Napa Valley Vintners.
In a spirited flurry of paddle raises, the first lot of the day, an Italian wine tour hosted by Continuum Estate and the Mondavis, garnered the day's highest bid: $530,000. Auctioneer Fritz Hatton facilitated, encouraging guests dressed in their festive best to remember the charitable aspect of these unique experiences. Other notable, top lots included those from Labry Estate, Staglin Family Vineyard and John & Sandi Thompson ($480,000); Opus One ($475,000); Gargiulo Vineyards, Silver Oak Cellars and Twomey ($460,000); Cliff Lede Vineyards ($460,000) and Dalla Valle Vineyards ($450,000).
A family style dinner followed. The menu was set by Ayesha Curry and chefs from the Michael Mina family of restaurants, and facilitated by 36 renowned sommeliers from across the country, lending their expertise to guestst.
Earlier in the weekend, at the newly restored Louis M. Martini Winery, bidding began on the Barrel Auction, featuring 114 lots of Napa Valley futures. Winemakers were on hand to pour samples of the yet-to-be-released and exclusive wines. Vintners then welcomed guests to their homes for a series of winemaker dinners. As in year's past, additional donations could be made through the purchase of an E-Auction that started Wednesday afternoon, with 159 lots open for bidding.
Full results from the weekend, including top Live, Barrel and E-Auction lots will be announced later today. Bidding on the E-Auction continues through noon, Monday, June 3.
All proceeds go directly to various charities, including OLE Health, an organization dedicated improving the quality of care of more than 37,000 patients – including 8,000 children – by providing access to a wide range of healthcare services under one roof.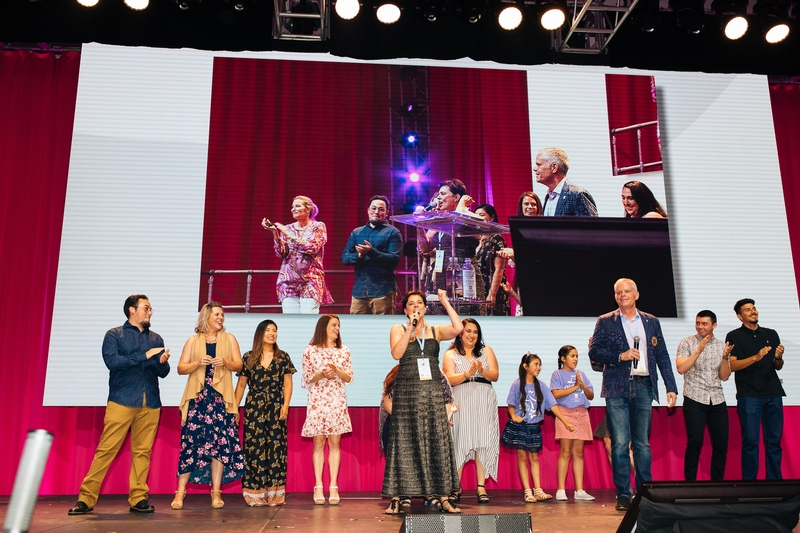 Emma Swain and David Duncan, as well as beneficiaries of bidder's donations, thanked attendees at the end of Auction Napa Valley. Photo by Alexander Rubin for Napa Valley Vintners.
Next year's event will take place June 4-7, 2020. For more information, visit auctionnapavalley.org.