Innovation & Quality (IQ) Opens in Napa
Zelma Long Receives 2019 Lifetime Innovator Award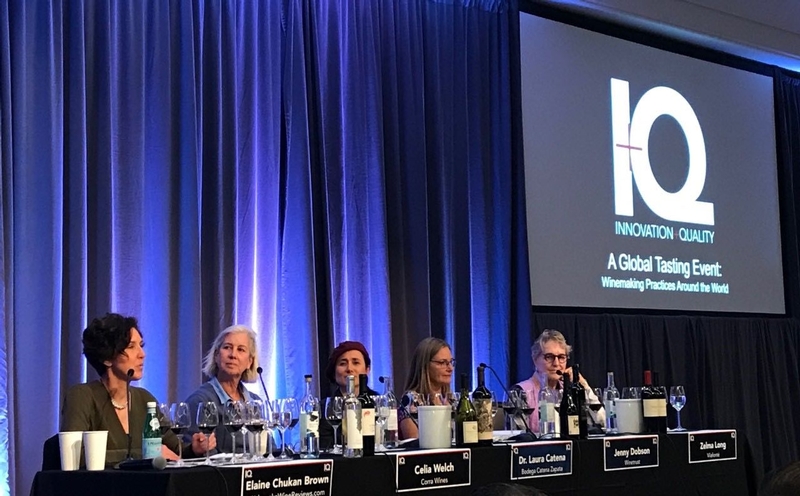 Elaine Chukan Brown, left, moderates "A Global Tasting Event" at Innovation + Quality 2019 in Napa. The winemaking keynote speakers were Celia Welch, consulting winemaker in the Napa Valley; Dr. Laura Catena, managing director at Bodega Catena Zapata in Argentina; Jenny Dobson, winemaker at Winetrust in New Zealand; and Zelma Long, a national and international consulting winemaker and partner at Vilafonte Estate Vineyards in South Africa. Photo by Kerana Todorov/Wine Business Monthly

Innovation + Quality 2019 opened Wednesday in Napa with a global wine tasting keynote featuring some of the world's leading winemakers.

Zelma Long received the Innovation + Quality 2019 Lifetime Innovator Award.

"It's been a wonderful ride," said Long, a nationally and internationally known winemaker and partner at Vilafonte Estate Vineyards and Winery in South Africa.

Long, whose honors include a James Beard Award for Wine Professional recipient, started her career at Robert Mondavi Winery in the early 1970s, where she became chief enologist in 1973. She is also completing her PhD dissertation at UC Davis in performance studies with a specialization in Native American studies.

"I think curiosity is the essence needed for innovation," said Long, who spoke after appearing on I+Q 2019's keynote panel with winemakers from the Napa Valley, Argentina and New Zealand.

"Why is this happening? Why is this different? What's this soil like? What can I grow here? There are a thousand questions and trying to answer some of them is our job and it's fascinating," Long said, "So I feel what you need for innovation is what I call exuberant creativity," she said. "You're curious. You're passionate about what you're doing and this generates ideas and alternatives."

Long praised her fellow panelists' ¬- Dr. Laura Catena, a physician and managing director at Bodega Catena Zapata in Argentina; Jenny Dobson, winemaker at Winetrust in New Zealand; and Celia Welch, a consulting winemaker in the Napa Valley who produces Corra Wines. Writer Elaine Chukan Brown was the moderator.

Listening to the winemakers, Long said, "stimulates the sense that there is so much opportunity to innovate in your environment and with your wines."

New this year at IQ were salons where a number of topics were discussed, including the future of winemaking; trends in the use of barrels; the new Research Oenovation Collective, a group whose focuses includes coordinating wine trials; and groundbreaking UC Davis research on phenolics management.
Michele Novi, associate director of industry relations at Napa Valley Vintners, introduced the recipients of the fifth annual California Sustainable Winegrowing Leadership Awards: Silver Oak Cellars, Scheid Family Wines, Smith Family Wines and Domaine Carneros.
Innovation + Quality 2019, a Wine Business Monthly event, continues today at Silverado Spa and Resort.